What do you get when you combine a sweet coffee cake, cream cheese layer, and a crumbly topping? This delicious Blueberry Cream Cheese Coffeecake is sure to please!
One of the highlights of summer here in the "Garden State" is blueberry season. Along with Jersey corn, tomatoes and peaches, Jersey blueberries are always a popular fruit that everyone looks forward to come summer. Did you know that the Garden State ranks 5th in the nation for blueberry production. Along with the health benefits of eating blueberries, they freeze well and are perfect for baking, smoothies or in salads. Here is a Blueberry Cheese Coffee Cake recipe that is handed down from my mom. It's moist, filled with lots juicy blueberries, and is slightly sweet with a hint of lemon in the crumb topping. Cream cheese is mixed in the batter at the end so you get a yummy, not so sweet bite of cream cheese too. It's delicious.
I first start by creaming the butter and sugar together until light and fluffy.
Now, add the eggs one at a time. Beat well after each egg.While eggs are beating, mix dry ingredients together in medium size bowl
.
Add flour mixture alternately with milk/water. Do not over beat. Begin and end with the dry ingredients.
With a spatula
, gently stir in blueberries and cream cheese.
Pour the prepared batter into a 9″ x 9″ pan. Mix together ingredients for the crumb topping and spread evenly on top. Bake in a 375º oven for 50-55 minutes.
Yum! Look how delicious this looks! My mouth is watering.  Do you pick your own blueberries? What do you do with them? Do you bake, eat or freeze them — or a little bit of each? What are some recipes you like to make with fresh blueberries? I'd love to know. I'm always looking for new things to try.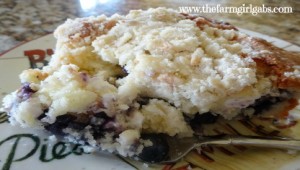 Hope you enjoy this!

Blueberry Cream Cheese Coffee Cake
This is a simple coffee cake with fresh blueberries and cream cheese mixed throughout. It has a hint of lemon in the crumb topping. It's delicious.
Ingredients
½ cup butter
1¼ cup of sugar
2 large eggs
2 cups flour
1 teaspoon baking powder
1 teaspoon salt
¾ cup milk
¼ cup water
2 cups fresh Jersey blueberries
8 oz. light cream cheese - cubed
Topping
½ cup flour
2 tablespoons lemon zest
4 tablespoons butter
Instructions
Preheat oven to 375 degrees.
Beat ½ cup butter until light in color. Gradually add 1¼ cup of sugar and beat until light and fluffy.
Add eggs, one at a time. Beat well after each.
In medium bowl, combine 2 cups of flour, baking powder and salt. Mix well.
Combine milk and water.
At low speed, gradually add flour mixture alternately with milk/water mixture. Begin and end with dry ingredients. Mix only until blended. Do not overbeat.
Turn off mixer. Add cubed cream cheese and blueberries. Using a spatula, mix to incorporate. Spread batter into 9" square pan.
In small bowl, combine crumb topping ingredients. Mix together with a fork until crumbs look like small peas. Spread evenly over batter..
Bake at 375 degrees for 50-55 minutes.
Baking resources:

This post may contain affiliate links to help support this blog. Please see my