Print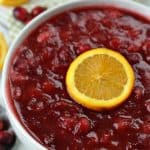 Orange Amaretto Cranberry Sauce
Orange Amaretto Cranberry Sauce is a wonderful twist to the classic cranberry sauce recipes. It's a perfect side dish at Thanksgiving or any time of the year.
1 1/2 pounds fresh cranberries
1 1/2 cups sugar
2/3 cup fresh orange juice
3 tablespoons Amaretto liqueur
2 tablespoons grated orange rind
1/4 cup water
Rinse cranberries and add to a large saucepan.

Add sugar, orange juice, orange rind and water.

Bring to low boil for 3-4 minutes. Lower heat to a simmer. The key here is to cook down the cranberries.

Add amaretto and continue to simmer for 20 minutes or until thickened.

Cranberry sauce will continue to thicken as it cools.