Print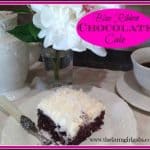 Annie's Blue Ribbon Chocolate Cake
Annie's Blue Ribbon Chocolate Cake is not only a blue ribbon winner, but our family favorite. This cherished recipe is moist and delicious topped with baker buttercream icing.
Preheat oven 350 degrees

Grease one 13 x 9 pan or two 9" round cake pans.

Sift dry ingredients together (flour, baking soda and salt).

In mixer, combine oil, buttermilk, cocoa, sugar, eggs and vanilla. Mix well.

At low speed, add dry ingredients to cocoa mixture ALTERNATELY with boiling water. DO NOT OVERBEAT. Batter will be very thin.

Bake at 350 degrees for 30-35 minutes or until top of cake springs back.
*This batter can be used for cupcakes, round pans or sheet cake pans. Baking time will need to be adjusted accordingly.