Ring in the holiday season with these slightly sweet, yet slightly tart Cranberry Nut Thumbprints.
It happens every Thanksgiving. You know, the tons of leftovers we always try to find creative uses for. As I opened up the refrigerator last week and saw the left over Orange Amaretto Cranberry Sauce staring me in the face, a light bulb went of in my head. Scary thought, I know. I thought, why not change the traditional thumbprint cookies I bake each Christmas into  Cranberry Nut Thumbprints.
Bam! What a perfect way to utilize the left over cranberry sauce. I am a sucker for a nice and flakey butter cookie.  These cookies are the same basic thumbprint dough you have had in the past. But, instead of being filled with a jelly, I filled these with an Orange Amaretto Cranberry Sauce.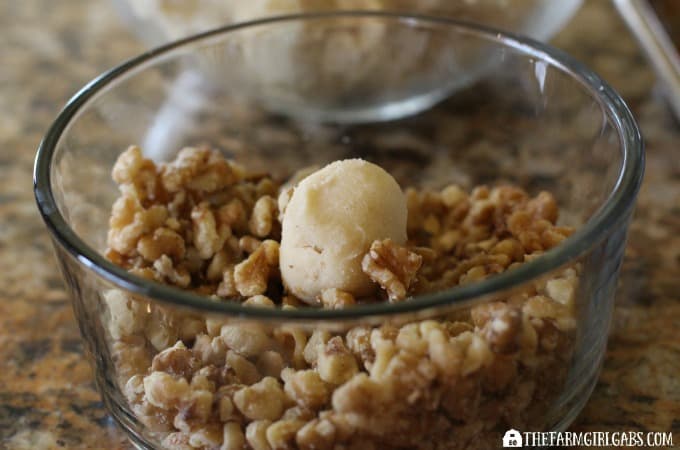 If you have never baked a thumbprint cookies, they are really simple to make. I rolled these Cranberry Nut Thumbprints in chopped walnuts. I love the flavor pairing of walnuts and cranberries together. If you don't like walnuts, feel free to leave them out. You can also use another type of nut too.
Once the thumbprints are all rolled out and lined on the baking pan, make an indentation in the center. You can use your thumb, your index finger or the end of a spatula to make the indentation. What ever floats your boat. Fill the center up with about 1 teaspoon of the Orange Amaretto Cranberry Sauce.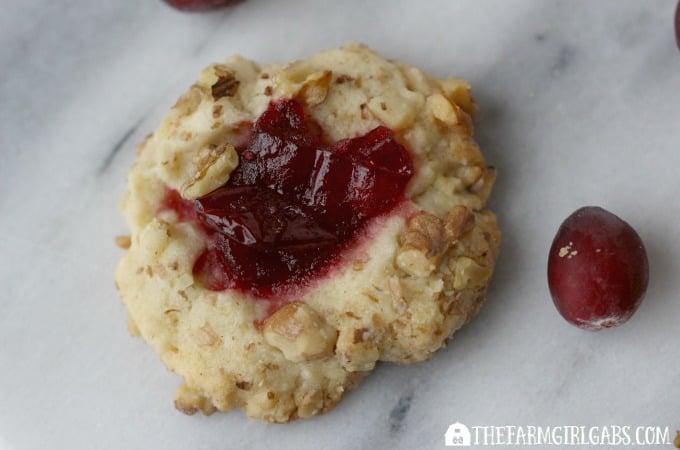 When you bake these in the oven, the nuts get a nice toasted flavor. The cranberry sauce has a slight orange flavor and is slightly sweet. The total package is a buttery, nutty, cranberry gem. It's really hard to eat just one. Really, it is. How is your holiday preparation coming? What's your favorite Christmas cookie to bake?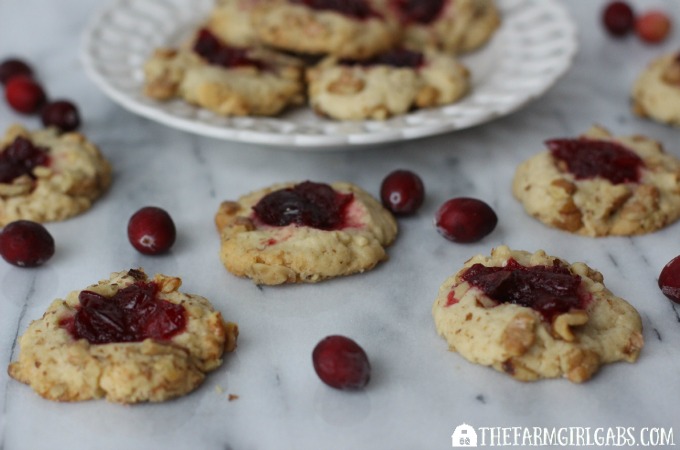 Cranberry Nut Thumbprints
Ring in the holiday season with these buttery Cranberry Nut Thumbprints. Made with leftover homemade cranberry sauce, these cookies are sure to please.
Author:
Melissa Russo / thefarmgirlgabs.com
Ingredients
2 cups flour
¾ baking powder
½ teaspoon salt
¾ cup butter, softened
⅔ cup sugar
1 extra large egg
2 teaspoons pure vanilla extract
1 cup finely chopped walnuts
1 egg white
Instructions
Sift flour, baking powder, and salt together.
In a mixer, beat together butter and sugar until light and fluffy.
Add egg and vanilla and mix well.
Gradually add in sifted dry ingredients.
Dough needs to chill in the refrigerator for at least two hours.
Preheat oven to 350 degrees.
When dough is chilled, roll into teaspoon sized balls.
Roll the cookie ball into the egg whites and then onto the chopped walnuts.
Line rolled cookies on a parchment-lined baking sheet.
Using your thumb, make an indentation in the center of each cookie.
Fill each indentation with one teaspoon of the Orange Amaretto Cranberry Sauce.
Bake for 16-18 until cookies are golden brown.
 Follow Melissa {The Farm Girl Gabs}'s board The Farm Girl Gabs About Cookies on Pinterest.

This post may contain affiliate links to help support this blog. Please see my