Coconut Macaroon Egg Nests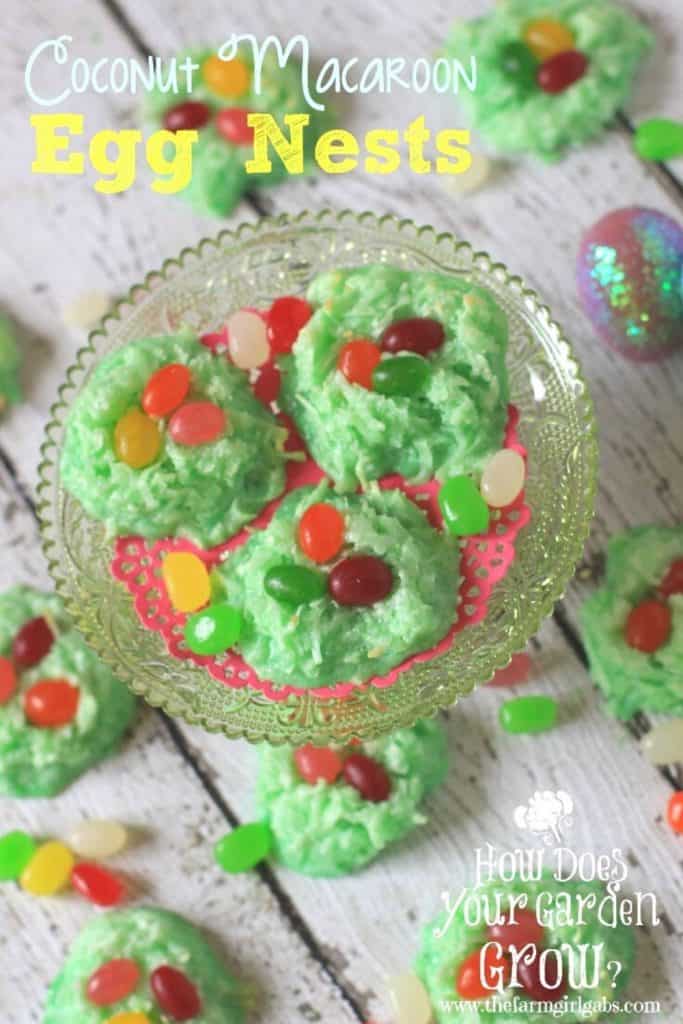 I am going to be honest. I never met a coconut I didn't like. Yes, I love all things coconut and these Coconut Macaroon Egg Nests are no exception.
Since my love for coconut runs pretty deep, I thought it would be fun to turn my one of my favorite Christmas cookies, a Coconut Macaroon, into an equally delicious Easter treat, Coconut Macaroon Egg Nests.
Hippity Hoppity, Easter's on its way! What's Easter without jelly beans. Well, I guess I can say too that I never met a jelly bean I didn't like either. Except the black ones.
Anyway, I enjoy their fruity goodness so they serve as the "eggs" in the "nest". These remind me of a colored white chocolate candy my mom used to buy me for Easter when I was a child. Ahhh, childhood memories!
You won't believe how simple this recipe is!
Ingredients For Coconut Macaroon Egg Nests
Shredded coconut
Sweetened condensed milk
Almond extract
Green Food Coloring
Egg whites at room temperature
Salt
Jelly Beans
How To Make Easter Egg Coconut Nests
I begin by adding 2 drops of green food coloring and vanilla to a can of sweetened condensed milk.
Add the colored milk to the coconut. This makes the pretty green "grass". Gently fold in two beaten egg whites.
Using a small cookie scoop. Drop each nest on a lined baking sheet. Then, top each with three jelly beans. Bake for 15 minutes.
Aren't the purr-ty. So bright and colorful, just like spring should be!!
Coconut Macaroons are perfect for any time of year. Just skip the food coloring and jelly beans and add a candied cherry in the center of each one before baking instead.
My friend Colleen, from Souffle Bombay, gathered a 15 of her fellow Philly Social Media Bloggers to once again share ideas for celebrating Easter! That's right it's time once again for #AllThingsEaster!
From a Fizzy Bunny Mimosa to Strawberry Lemon Cake, Sweet & Savory Pies, Fun Treats for Kids and even 10 Brain Boosting Egg Hunt Ideas, we've got you covered with eats, treats and ideas to celebrate!
For even more ideas check out our collective post from last year that had 25 fabulous ideas for Easter breakfast, dinner, dessert, cocktails and even something unique to do with leftover Easter eggs. Plus Easter basket ideas, Easter fun & printables!
If you love Pinterest as much as we do…check out our popular All Things Easter Pinterest Board…follow along!
Whether you celebrate Easter, Spring or just a sunny day in general, we hope your day is filled with good times, good friends, good food and memories in the making!
Fun Easter Treats
Coconut Macaroon Egg Nests from The Farm Girl Gabs
Egg Shaped Marshmallow Krispie Treats from Souffle Bombay
Sunflower Butter Chocolate Easter Eggs from Courtney's Sweets
Peeps S'mores from Can't Google Everything
Easter Bunny Chow from Girl Gone Mom
Italian Easter Bread from A Grande Life
Delicious Easter Desserts
Strawberry Lemon Cake from A Turtles Life For Me
Carrot Poke Cake from It Is A Keeper
Italian Easter Pies: One sweet, one savory from Teaspoon of Spice
Gluten Free Carrot Cake with Homemade Cream Cheese Frosting from Momma Lew
White Chocolate Strawberry Cake Roll with Homemade Fudge Drizzle from We're Parents!?
Black Beans and Coconut Tarts – Frejon from Afropolitan Mom
Easter Cocktail
Fizzy Bunny Mimosa from O' Boy Organic
Leftovers Idea
Deviled Eggs & Ham Breakfast Sandwich from The Good Mama
Fun for Kids
10 Brain Boosting Egg Hunt Ideas (Without the Candy) from Mommy University
Tie Dyed Easter Eggs from 4 Hats And Frugal
Try These Easter Recipes & Activities
Fun Easter Cupcakes Kids Can Make
Save this easy macaroon recipe for later. Pin the image below to your favorite Pinterest Board.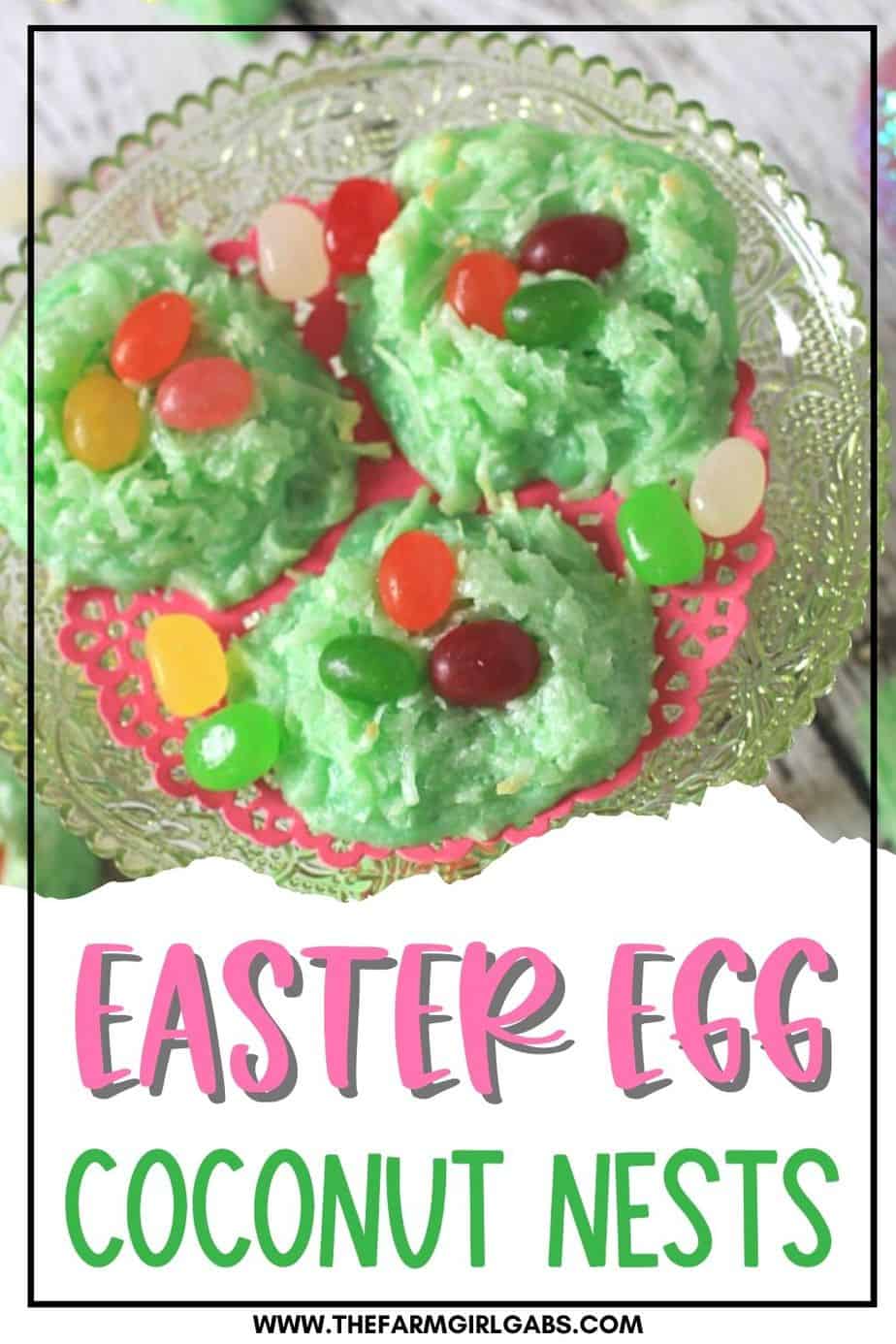 Do you have any favorite Easter treats you like to make? I would love to know. Leave me a comment below.
Happy Easter!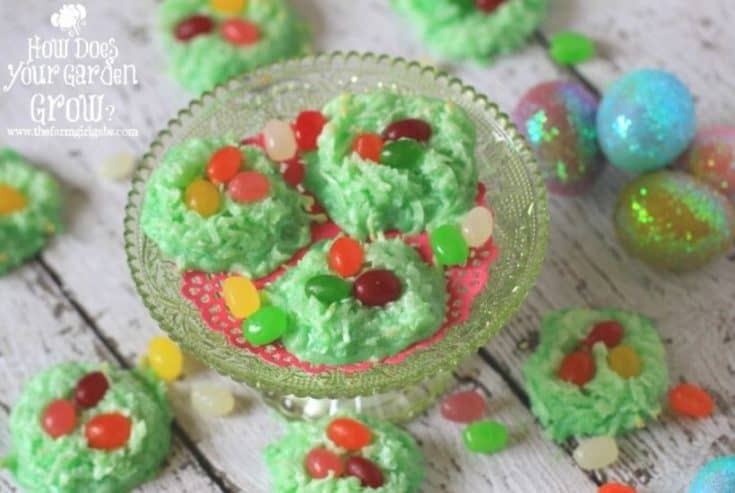 Yield:

35 cookies
Coconut Macaroon Egg Nests
Easter Egg Coconut Nests - These light and fluffy macaroons are filled with colorful jelly beans. These easy cookies are an adorable Easter and spring recipe.
Ingredients
14 ounces shredded coconut
14 ounces sweetened condensed milk
1 1/2 teaspoon almond extract
Green Food Coloring
2 extra-large egg whites room temperature
1/4 teaspoon salt
Jelly Beans
Instructions
Pre-heat oven to 325 degrees.
In a small bowl, mix together condensed milk with 2 drops of green food coloring and almond extract.
In a medium bowl, add coconut. Pour colored condensed milk over the coconut and incorporate well. Set aside.
In the mixing bowl, add egg whites and salt. Beat on high until medium peaks form.
Carefully fold egg whites into the coconut mixture.
Using a cookie scoop, drop by tablespoon onto a lined cookie sheet.
Add three jelly beans to the center of each macaroon.
Bake for 15-17 minutes.