This is a sponsored post. All opinions are 100% my own. This post may contain affiliate links. We may receive a commission if you click and purchase something. Please see our disclosure policy for more details.
Three cheers for the red, white and blue. This Firecracker Cookie Cake, made with M&M's® Red, White, & Blue Milk Chocolate, is a perfect way to celebrate our great country and members of the military.
Military service is something important in my family history. While I have no active-duty military members currently, I am proud to say that my father served in the Korean war and four of my uncles (my mom's brothers) were part of the Greatest Generation having served in World War II. One of my uncles was even awarded the Silver Star for his bravery during World War II.
It's because of these brave men and women who have served in the military in some capacity, that we have the many freedoms we take for granted today. As a child growing up, my uncles never really talked about their experience in World War II.
They were humble and proud to have served, never expecting a "thank you" for what they endured. As a child, I never really understood or appreciated what their service to this great country meant. The true heroes were those that never made it home. My uncles had witnessed the harsh reality of war and lived to tell, while many of these men and women never did.
Are you planning to host a summer party soon? A great summer get-together always calls for a fun dessert. Show your patriotism with this easy Firecracker Cookie Cake.
And if you are planning a 4th of July or patriotic celebration, make sure you check out the special recipes and crafts dedicated to the red, white and blue here on The Farm Girl Gabs.
How To Make A Cookie Cake
This recipe is a traditional chocolate chip cookie recipe on overload. It is jam-packed with M&M's® Red, White, & Blue Milk Chocolate and pieces of SNICKERS®. I just love the colorful patriotic colors of the M&M's®!
I baked this cake in a 12″ pizza pan. You can also use a 10″ cake pan too.
It will make a thicker cake, but it will taste just as delicious. To make this cookie even more patriotic, I melted some red and blue melting wafers
to drizzle on top once the cookie is cooled.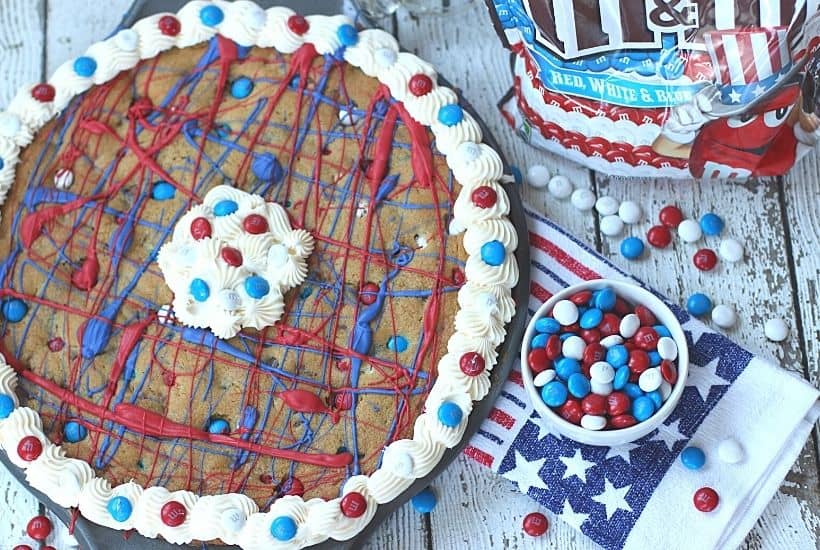 To save time in decorating the cake, I used a can of store-bought vanilla icing to add the finishing touches. Add some extra M&M's® to the icing too.
I made this cake for a party we attended over Memorial Day weekend. It's a great way to show your American pride. If you have kids at home, this is a great way to get them in the kitchen. When my kids were younger, I loved to bake with them. Let them measure, mix, pour and decorate. It's fun to lick the bowl too.
More Patriotic Red, White & Blue Recipes To Try
Red, White & Blue Brownie Pizza
Stars & Stripes Dipped Pretzels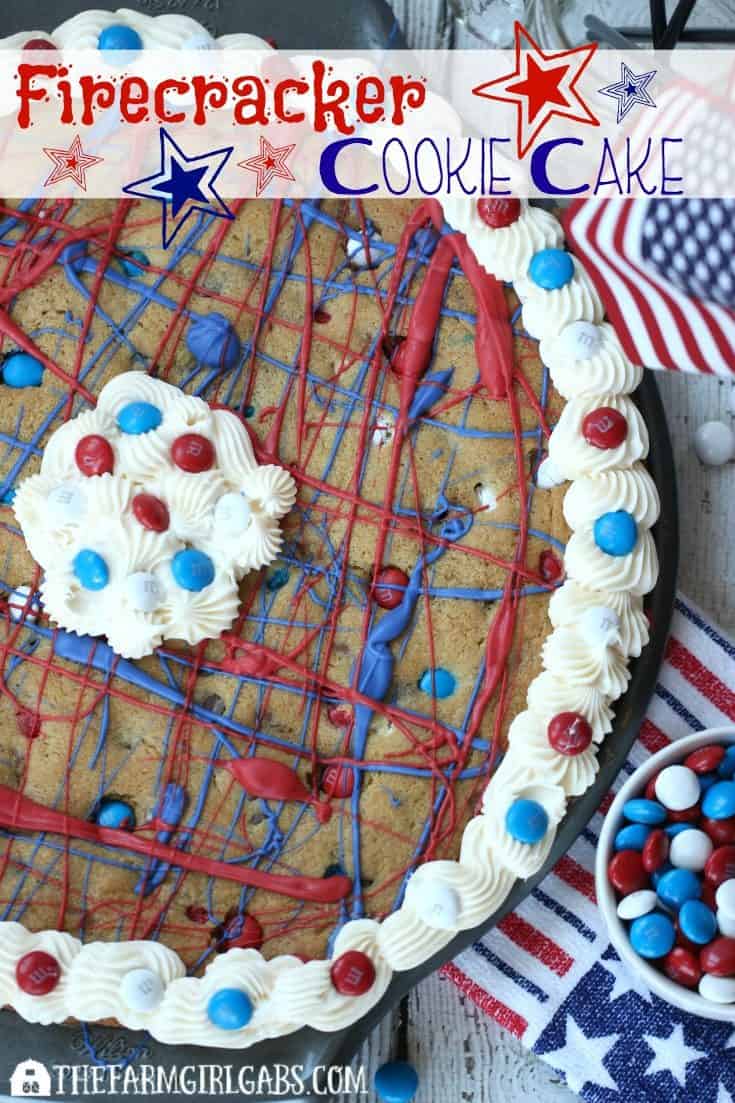 Yield:

16
Firecracker Cookie Cake
Three cheers for the red, white and blue. This Firecracker Cookie Cake recipe is a an easy dessert recipe for your July 4th picnic or patriotic celebration. It is a delicious chocolate chip cookie perfect for a summer celebration.
Ingredients
2 1/4 cup flour
1 teaspoon baking soda
1 teaspoon salt
1 cup unsalted butter, softened
2 large eggs, room temperature
3/4 cup brown sugar
1/2 cup granulated sugar
1 tablespoon vanilla extract
2/3 cups milk chocolate chips
1 cup M&M's® Red, White, & Blue Milk Chocolate plus extra for garnish
2/3 cup chopped SNICKERS®
1 can vanilla frosting
1 cup red melting wafers
1 cup blue melting wafers
Instructions
Preaheat oven to 350 degrees.
Grease a 12" round pizza pan and set aside.
Sift flour, salt and baking soda in a medium bowl.
Add the butter to a bowl of a mixer. Beat on medium until light and fluffy. Add sugars and continue beating.
When butter and sugar mixture are light yellow, add eggs, one at a time, Beat well between each. Add vanilla extract.
Slowly at the flour mixture. Beat just until incorporated.
Remove bowl from mixer. Add M&M's® Red, White, & Blue Milk Chocolate, chocolate chips and chopped chocolate candy. Mix by hand.
Spread in the greased pizza pan.
Bake for 20 minutes or until golden brown.
Remove from oven and cool completely.
Melt red wafers and blue wafers in the microwave for 30 seconds. If not fully melted, add 5 seconds at a time. Drizzle red and blue over cake
Add vanilla to a pastry bag with a large decorating tip. Pipe outer edge and a circle in the center.
Garnish with remaining M&M's® Red, White, & Blue Milk Chocolate
Nutrition Information:
Yield:
16
Serving Size:
1
Amount Per Serving:
Calories:

567
Total Fat:

27g
Saturated Fat:

13g
Trans Fat:

0g
Unsaturated Fat:

12g
Cholesterol:

59mg
Sodium:

357mg
Carbohydrates:

77g
Fiber:

2g
Sugar:

55g
Protein:

5g
Save
Save