This Mediterranean Rice Salad, made with Veetee Dine In Rice, is a quick and delicious lunch or dinner option with delicious Greek flavors.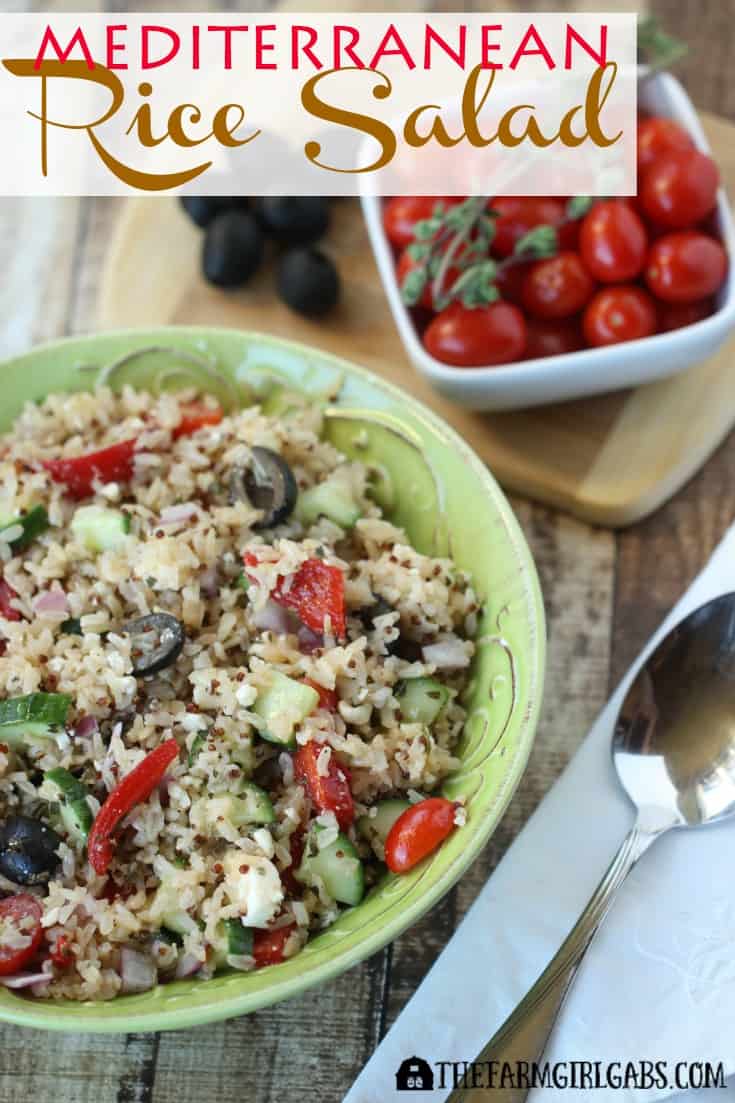 I have a confession to make. I have been in a cooking funk lately. Maybe it is because winter has finally arrived, maybe it's because the kids' schedules are crazy or maybe because I cooked so much over the holidays I am just burned out. I am now on a creative food mission. I have decided that I am going to try to create one new dish each week to liven things up around here. I have also decided that I am going to plan ahead and have dinner on the table in 30 minutes or less. That's my mission and I'm sticking to it! A delicious Mediterranean Rice Salad was first up on my mission.
Let me start off by saying that I love rice! I totally love how versatile it is, how you can flavor it any way you like and how it can easily transformed into a satisfying one-dish meal. I recently discovered Veetee Dine In, a brand that hails from across the pond (a.k.a. Great Britain), and can be ready in two minutes. Yes, you read that correctly. T-W-O minutes, as in 120 seconds. Hello, this product is the perfect answer to my "dinner in 30 or less" mission! Another bonus – it's shelf stable for 12 months.
Veetee Dine In comes in 12 varieties, six plain and six flavored. It can be microwaved or cooked on the stove top. It is also GMO-free, suitable for vegetarians, ovo-lacto vegetarians and many varieties are suitable for vegans. You see why I am so in love with this product. I love their Wholegrain Brown Rice & Quinoa, which is why I used it in this Mediterranean Rice Salad.
This salad was made in a mere 15 minutes. Yes, you read that correctly. FIFTEEN. Seriously, Veetee, is my new best friend. I used basic ingredients you find in Mediterranean cuisine, like feta, cucumber, roasted peppers and olives and turned the Wholegrain Brown Rice & Quinoa variety into a Mediterranean-inspired main dish salad. These are all simple ingredients that you most likely have hanging out in your refrigerator or pantry.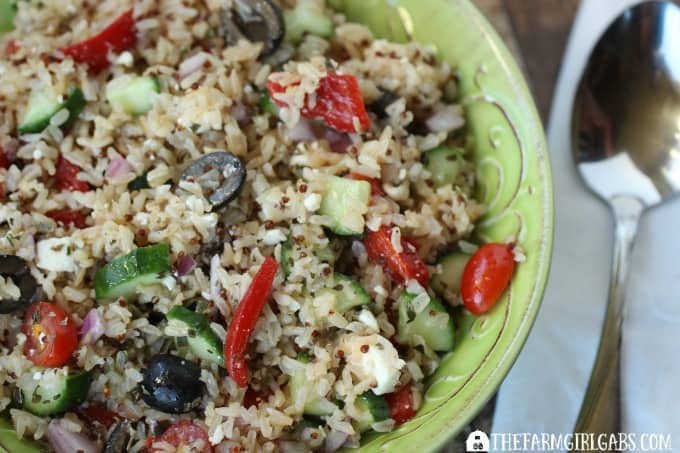 I dressed the salad with a simple lemon vinaigrette. It complimented the flavors of the olives, feta cheese and vegetables perfectly. I choose to make this salad a meatless meal. But, I am 100% positive that it would be equally delicious with grilled chicken, steak or shrimp added in! My family really enjoyed it. Quick, simple and delicious. Mission accomplished!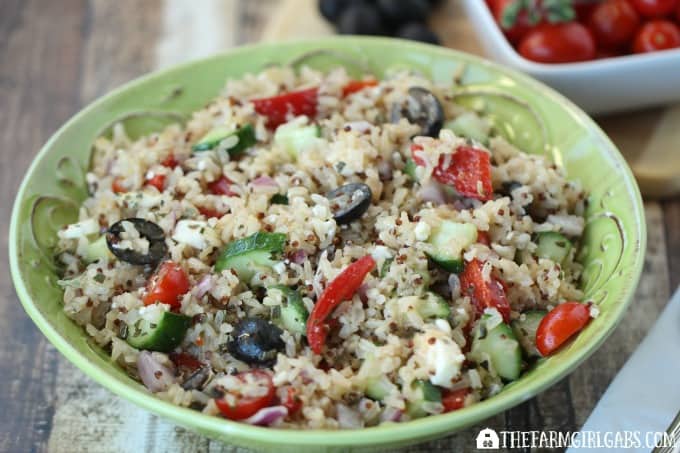 Veetee Rice is available at Shoprite, Walmart, Wegmans Kroger and other food markets across the USA. You can click here for a listing of locations. Veetee is available in the following flavors: Basmati, Basmati & Wild Rice, Thai Jasmine Rice, Whole Grain Brown Rice, Long Grain Rice, Whole grain Brown Rice & Quinoa, Red Beans & Rice New Orleans Style, Chicken Flavor Rice, Golden Vegetable Rice, Thai Lime & Herb Rice, Pilaf Rice and Spanish Style Rice.
I love brands that give back to our community. Veetee donated roughly 80,000 trays (about 160,000 servings) of shelf stable, microwaveable rice to the Community FoodBank of NJ, part of Feeding America during the holidays. That is so incredibly generous.
…..AND Veetee Dine In is giving even MORE in the form of a GIVEAWAY!  One lucky winner will receive ONE YEAR supply of Veetee Dine In Rice rice AND the winner will also have the opportunity to choose to donate the same amount of rice on their behalf to their local charity of choice. Talk about paying it forward! Be sure to enter the giveaway below.
You can follow Veetee Dine In

on the following social media channels:
Facebook   |   Instagram   |   Pinterest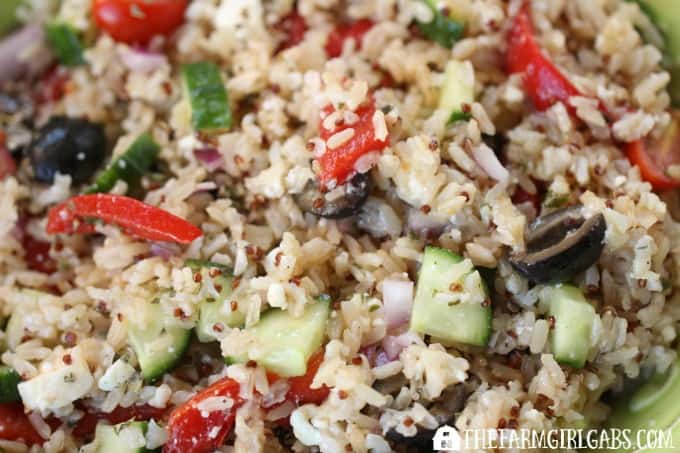 Mediterranean Rice Salad & Giveaway
This Mediterranean Rice Salad, made with Veetee Dine In Rice, is a quick and delicious lunch or dinner option with delicious Greek flavors.
Author:
Melissa Russo / thefarmgirlgabs.com
Ingredients
2 packages Veetee Dine In Wholegrain Brown Rice & Quinoa
⅓ cup grape tomatoes, halved
2 roasted red peppers, roughly chopped
⅓ cup red onion, diced
⅓ cup English cucumber, diced
⅓ cup black olives, halved
⅓ cup feta cheese
Salt & Pepper, to taste
2 tablespoons fresh oregano
Lemon Vinaigrette

½ cup olive oil
¼ cup fresh lemon juice
1 clove garlic, minced
1 teaspoon Dijon mustard
½ teaspoon black pepper
Instructions
Cook Veetee Dine In Rice in your microwave, one package at a time according to package directions.
In a small bowl, whisk together olive oil, lemon juice, mustard, garlic and pepper to make lemon vinaigrette.
In a large bowl, add rice and mix in tomatoes, olives, red peppers, onions, feta, cucumber. Season with oregano, salt and pepper.
Pour vinaigrette over rice and mix to incorporate.
Be sure to check out these wonderful blogger friends of mine for some more Veetee Dine In recipes!
Chicken Fried Rice  by We're Parents
Lime Shrimp, Corn & Rice Skillet  by Real The Kitchen & Beyond
Mediterranean Rice Pilaf  by Courtney's Sweets
Quick Chickpea & Mushroom Rice Pilaf  by Opera Singer In The Kitchen
Chicken & Pepper Stir Fry  by NEPA Mom
Thank you Veetee Rice for sponsoring this post and providing me with all the delicious rice varieties. As always, opinions are 100% my own.