This shop has been compensated by Collective Bias, Inc. and its advertiser. All opinions are mine alone. #CarnationSweepstakes #BetterBreakfast #CollectiveBias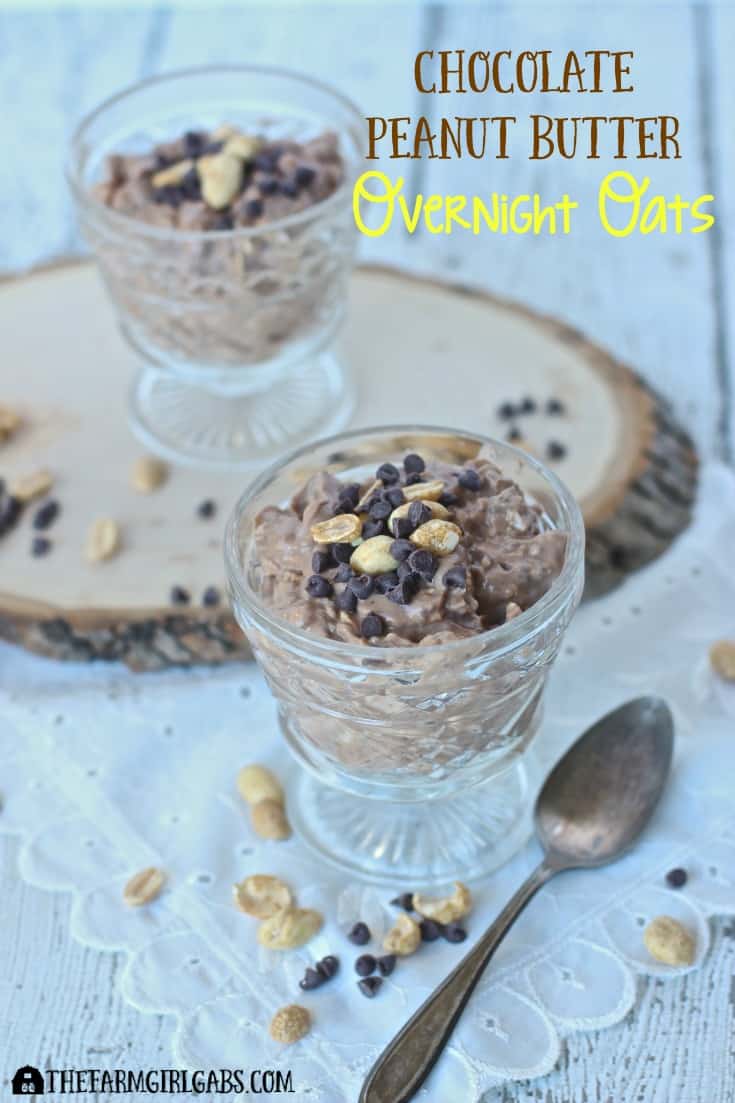 While breakfast is the most important meal of the day, I always feel like it is a rushed event in my house. Kids are running to school, husband is heading out the door for work, I am sure you probably can relate. Preparing breakfast ahead of time is a sure-fire way to make sure my family's feed before leaving the house in the morning. A nutritious Chocolate Peanut Butter Overnight Oats made with  is the perfect way to make sure all our mouths are fed in the morning.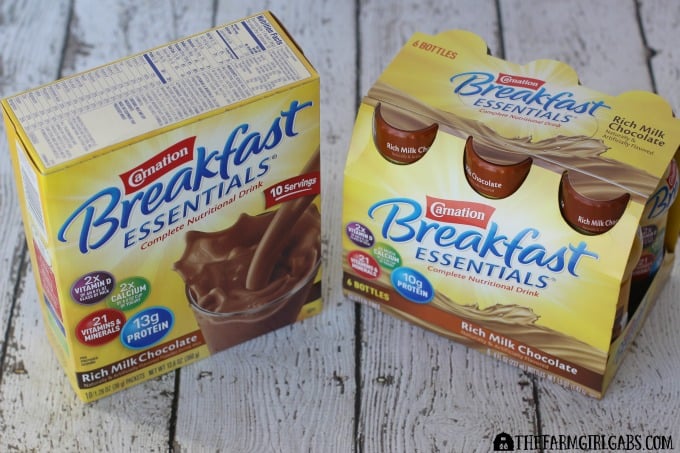 Let me just start off by saying that even though I get up early to get the kids off to school, I am not a morning person. Breakfast is always served to my two teenagers, but for me, it is hit or miss. While I understand how important it is, I need to make a conscious effort to make time for myself to eat breakfast.
This is where Carnation Breakfast Essentials® Powder and Carnation Breakfast Essentials® Ready-to-Drink Bottles come to my rescue. With these two breakfast options, I don't have to worry about not eating. I can either use the powder variety and mix with some milk or grab ready-to-drink bottle as I am heading out the door. Thankfully, the convenience and nutrition of Carnation Breakfast Essentials® gets my day started off on the right foot. I am taking the Carnation® 7 Day Challenge and enlisting my family as well. My mission is to not only find time to eat breakfast; but to also eat a more nutritious one as well.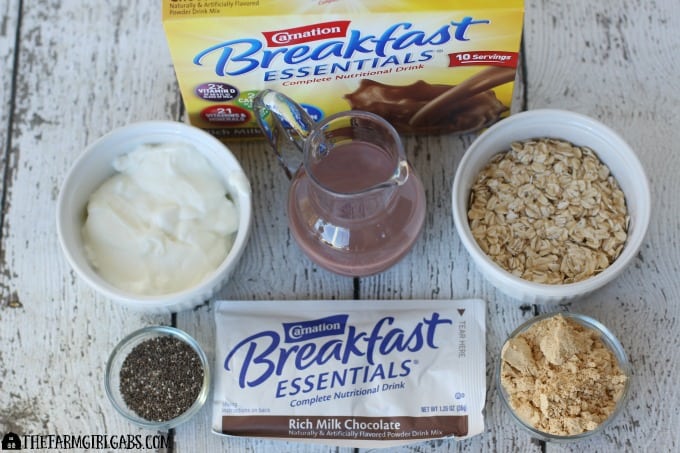 Chocolate and peanut butter go hand-in-hand and this breakfast is quick, delicious and satisfying. Wanna know the best part??? The recipe is made the night before. Yep, combine all the ingredients in a bowl, mix together, cover and refrigerate. How's that for simplicity. It doesn't get much easier to create a satisfying breakfast for the family.
Packed full of delicious chocolate and peanut flavor, this Chocolate Peanut Butter Overnight Oats is also loaded with the nutritional benefits of the Carnation Breakfast Essentials®, oatmeal, chia seeds, and yogurt. It's the perfect way to start your day, without all the fuss and preparation.
What is your breakfast routine like? Carnation Breakfast Essentials® is encouraging everyone take the 7-Day Breakfast Challenge and enjoy a nutritious breakfast every day for 7 days. Complete simple breakfast missions through the end of February for chances to win prizes! Are you ready to join me in the Carnation 7 Day Challenge?
Here's how you can take part in the Carnation Breakfast Essentials® Sweepstakes 
Ready to get started? Follow these easy steps:
Sign up at CarnationBreakfastChallenge.com.
Complete a simple yet fun breakfast mission for a chance to win. New prizes will be revealed every day!
Come back any day in February to complete missions and see new prizes. The prizes range from a Fitbit to a GoPro and other awesome stuff!
Head to your favorite store to purchase a Carnation Breakfast Essentials® Nutritional Product and upload your receipt for five extra entries per day.
I purchased both the Carnation Breakfast Essentials® Powder and Carnation Breakfast Essentials® Ready-to-Drink Bottles at Wal Mart. I was also able to grab all the other ingredients I needed to make this Chocolate Peanut Butter Overnight Oats recipe as well.

Chocolate Peanut Butter Overnight Oats
Chocolate Peanut Butter Overnight Oats is a nutirtious breakfast that is prepped the night before.
Author:
Melissa Russo / thefarmgirlgabs.com
Ingredients
¾ cup old fashioned oatmeal
1 packet Carnation Breakfast Essentials® Powder - Chocolate flavor
4 tablespoons peanut powder
½ cup unsweetened chocolate almond milk
½ cup nonfat vanilla greek yogurt
1 tablespoon chia seeds
2 teaspoons stevia sweetener
Chocolate Chips - for garnish
Peanuts - for garnish
Instructions
Combine oatmeal, Chocolate Carnation Breakfast Essentials® Powder, peanut powder, chia seeds and stevia in a medium bowl. Mix together.
Stir in almond milk and vanilla yogurt. Use a spatula to incorporate all the ingredients.
Cover and refrigerate overnight or at least 4 hours.
Garnish with some chocolate chips and peanuts.
Makes 2 servings.

This post may contain affiliate links to help support this blog. Please see my