Soft and chewy, these Coconut Thumbprint Cookies are a great addition to your Christmas Cookie recipe routine.
This post contains affiliate links.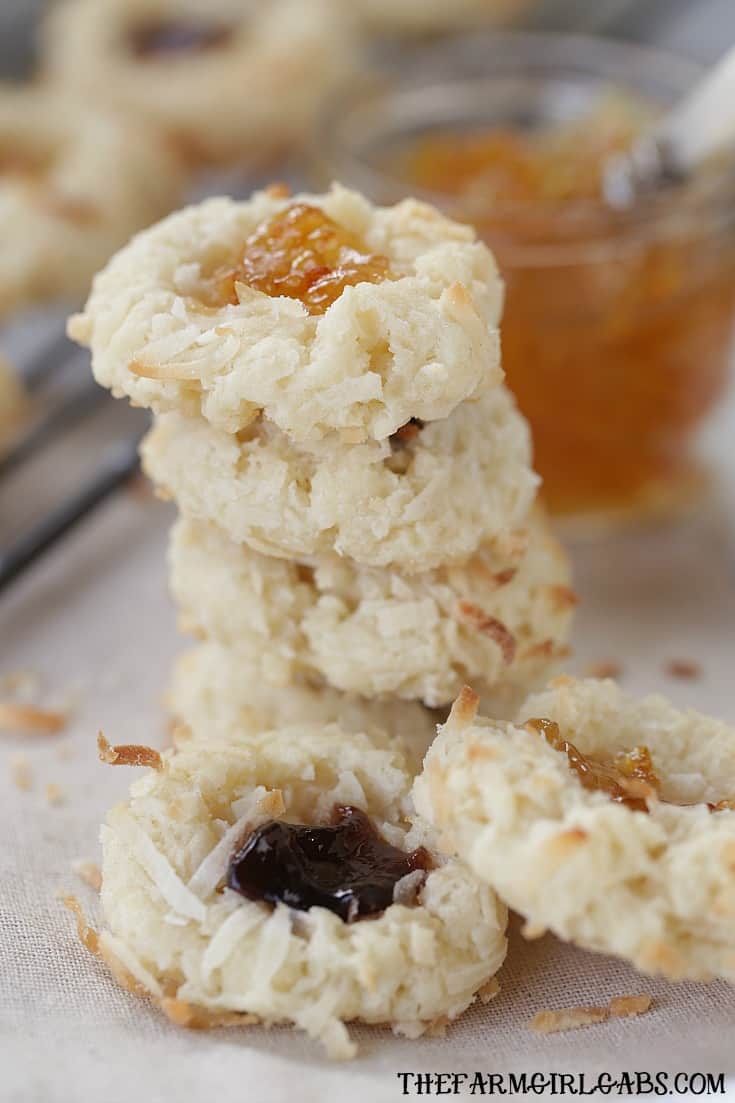 Riddle me this. What do you get when you cross a coconut macaroon with a thumbprint cookie? Drumroll please….a delicious batch of Coconut Thumbprint Cookies. Ok, that was a really, really bad joke. Telling jokes were never my strong suit, but baking is definitely one of them. Christmas cookie baking is in full swing at our house. I was recipe testing just the other day and created this yummy Coconut Thumbprint Cookies.
I am always a fan of anything with coconut. Hand me a nice fruity coconut flavored drink on a tropical island and I am all set. But that is a conversation for another day. Let's talk about my love for coconut macaroons because that is how this recipe all came about. My mom has been making macaroons ever since I can remember. These delectable little treats were always on the Christmas Cookie list. They are still to this day one of my favorite cookies, so soft and chewy. Thumbprints, on the other hand, were not a recipe my mom made very often, but I did once I started my own baking traditions. So, I found a delicious way to combine the two.
In addition to adding coconut to the cookie batter, I rolled
each ball in some coconut too.
The beauty of thumbprint cookies is that you can add any type of preserves
you like to the center of each cookie. I like to mix it up and add a variety. I used red raspberry and apricot for this recipe.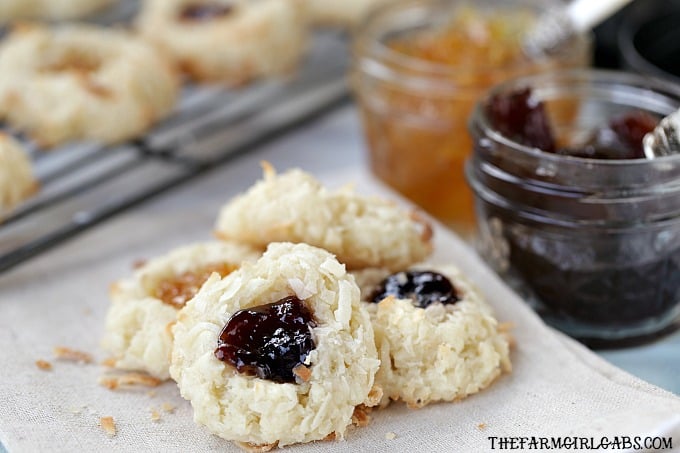 The end result of these Coconut Thumbprint Cookies is a delicious cookie that will have you begging for more than one. That's the hard part….stopping at just one of these delicious beauties. Happy baking.


Print
Coconut Thumbprint Cookies
Yield 32 cookies
Soft and chewy, these Coconut Thumbprint Cookies are a great addition to your Christmas Cookie recipe routine.
Ingredients
1/2 cup unsalted butter, softened
3 ounces cream cheese, softened
3/4 cup sugar
1 egg yolk
1 teaspoon almond extract
1 1/4 cup all-purpose flour
1 1/2 teaspoon baking soda
1/2 teaspoon salt
3 3/4 cup shredded sweet coconut
1/2 cup seedless raspberry preserves
1/2 cup apricot preserves
Instructions
Preheat oven to 350 degrees. Line two baking sheets with parchment paper and set aside.
Cream butter, cream cheese and sugar together in a mixing bowl. Beat until light and fluffy. 
Add almond extract and egg yolk to mixture and beat well.
In a medium bowl, sift flour, salt, and baking powder together. Slowly add to butter mixture and beat until incorporated.
Stir in 3 cups of coconut, just until incorporated. Reserve remaining 3/4 cup of coconut.
Shape dough into heaping teaspoon-sized balls. Roll in remaining coconut and place two inches apart on cookie tray.
Use the end of a round wooded spoon and make a small indentation in the center of each cookie.
Fill half of the cookies with raspberry preserves and the other half with apricot preserves.
Bake 12 minutes until coconut turns slightly brown.
Courses Dessert