Celebrate summer…and pirates…and Captain Jack Sparrow with this refreshing Disney-Inspired Wrecked Pirate Cocktail!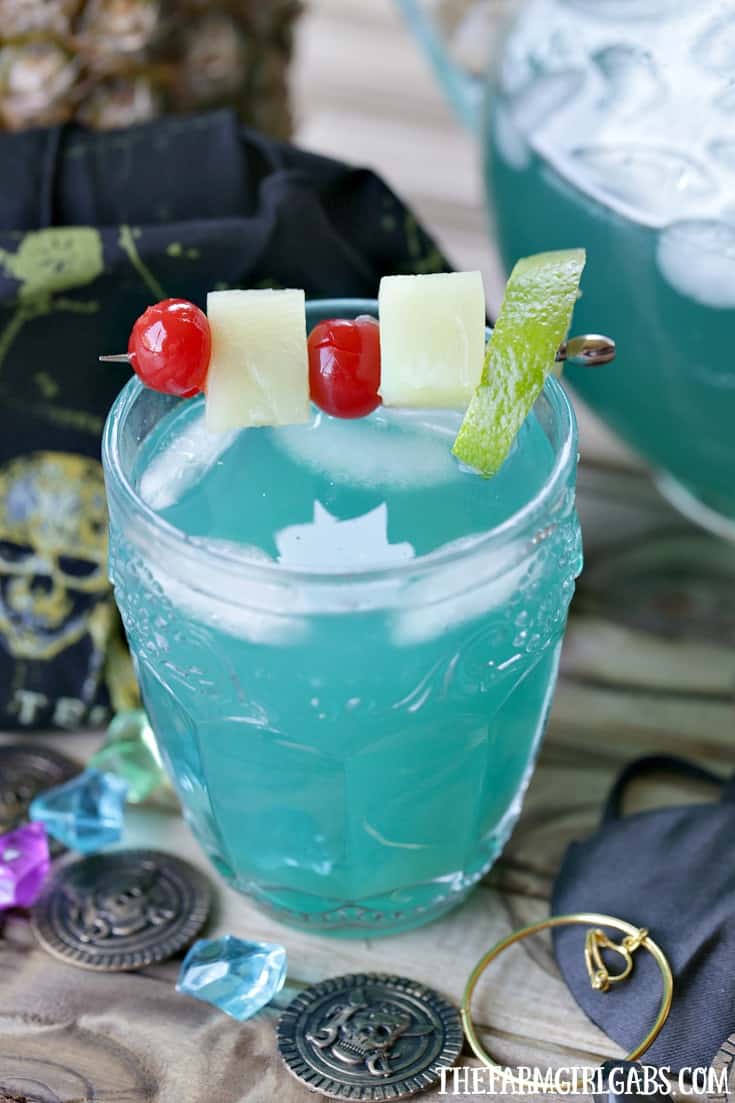 Today, I am paying homage to my favorite crazy pirate – Captain Jack Sparrow. I am a huge fan of Captain Jack an the Pirates of the Caribbean movies. So let's celebrate with this refreshing Wrecked Pirate Cocktail. It has all the components of a smashing cocktail that I am sure Jack (the captain, not the monkey) would love, including rum.
The inspiration behind this drink came from a bottle of Blue Curacao that was hiding in my cabinet. Many years ago, Anthony and I cruised to the ABC Islands (Aruba, Curaçao, and Bonaire). Although we haven't been back since, I absolutely loved Curaçao. It's pristine blue waters, quaint Dutch-inspired architecture and Blue Curaçao liqueur made for a very memorable vacation. Blue Curaçao is a liqueur flavored with the dried peel of the laraha citrus fruit, grown on the island of Curaçao.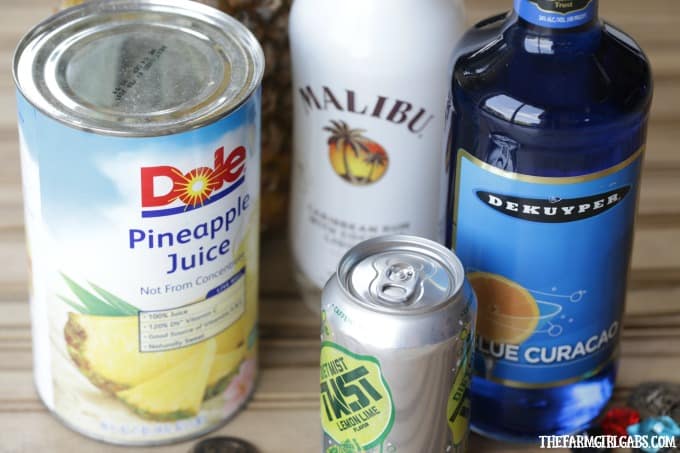 Pirate movies that are set in tropical locations call for tropical drinks. This Wrecked Pirate Cocktail has plenty of rum (which would make Captain Jack very happy) and delicious tropical flavors. If you have traveled to any of the Caribbean islands, you had a chance to see the beautiful blue waters. The Caribbean is really beautiful. That Blue Curacao that I found hiding in my cabinet reminds me so much of the pristine blue waters. It was perfect to use in this cocktail.
You can make this Wrecked Pirate Cocktail as a stand-alone drink or by the pitcher
for a party. It is the perfect summer drink and I am sure your guests will love it. Savvy?
The Wrecked Pirate Cocktail
Celebrate summer and Captain Jack Sparrow with this refreshing Disney-Inspired Wrecked Pirate Cocktail! 
Ingredients
2

parts spiced rum

1

part coconut rum

2

parts pineapple juice

Splash Blue Curacao 

Splash Lemon Lime Soda

Juice of 1/2 lime

Fresh Pineapple

garnish

Maraschino Cherries

garnish
Instructions
Add 1 cup ice to a shaker.

Add the rums, Blue Curacao, pineapple juice and lime juice. Shake well. Pour in a glass and add a splash of lemon-lime soda. Garnish with pineapple and cherries.