20 Tips For First Time Disney Cruising
Ready to set sail on your first Disney cruise? Before you cast off, check out these 20 Tips For First Time Disney Cruising.
Until I received that coveted invitation to the 2017 Disney Social Media Moms Celebration, I never even considered booking a Disney Cruise. My love for the Walt Disney Resort runs pretty deep. So naturally, we always plan our family vacations in the Happiest Place On Earth.
After it was announced that the 2017 Disney Social Media Moms Celebration would be afirst-everr Land & Sea Adventure (a few days at Port Orleans Riverside and a 3-night cruise aboard the Disney Wonder), I was intrigued. Once we worked out all the details, we decided that this would be a solo vacation for Anthony and I, our first trip without kids in 18 years.

Admittedly, I was a little skeptical about the cruise portion of the event. Walt Disney World is my jam and I knew we would have a ball since there is so much to do. I always thought that a Disney cruise would be geared towards families with young children. Would there be enough for us "adults" to do aboard the Disney Wonder? The answer is simple. Yes.
Our first Disney Cruise was pretty magical as if I should expect anything else from Disney. Now that I am no longer a "Disney Cruise Newbie"
I wanted to share 20 Tips For First Time Disney Cruising with you.
Explore cruise options & itineraries to find the best fit for your family. With four different cruise ships, Disney offers a wide array of destinations and length of cruises
.
You can book online through Disney Cruise Line but you may want to consider a travel agent who will guide you step by step through the process, plan your trip at no extra charge. They also have some helpful free planning tools available via their website.
Bring a passport and any necessary travel papers – At check-in, all Guests must present valid passports or other acceptable proof of citizenship. For more information, here is a list of FAQ from the Disney Cruise Line website.
Pack More Fun – I probably should not be talking to you about packing because it is not my forte. However, pack
accordingly and don't bring everything and the kitchen sink. Space is limited in the staterooms.
I found that Disney cruises are more laid back because of the family atmosphere. Here is a handy packing checklist for a Disney Cruise. It will serve as a good guide. Again, no need to bring everything on this list.
Don't forget to bring medicine for motion sickness, sea bands
(the ship's medical center will provide if you forget) and plenty of hand sanitizer
.
Check-In Online Early For Smooth Sailing – Checking in online is important for a few reasons. It will save you time at the port once you arrive, it gives you a chance to make sure all of your information is in the system correctly so there won't be any problems when you arrive.
At this time, you can address any special needs you may have, and you'll get to pick an arrival time at the port! Online check-in opens on different dates depending on your Castaway Club level and the category you are sailing in. If you are a Platinum level Castaway Club member, meaning you have sailed more than 10 times, or if you are sailing concierge, you can check-in online at midnight, 120 days before you sail.
If you are a Gold level Castaway Club member, meaning you have sailed more than 5 times, you can check-in online 105 days before you sail. If you've sailed at least once you are a Silver level Castaway Club member and can check in online 90 days before sailing. Everyone else can check in 75 days before you sail. It will be available online until 4 days before you sail.
Record It – One of the coolest things, when you embark on the ship, is a Cast Member will welcome your family over the microphone. I was so overwhelmed that I did not get to video this special moment. If you can, be sure to.
Your Key To The World – When you check into your Disney Cruise, everyone in your party will receive a Key To The World Card. The card will function as your room key and charge card on the ship. No cash is exchanged for any purchases.
Your Key To World Card is linked to your credit card on file and is used for purchases on the ship and at Castaway Cay. It will show your dining rotation. The card is also used to identify adults and minors for the purpose of restricting alcohol consumption. Make sure you bring cash with you when visiting the different ports.
A lanyard
is the perfect way to store your card because it fits safely around your neck.
Disney Cruise App – Be sure to download the Disney Cruise app for yourself and any family member with a smartphone before your arrive. You can text each other as a way of communication.
You can also access the Navigator, a daily schedule of what is going on that day. You will also receive a paper copy of the Navigator in your room. This guide is really handy in that it lists all activity times, show times and movie times for you.
Know where you are going – Explore the ship so you have an idea of how to get around. I'll be honest, Anthony and I would laugh because I was always getting lost and going the wrong way.
Plan port excursions – It's best to book any port excursions or Castaway Cay Cabanas as soon as you complete online check in as they might fill up. You can make these arrangements online at your My Disney Cruise account.
Come hungry – A cruise is not the best time to start a diet. The food is all you can eat. So I would definitely suggest the "see-food" diet if you were planning any diet at all. The food is simply amazing.
Disney also has rotational dining which means you will be eating dinner in all the restaurants on the ship. is try all the delicious food. Food and snacks are available on the deck near the pools too. And ice cream….all you can eat ice cream….enough said.
Onboard Activities – I was amazed at all the fun onboard activities available for both kids and adults. Reservations are required at any of the Kids Clubs or nursery. You can do this online to avoid filling out paperwork when you board.
There are lots of adult activities too from themed nightclubs, adult dining at Palo or Remy (reservations required) to movies and game shows. So much fun!
Be Entertained – Don't miss the Broadway style shows onboard. They are amazing. In true Disney style, these shows will not disappoint. Check your Navigator for show times.
Decorate your door with fun Disney magnets – Add a personal touch to your stateroom door by either making or purchasing custom door magnets for each member of your family.
Participate in the optional Fish extender exchange – A fish extender is an optional gift exchange with other families sailing. It's a fun way to spread pixie dust and get to know other Disney cruisers.
The Fish Extender is not sponsored by Disney. If you are interested, you will need to go to the Dis Boards.com website and search your cruise date/ship to sign up.
Tip Accordingly – Your room host or hostess and wait staff provide exceptional service during your cruise. They cater to you every need, trust me. They work very hard to make our visit magical. Gratuity is always at your discretion but Disney does have suggested amounts you can find here.
Take in all the Disney magic – There will be plenty of character meet and greet opportunities for kids and adults. Enjoy every second of it.You can pre-book some of the special meet and greets when you complete your online registration.
Aargh Ya Ready To Party – The Pirate Night party was so much fun. Get ready to sing and dance on deck. Deck yourself out in your favorite pirate garb
and have fun (no matter how old). The evening ends with a spectacular fireworks display at sea.
Capture the moments – There will be a lot of beautiful scenery on your cruise. Make sure to capture
the sunrise, sunset and beautiful views. Take lots of pictures and videos so you can document the memories.
Stay connected – You can use your cell phone while aboard the cruise. Please note that you will need to contact your carrier to see if your plan will accommodate international travel.
If you want to be cell-phone free, you can communicate with your family via the Disney Cruise Line App or your Wave Phone which is located in your stateroom. Also, there is limited outlet space in the rooms. It is a good idea to bring a portable outlet charger.
See Ya Real Soon – Leaving any Disney property is always the hardest. Debarkation day is no different. To make your family's debarkation smoother, pack your home away from home (your cabin) up the day before and leave your luggage outside your door before you go to bed the prior evening (usually around 10:30).
Don't forget to leave any clothing essentials and personal belongings with you. The room host will leave luggage tags on your bed with a character on it. When you leave the ship, you collect your luggage at the port in the section with your character.
If you are flying home, Disney recommends booking your flight departure after 12:30 p.m. to allow enough time to disembark and go through customs.
I know the cruise planning process sounds a little overwhelming, but really it isn't. The nice thing is the cast members are so helpful. All you need to do is relax and enjoy your magical Disney cruise vacation!
Be sure to check out these Disney Cruise planning tips and Walt Disney World planning tips.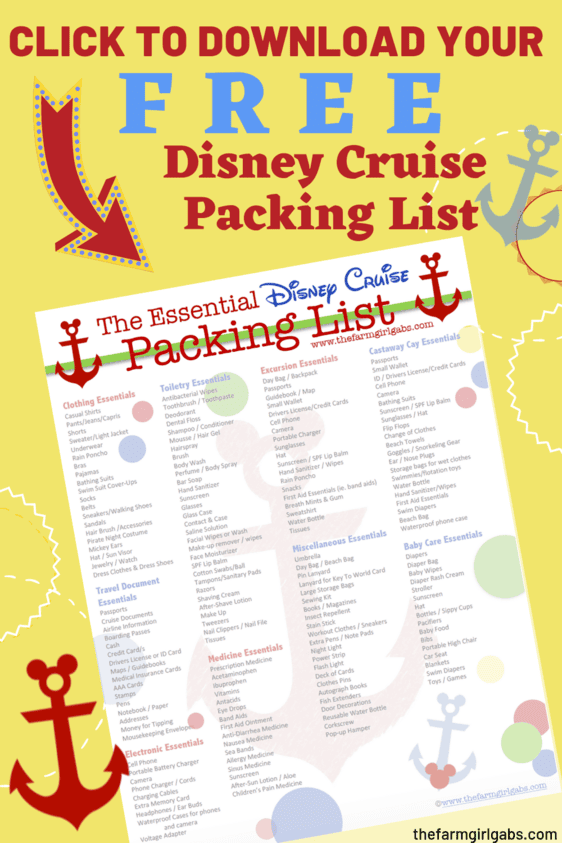 Disclosure: I was invited to attend the Disney Social Media Moms Land & Sea Celebration, which included a three-night cruise aboard the Disney Wonder. Disney provided me with discounted conference admission, tickets, and lodging. Disney and its conference sponsors also provided me with additional gifts during the event. As always, all opinions are 100% my own.