Disney Cruise Line Tips and Tricks For The Best Vacation
Here are some Disney Cruise Line tips and tricks that will help you prepare for your best trip and also allow you to have a great time while you are there.
I have really been dreaming of another Disney Cruise lately. If you have never been on a Disney Cruise, it is a lot more laid back than a vacation
at the various Disney resorts. However, there are port excursions that can be very exciting. Although the vacation will be decidedly more relaxed, You still need to plan ahead. In order to enjoy that effortless relaxation on a Disney Cruise you will need to work out your schedule ahead of time so you don't miss out on fun things during the cruise you find out about last minute. Here are some Disney Cruise Line tips and tricks that will help you prepare for your best trip and also have a great time while you are there.
Disney Cruise Line Tips and Tricks
Where to Sleep
The best place to have a room on the cruise ship is low down and center as much as possible. This is more general than specific Disney Cruise Line tips, but it's applicable and oh so important. Even if you are not prone to motion sickness it may be problematic to stay higher up and nearer to the ends. Even if you have a veranda stateroom, it helps to have a lower deck than one of the higher ones.
Don't Oversleep!
If you are way down in one of the lower decks and you don't have a porthole, be aware that it becomes very dark. If you are used to just waking up naturally, you might want to reconsider while on the cruise. You could be kicking yourself if you wind up missing out on the early part of your day. In fact, rising early is a good way to enjoy the ship with fewer passengers around.
Plan Your Excursions
Disney offers really fun excursions when it comes to time at port. These excursions are limited though and you have to reserve your space. This is like Dinner reservations or Fastpass. You want to secure your activities in advance to make sure you will be able to do them.
Make Time For Palo
Palo is fine dining that is available on all Disney Cruise Line ships. There is an additional cost to eat there but the value is definitely there. Dining at Paleo is perfect for a date night. The amount you would pay for the same restaurant on the shore is far more. This is a fancy Italian restaurant that is for adults only and it is not part of the rotation of restaurants that are included in the price.
Order Anything
One of my favorite Disney Cruise line tips is that you can order anything on the menu. It feels like coloring outside the lines, but you absolutely do not have to settle on one choice over the other menu options. You can order anything you like and as often as you like. Just don't be wasteful, but it is good to know that if you are struggling to make a decision between two great sounding entrees, you can actually have both!
Bring a Water Bottle
The water on the Disney Cruise Line is fresh and drinkable. It's a really great idea to pack a bottle
that you can fill up and reuse. On the subject of fresh water, another interesting Disney Cruise Line feature is that the swimming pools are heated freshwater as opposed to cold seawater typical on other cruises.
Here are more helpful Disney Cruise Tips
The Essential Disney Cruise Packing List
Why You Should Never Take Your Teen On a Disney Cruise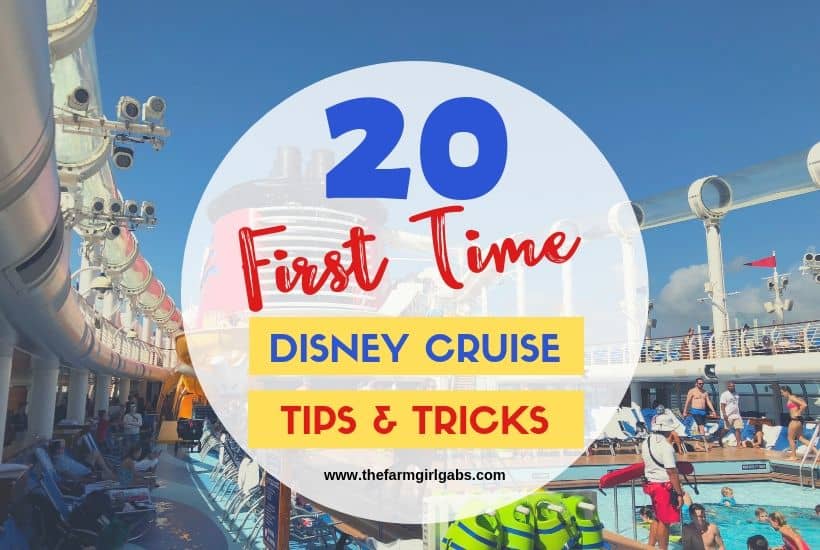 20 First Time Disney Cruise Tips & Tricks
10 Ways To Celebrate Romance On A Disney Cruise