Spread some love and cheer with this Sowing The Seeds Burlap Planter And Printable. It's a perfect gift for Mother's Day or Teacher Appreciation.
As a member of the HP Smart Mom Panel, I receive products and promotional items. All opinions are my own.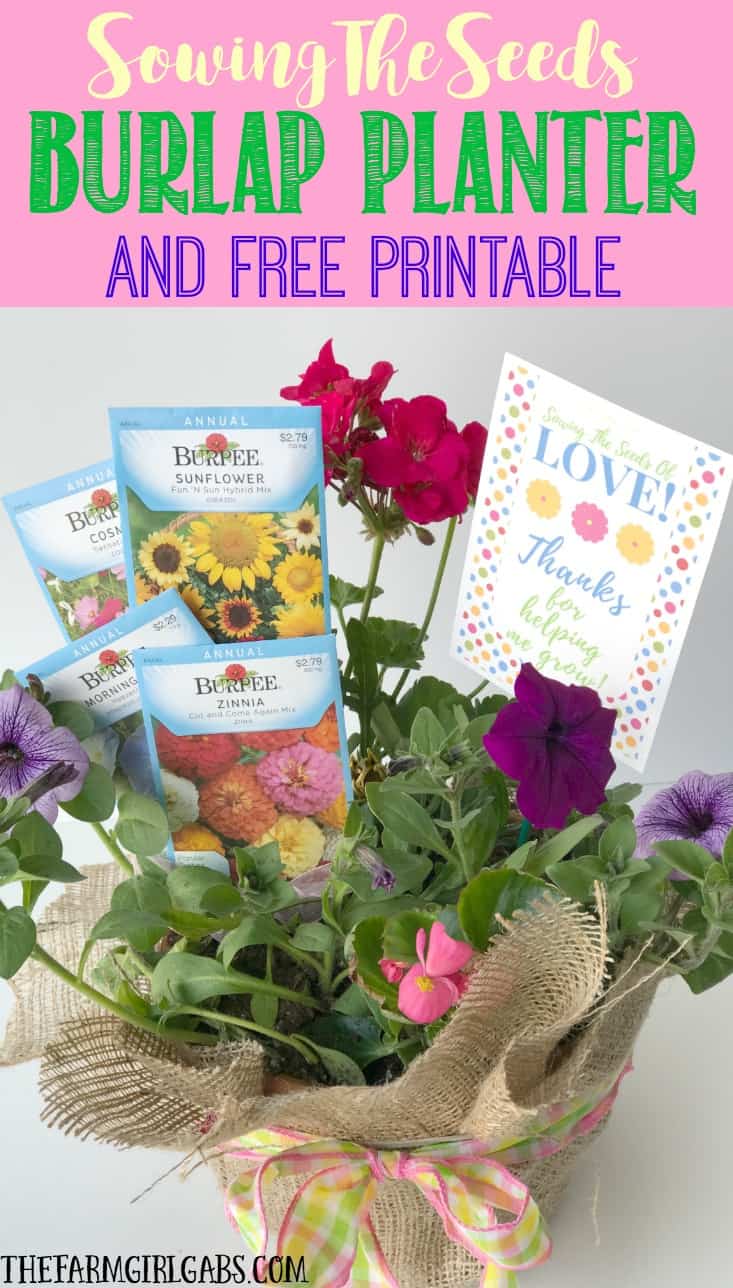 Since Mother's Day is just a few days away, I wanted to pop in, say hello, and give you a really pretty gift idea for mom. Say it with flowers this year. I bet mom would love to receive this Sowing The Seeds Burlap Planter (p.s. this planter makes a great teacher gift too). Flowers definitely have a way of making us smile. Mother's Day is a big flower day. Our garden center is in a flower frenzy right now. Happy gardeners are busy buying flowers to beautify their yards. Planting flower pots (or container gardening) is one of the easiest ways to garden. This year, plant one for mom..or grandmom…of Aunt Jess…or any special lady in your life. The kids will love to make this special planter for them. You only need a few things to get started. And one of them, the cute Sowing The Seeds Of Love gift tag, I already did for you. Your welcome! You can download the PDF file below.
I love a gift from the heart. In life, the simplest gifts often have the most meaning. Simple purchase some seed packets, some plants, a pot, burlap, and ribbon. If you want to take a shortcut, buy the pot already planted and go from there.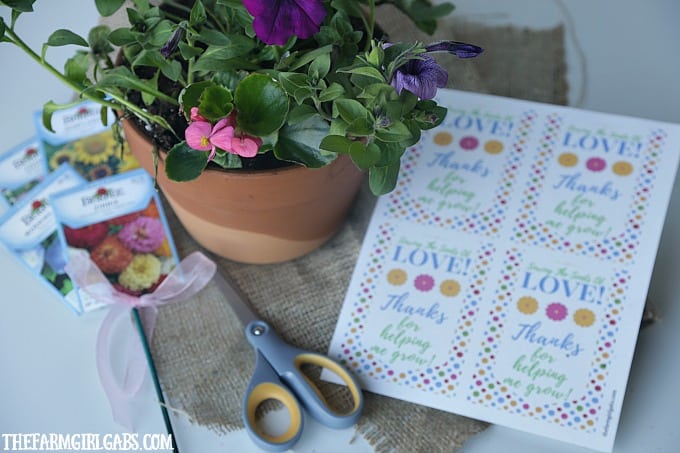 Here is what you will need to make this Sowing The Seeds Burlap Planter: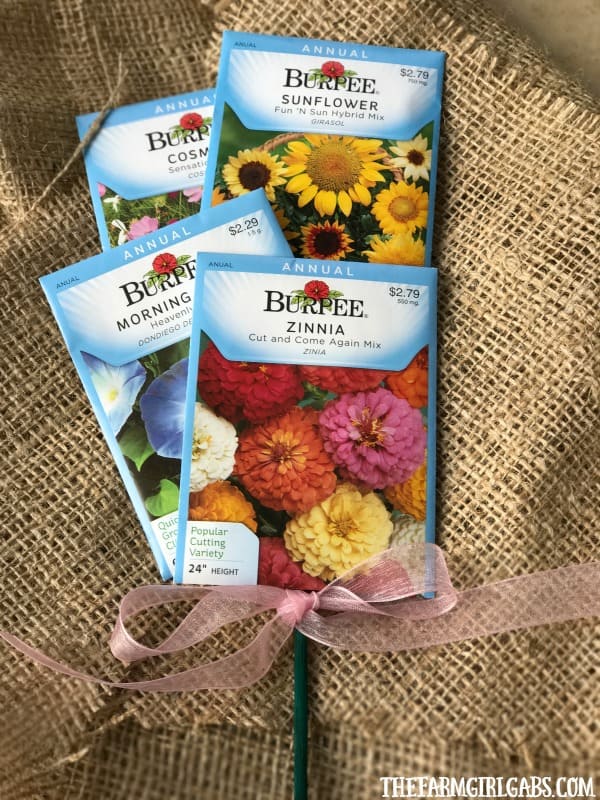 After you have planted the pot with the annuals, tape one of the wood skewers to the back of the seed packets. I added a sheer ribbon at the bottom.
Download, print
and cut out the Sowing The Seeds Printable onto cardstock. Take the other wood skewer and tape it to the back of the card.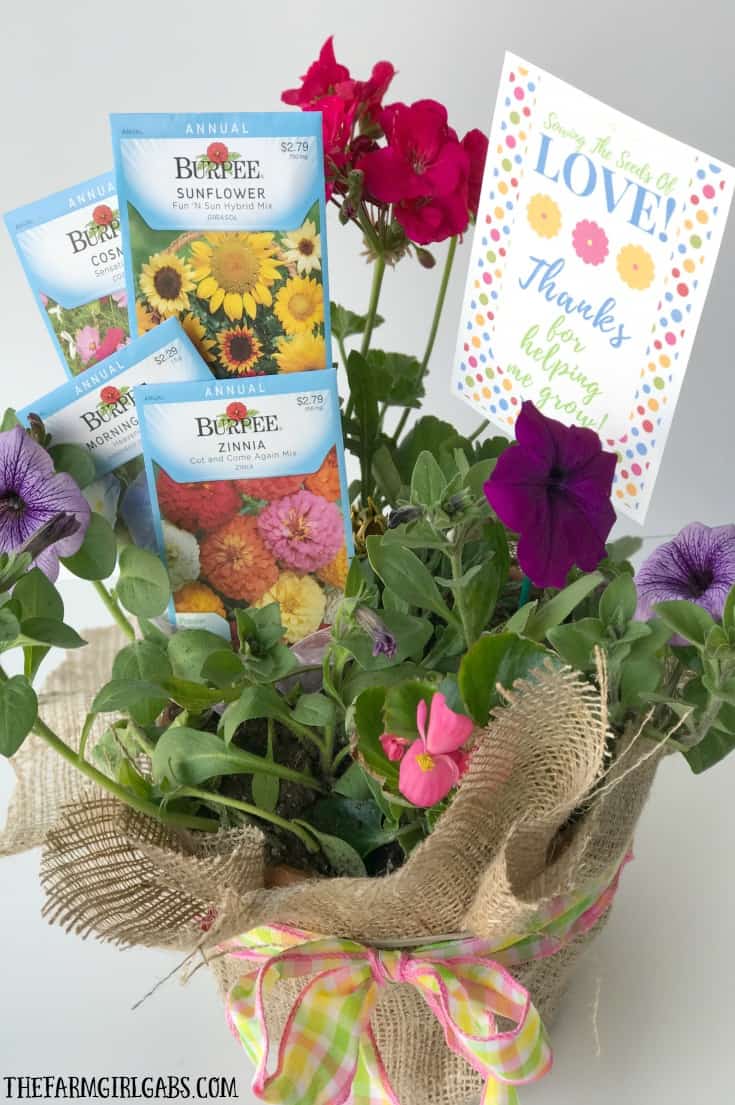 Wrap the bottom of the flower pot in burlap and tie a ribbon around to secure. Place the seed packets and tag into the pot. Simple as can be! Mom (or any special lady in your life) is going to love this. I guarantee! And don't forget, this is a great gift idea for your favorite teacher too.