Make fun and flavorful M&M Easter Cookie Bars for the holiday. These cookie bars are sure to be a huge hit if you're making them for the family during the Easter celebration.
This post may contain affiliate links. We may receive a small commission if you click and purchase something. Please see our disclosure policy for more details.
Homemade Cookie Bars
Nothing says Easter quite like gathering together as a family to enjoy a delicious meal with a sweet treat offered as a dessert. However, if you're tired of the usual pies and cakes, you can prepare these delicious Easter Cookie Bars instead. They're easy to prepare, fun and colorful, and taste amazing. Not only do kids love these cookie bars, but so do adults, so you can expect them to be a huge hit!
What You'll Need to Prepare the Easter M&M Cookie Bars
When making these tasty baked treats for the Easter celebration, be sure to have the following ingredients ready to use:
Sweet Cream Butter – Be sure to let the butter sit out and soften before you combine it with other ingredients. You can use unsalted or salted, but I prefer salted butter.
Light Brown Sugar – The light brown sugar offers the perfect sweet taste to these flavorful cookie bars.
Pure Vanilla Extract – Add hints of vanilla to these cookies using the pure vanilla extract.
Flour – Of course, you can't have these cookies without some flour!
Easter M&Ms – It's best to use the Easter M&Ms because of their beautiful pastel color.
You'll also need baking soda, two eggs, white sugar, kosher salt, and some Easter sprinkles!
Do I need any special equipment to make these cookie bars?
No, you don't! You can prepare these cookie bars in a 9×13 baking pan. You'll need a large bowl, a medium-sized bowl, and a whisk to mix everything together.
Can I add anything else to these cookie bars?
You sure can! While they don't need anything extra, you can feel free to add a few different ingredients into the mix, such as mini marshmallows or even mini chocolate chip morsels, both of which will go great with the M&Ms and the Easter sprinkles.
Where can I find Easter sprinkles?
You should be able to find Easter sprinkles at any grocery store, including spots like Target and Walmart. If not, you can order them online via Amazon!
Can I make these as cookies instead of bars?
Yes. If you prefer cookies, you can shape them into small balls and put them on a baking tray or even use a cookie-cutter. However, preparing them as bars is the easiest way to make them because you can bake the ingredients as a whole in the baking pan and then slice them into pieces.
How To Make Easter Cookie Bars: Recipe Notes
Make sure you allow your cookie mixture to cool down completely before you begin slicing into it. If you cut too soon, you're going to end up with crumbled cookies everywhere.
You can serve these cookie bars as is or add a dollop of whipped cream on top to give them something extra when serving them.
Don't forget to use a mixture of regular and peanut M&Ms when preparing these Easter Cookie Bars. The peanut ones add that extra crunch that you'll absolutely love when biting into these cookie bars.
Kitchen Baking Essentials
More Fun Easter Desserts & Easter Activities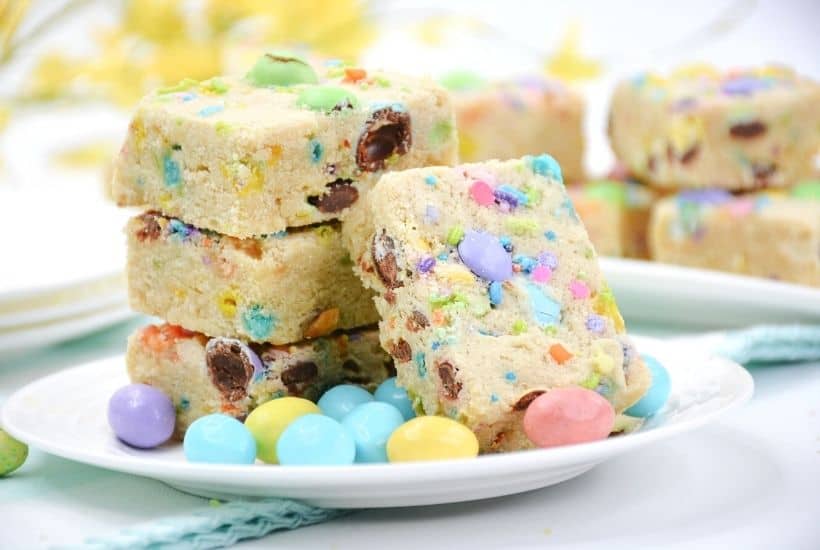 Yield:

12 Bars
Easter Cookie Bars
Make fun and flavorful Easter Cookie Bars for the holiday. These easy cookie bars are sure to be a huge hit for your Easter celebration. These thick and chewy M&M Cookies bars are perfect for any holiday or occasion. Fill them with chocolate chips, M&M's, or any chopped chocolate candy. They're also perfect to use up leftover Halloween candy.
Ingredients
1 cup sweet cream butter, softened
1 cup light brown sugar, packed
1⁄2 cup sugar
2 large eggs
1 teaspoon pure vanilla extract
1 teaspoon baking soda
1⁄2 teaspoon baking powder
1⁄2 teaspoon kosher salt
1 1⁄2 cup flour
2 cup Easter M&M's
1 cup Easter Sprinkles
Instructions
Preheat the oven to 350 degree Fahrenheit and spray a 9x13 baking dish with pam baking spray.
Using a hand mixer, beat together the butter, brown sugar, sugar,
egg and vanilla in a large mixing bowl until combined.
In a medium mixing bowl, whisk together the flour, baking soda, baking powder and salt until combined.
Gradually whisk in the dry ingredients into the wet and incorporate until combined
Fold in the 1 cup M&M's and sprinkles.
Press the dough into the baking dish.
Sprinkle the remaining M&M's on top.
Bake in the oven for 20-25 minutes or until lightly brown.
Remove and allow to cool completely before cutting into bars.
Notes
You can change up the M&Ms in this recipe to fit any holiday or occasion.