Bruschetta Rice and Chicken Salad

As the weather gets warmer, I look for quick and easy meals I can feed my family without having to heat up my kitchen during the hot summer months. I've teamed up with Minute® Rice today to share a quick recipe that you can create in a matter of minutes. I love using simple pantry items, like Minute® Rice to create delicious meals my whole family will enjoy.
As you all know by now, living on a farm, I love the Jersey tomatoes we grow. Bruschetta is my summer must-have. I make it all the time to serve with meats, bread or as a dip. Bruschetta Rice and Chicken Salad is a quick and easy salad I created that combines the basics of a fresh tomato brushetta into a delicious salad made with Minute® Rice.
I also added some grilled chicken for extra protein. This is perfect of a quick weeknight meal or to make for your next party. It's a great way to use all those healthy tomatoes you have growing in your garden. I always have leftover grilled chicken in the refrigerator. I purposely make extra to use for salads and sandwiches throughout the week.
Dinner doesn't get much simpler than this. To prepare, I chopped my tomatoes, onions, chicken and garlic. Add them to the bowl with the rice. Season with salt and pepper and then add the olive oil, vinegar and fresh chopped basil. Mix it together and in a matter of minutes you have a delicious meal for your family to enjoy.
Rice is such a versatile staple and it can be transformed into a delicious sweet or savory dish. It certainly doesn't have to be just plain old rice.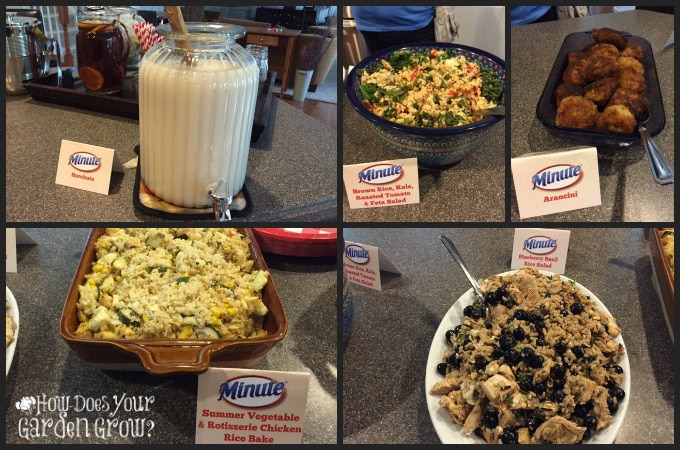 Last week, I attended a Minute® Rice Live party with several other bloggers where our host Erica from No Sleep Til College treated us to a lot of delicious Minute® Rice recipes. Thanks Erica! I especially loved the Horchata, (a sweet Mexican rice milk which reminded me of rice pudding), and the Summer Vegetable & Rotissere Chicken Rice Bake. We were given some quick and easy meal ideas to feed our families just in time for summer.
We also participated in the Minute® Rice Iron Chef Challenge where we were divided into two teams and had to create a delicious Minute® Rice recipe. Myself, Larisha from We're Parents!?,  Jennifer from Jersey Family Fun and Miranda from Lemons and Laughs made up Team Jersey. Yep, we were the Jersey Girls!  We gladly accepted the Iron Chef Challenge and created a delicious Fruit Rice Medley. AND Guess what!!!!.! We Won. Way to go girls!
Be sure to visit the Minute® Rice Riceipe Club  for additional Minute® Rice recipes. You can also sign up for the The Riceipe Club® mailing list for recipe ideas, newsletters and special offers from Minute Rice sent to your inbox.
Do you have any quick Minute® Rice recipes that you like to make? I'd love to hear. In the meantime, give this Bruschetta Rice and Chicken Salad a try. It's a great way to spend less time in the kitchen and more time outside with family and friends this summer!
Bruschetta Rice and Chicken Salad
Need a quick summer meal? Try this Bruschetta Rice and Chicken Salad recipe made with Minute® Rice. So simple and delicious! #MinuteMeals
Ingredients
4

cups

cooked Minute® Rice

2 to

matoes

diced

2

cups

grilled chicken breast

chopped

2/3

cup

red onion

diced

1

garlic clove

minced

1/2

cup

fresh basil

chopped

1

teaspoon

salt

1/2

teaspoon

pepper

1/4

cup

vinegar

1/3

cup

olive oil.
Instructions
In large bowl, add chopped tomatoes, chopped chicken, and onions to the cooked Minute® Rice.

Season with salt and pepper. Add minced garlic.

Drizzle with olive oil and vinegar.

Add basil and stir to combine.

Serve warm or cold.
This is a sponsored post written by me on behalf of Minute® Rice.