You'll go crazy over this Mad Hatter Martini!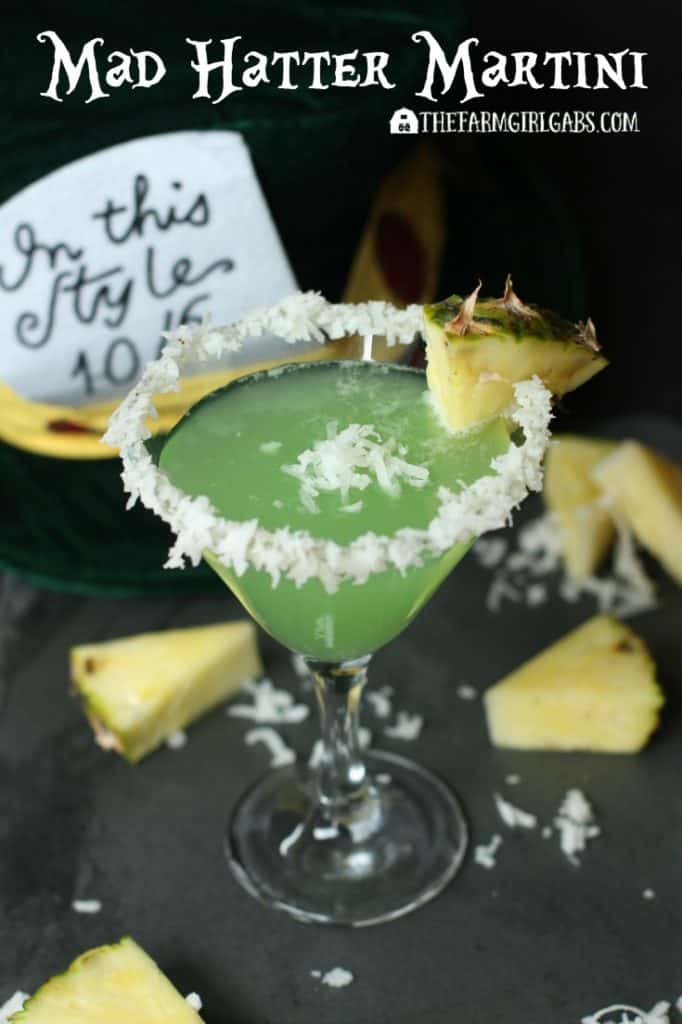 We are celebrating here at The Farm Girl Gabs today. It's time for a little madness, don't you think. Yep. It's a good old-fashioned celebration for two reasons. The first being the premiere of Alice Through The Looking Glass the weekend. I was so excited to have been treated to an advanced screening of the film at the Disney Social Media Moms Celebration a few weeks ago. You are going to really enjoy it. Trust me. I mean come on….Johnny Depp, what's not to love??!! The second reason to celebrate is Memorial Day weekend is just a few days away. Can you believe it? The unofficial start of summer calls for a great drink. This Mad Hatter Martini fits the bill.
I have a love affair for fruity drinks. Better yet, I have a love affair for fruity tropical drinks. So what to you get when you combine coconut vodka, Blue Curacao and some pineapple juice? A Mad Hatter Martini of course. I like my martinis shaken, not stirred. This one is so simple to make and so easy to enjoy! The only thing missing is the beach. Summer is almost here though. I can practically taste it. What are your plans for the holiday weekend? Hopefully, a trip to the movies to see Alice Through The Looking Glass and some fun family time is planned. Cheers to a long weekend! Let the summer madness begin!
The Mad Hatter Martini
You'll go crazy over this Mad Hatter Martini. This cocktail recipe is inspired by the Disney character played by Johnny Depp.
Author:
Melissa Russo / thefarmgirlgabs.com
Ingredients
2 ounces coconut vodka
1 ounce Blue Curacao liqueur
2 ounces pineapple juice
Sweet shredded coconut for garnish
Corn Syrup for garnish
Pineapple wedges for garnish
Instructions
Fill a shaker with ice.
Add vodka, Blue Curacao and pineapple juice.
Shake well
Brush rim of a martini glass with corn syrup. Dip into the shredded coconut to coat the rim.
Pour martini into the glass and enjoy!