Back to school season is in full swing. These Duck Tape® Flower Bookmarks a fun way to celebrate reading, a good book and a new school year.
Has your child tackled their summer reading list yet? Hopefully so, because time is running out. It's hard to believe another school year is about to start (or may have already started depending on where you live.) Today, I am channeling my inner child and my lifelong love of reading. I am also celebrating how fun it is to create with Duck Tape®. I am a crafty type of gal, but I don't have patience for complicated crafts. These Duck Tape® Flower Bookmarks are fun and super easy for kids and adults to make! They are a perfect way to mark you spot on a good book.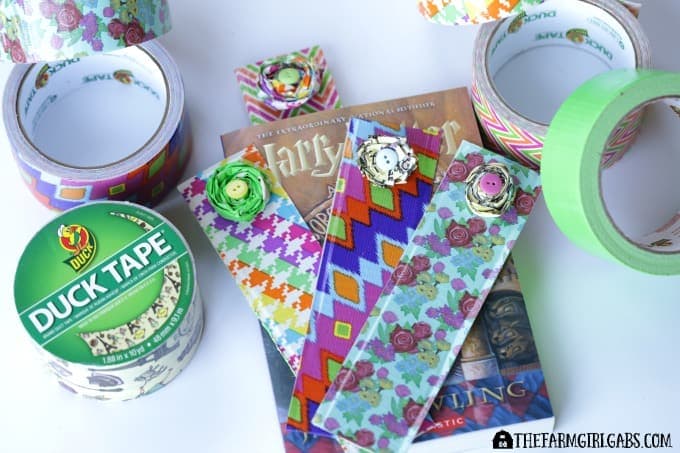 Duck Tape is a great way to personalize and style up your school supplies and accessories.  There are over 250 prints and colors to choose from, making each project unique in its own way.  Duck Tape is an easy crafting medium for kids of all ages and often does not require additional supplies (glue, scissors, staples, etc.). With so many different prints and colors, you will have a ton of fun creating these simple flower bookmarks.
Duck Tape® Flower Bookmarks Supply List:
Several rolls of Duck Tape® (I used contrasting colors)
Thin Cardboard – cut into 2″ x 7″ strips
Craft Knife or Scissors
Colorful Buttons
Glue Gun
Self Healing Mat
After you cut your cardboard into strips, unroll your Duck Tape about one inch longer than the cardboard. Center the cardboard on the Duck Tape and press to adhere.
Repeat for the other side. Trim rough edges with a craft knife.
To make the flowers, roll out a 15″ piece of contrasting Duck Tape. Cut in half lengthwise with your craft knife. Start twisting and twirling from one end to the other. I allowed some of the sticky side to show for even more contrast.
Now, let it roll! Roll your twisted piece of Duck Tape and seal the ends with a small dab of craft glue.
Glue a small button in the center, then glue to the bookmark. How cute are these!!! Since I had so many rolls of Duck Tape, I made a few extra too.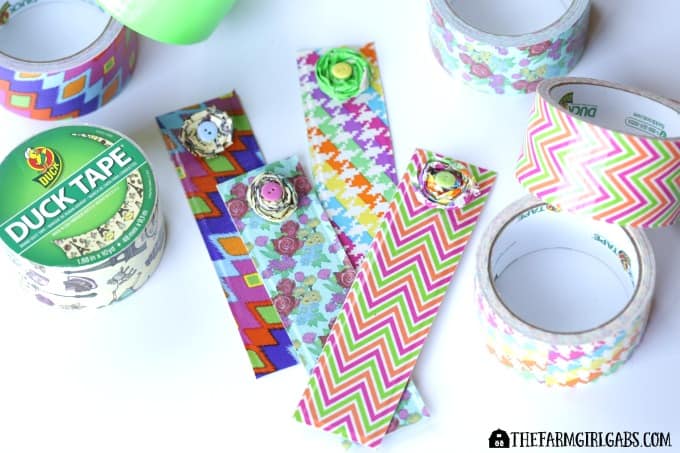 These Duck Tape® Flower Bookmarks are an easy craft to add to your back to school supply list. Looking for some more Duck Tape inspiration? Be sure to visit the Duck Tape Pinterest Board for some great school craft ideas!
Guess what???!!! You too can recreate these fun Flower Bookmarks. I am giving away 4-Pack of Duck Tape to one lucky winner. Be sure to enter the giveaway below.