Get ready to prepare the tastiest Italian-style baked goods you've ever tried with this recipe for Italian Almond Cookies. Prepared with almond extract and other sweet ingredients, these cookies are full of flavor!
This post may contain affiliate links. We may receive a small commission if you click and purchase something. Please see our disclosure policy for more details.
It's one last hurrah for me in the kitchen before the I decompress and close the kitchen so I can enjoy the Christmas holiday with the family. My Italian Christmas cookies are so popular this time of year, I thought I would share another easy favorite Italian cookie recipe.
Show off your creative side in the kitchen with these classic Italian Almond Cookies. It doesn't take many ingredients or too much time to assemble the cookie dough and bake them before enjoying them with loved ones.
The cookies are perfect on their own, but you can also dip them in milk, hot coffee, or even a cup of hot tea, depending on what you like to drink throughout the day. They are also great to share at a Christmas Cookie Exchange.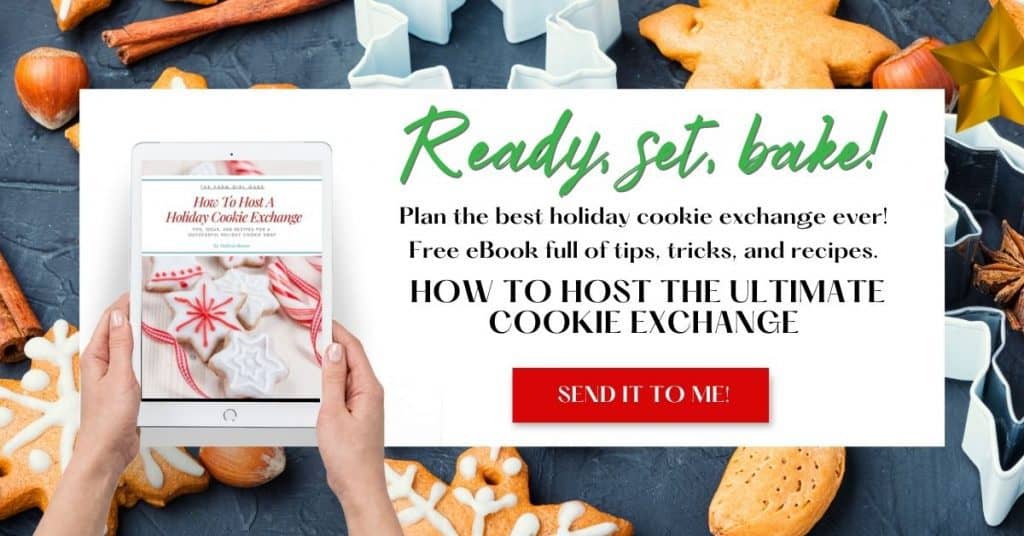 What Are Italian Almond Cookies?
The Italian Almond Cookies are a tasty cookie with hints of almond that have a perfectly crisp exterior with a slightly chewy and enjoyable center. Rather than using all-purpose flour, these cookies consist of almond flour, along with several other tasty ingredients, such as candied cherries and confectioners' sugar.
Why You'll Love the Italian Almond Cookies
These cookies have the perfect texture, with a slightly crisp exterior and a gooey center.
Italian Almond Cookies are full of flavor and perfect for those who enjoy almonds.
You can make the dough and prepare these cookies with ease and in no time!
Must-Have Ingredients
Almond Flour – Ditch the all-purpose flour and use almond flour for this recipe.
Sugar – You need granulated sugar to give these cookies a sweeter taste.
Almond Extract – Bring the almond flavor to these cookies using a bit of the almond extract.
Slivered Almonds – Be sure to toast the almonds before adding them to your cookie dough.
Candied Cherries – The sweet taste and chewy texture of the candied cherries pair perfectly with the almond flavoring.
You'll also need egg whites, corn syrup, and confectioners' sugar if you plan to use them.
Cookie Baking Kitchen Essentials
Stand mixer with Paddle Attachment
Do I need to use the confectioners' sugar?
No, you don't have to use it. The ingredient is optional. However, the sugar does add a special touch to these incredible cookies.
How long do these cookies need to bake?
The cookies only need to stay in the oven for up to 10 minutes. However, you should check them after baking them for eight minutes to see if they're done. You'll know they're done when you see a light golden color appearing around the edges of the cookies.
Recipe Notes & Tips
While candied cherries are the traditional add-in for these cookies, you can use other candied fruits if you don't like cherries. I am a traditionalist however and like the cherries on top. Another option is to add a whole almond in the center instead.
You can buy toasted almonds or toast them yourself by placing them on a baking sheet and baking them in the oven for several minutes.
If you don't want to add real almonds to the cookies and would prefer to only use the almond extract, that is fine. You can roll the cookie dough balls in the confectioners' sugar without rolling them in the almond slivers.
How to Store the Italian Almond Cookies
Place your Italian Almond Cookies in an airtight food storage container and keep them on the counter to remain fresh for several days.
Try These Easy Cookie Recipes
Save this easy Almond Cookie Recipe. Pin The Image Below To Your Favorite Pinterest Board.
Yield:

24 Cookies
Italian Almond Cookies
Get ready to prepare the tastiest Italian-style baked goods you've ever tried with this recipe for Italian Almond Cookies. Prepared with almond extract and other sweet ingredients, these cookies are full of flavor! These Italian Christmas Cookies are also a great recipe to share at a Christmas Cookie Exchange.
Ingredients
2 cups Almond Flour
1 cup sugar
2 egg whites, room temperature
1 tablespoon almond extract
1 tablespoon corn syrup
1 cup slivered almonds, toasted
1 cup confectioners sugar (optional)
Candied Cherries
Instructions
Preheat the oven to 350 degrees F.
In a medium mixing bowl, mix almond flour and sugar together.

Make a well in the center of the dry ingredients and then add the egg whites, almond extract and corn syrup. Mix with a spatula until a ball forms.
Line two baking sheets with parchment paper. Use a small cookie scoop or teaspoon to form a small ball. Roll each ball in the toasted almonds OR powdered sugar.
Place on baking sheet and add a candied cherry to the center of each cookie.
Bake at 350 degrees for 8-10 minutes.