It's holiday entertaining season. Bring this Winter Wishes NJ Lottery Hostess Gift to the next Christmas party you attend. Share some luck with a few New Jersey Lottery tickets too.
This is a sponsored post on behalf of the New Jersey Lottery. As always, opinions are 100% my own.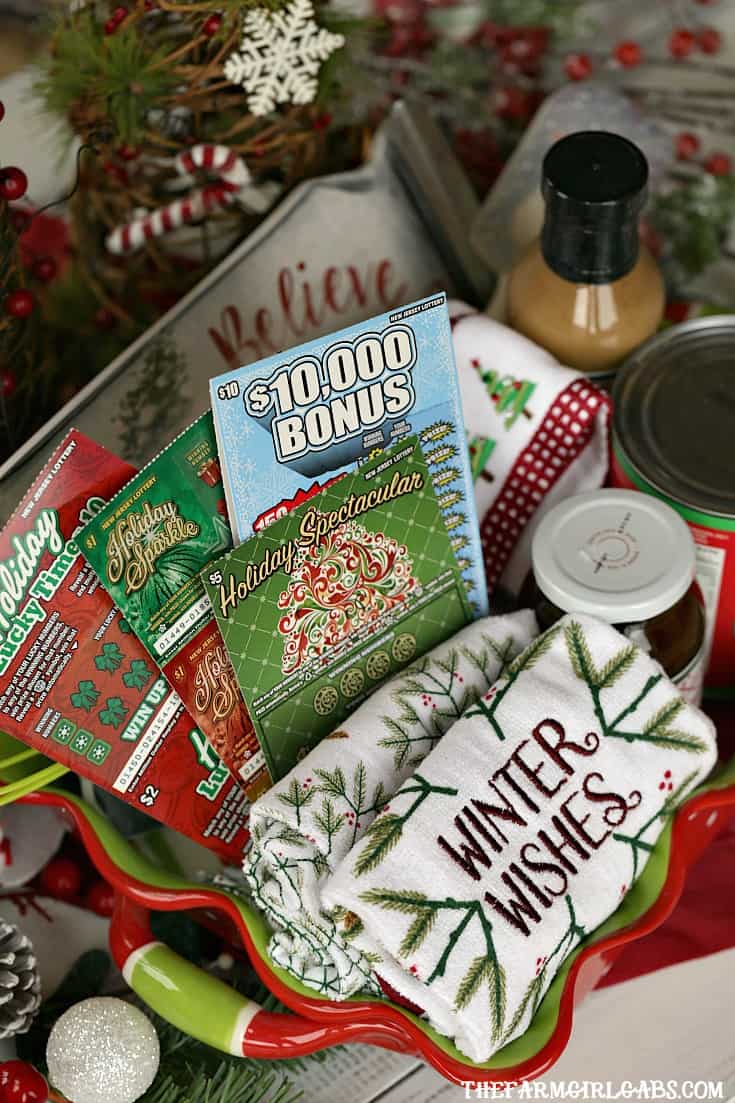 The most wonderful time of the year is here and so is the holiday entertaining season. The holiday season is absolutely my favorite time of year. The food, the decoration, the music all make for a magical season. As the holiday party season kicks into high gear, this Winter Wishes NJ Lottery Hostess Gift Idea is a great gift to give the hostess of an upcoming holiday party. I found a festive lasagna pan and filled it with a lot of fun entertaining essentials. I am also giving the gift of luck too by including a few New Jersey Lottery Tickets. Feeling lucky? I hope so.
New Jersey Lottery Holiday Instant Game tickets are one of those fun Christmas gift ideas for family and friends on you Christmas list over the age of 18. I love to include instant lottery tickets in my adult family member's Christmas cards, stockings or gifts. Lottery tickets not only bring the gift of cheer but hopefully a little luck too.
The New Jersey Lottery is introducing 4 new Holiday Instant Games ($1 Holiday Sparkle, $2 Holiday Luck Times 10, $5 Holiday Spectacular, and $10 $10,000 Bonus). These Holiday themed games are fun, festive, and appropriate for anybody to be given as a holiday gesture, stocking stuffer, or party favor. Instant games offer the wonder of a wrapped gift, the entertainment of a game experience and the potential for a large cash payout! No wrapping required so they are easy to give or send. You can purchase these Holiday Instant Games at any local Lottery retailer.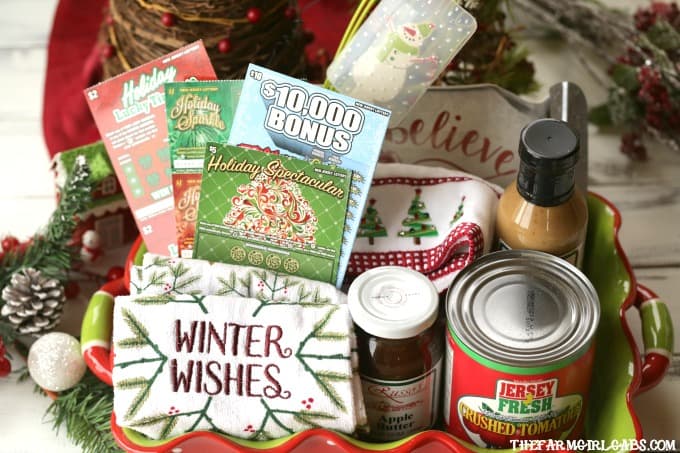 When creating hostess gifts, I like to stick with a theme. This Winter Wishes NJ Lottery Hostess Gift is perfect for the hostess who likes to cook. It is so super easy to create. Plus, it can be tailored anyway you would like simply by adding products that you know your hostess will enjoy. For this gift idea, I included some dish towels, canned food items and cooking utensils. Other holiday hostess gift ideas include a spa night basket, movie night, game night….the sky is the limit for what you can create. Make it the perfect gift by including some New Jersey Lottery Tickets too. Hopefully, you will make someone special a winner!
Disclaimer: You must be 18 or older to buy a lottery ticket. The New Jersey Lottery reminds players, it's only a game…remember to play responsibly. If you or someone you know has a gambling problem, call 1800-GAMBLER®.  For more information visit New Jersey Lottery.