2-Ingredient Salsa Dip for Game Day
Add this delicious and easy 2-Ingredient Salsa Dip recipe to your game day menu. It's the quick and easy football food recipe everyone will enjoy.
This is a sponsored post for SheSpeaks/Pace®
This post may contain affiliate links. We may receive a commission if you click and purchase something. Please see our disclosure policy for more details.
Food and football go hand in hand. We are huge football fans and are anxiously awaiting the big game. When it comes to football food, I love to set up a nice spread we can nibble on while watching the game. Whether you like tailgating or homegating, food always brings us together – no matter which team you are cheering for! This easy 2-ingredient salsa dip is the perfect game day recipe that can be whipped together in a matter of minutes.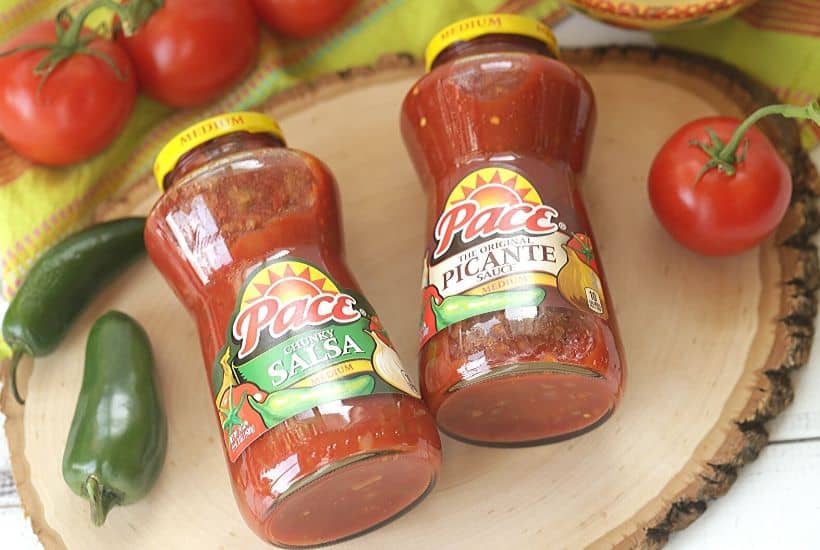 We are salsa lovers, so I always have a jar or two on hand to create delicious recipes for weeknight dinners or entertaining. Pace Chunky Salsa and Pace Picante Sauce are family favorites. Pace is America's favorite salsa for tacos.
We like a little kick in our salsa and picante sauce, so I buy the Pace medium variety at Walmart. Walmart's everyday low prices make shopping affordable for busy families. You can also click here to shop for Pace Picante Sauce and here to shop for Pace Chunky Salsa at Walmart.com. You can save when you buy at Walmart and use Ibotta – $0.25 off 1 Pace Picante Sauce or Pace Salsa, 16oz. only from 1/15-2/6!
I make this 2-ingredient salsa dip recipe when I am in need of a quick appetizer or party food recipe. Salsa, chips and cream cheese are always stocked in my house, so it is an easy recipe to make in a pinch. These ingredients are my family's language of love.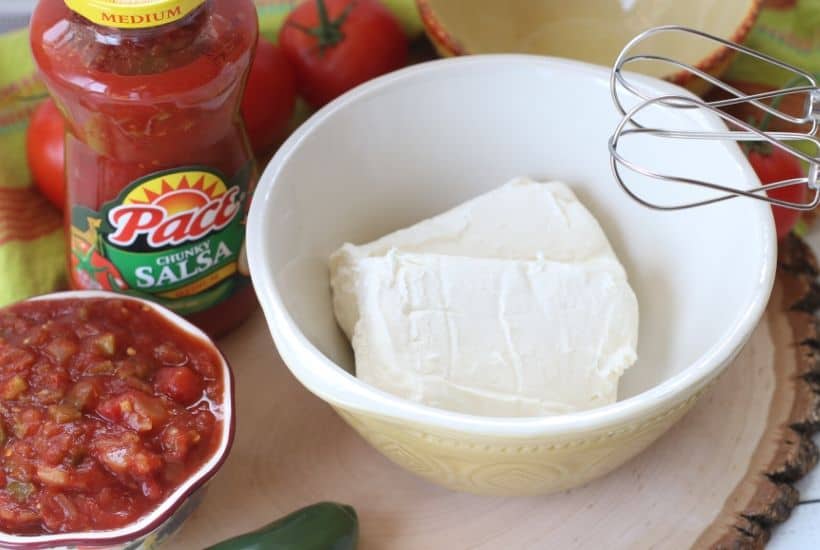 What Ingredients Do I Need To Make this 2-Ingredient Salsa Dip for Game Day recipe?
This cream cheese salsa dip can't get any easier. I mean, seriously two ingredients for one delicious dip recipe is all you need.
This is all it takes friends to make this super easy Salsa Dip recipe:
Pace Medium Salsa – You can also substitute Pace Medium Picante Sauce instead too. What's the difference between the two? Pace Chunky Salsa has big chunks of tomatoes, onions and jalapeños, while Pace Picante Sauce has smoothly blended tomatoes. Either way, they both equal one delicious and inexpensive recipe idea.
Softened Cream Cheese – You can also substitute Neufchatel (or light cream cheese) for a lower calorie dip recipe.
Hand Mixer – I find a hand mixer works best in incorporating the salsa and cream cheese. If you don't have one, you can use a spatula to mix it all together.
How Do I Make 2-Ingredient Salsa Dip?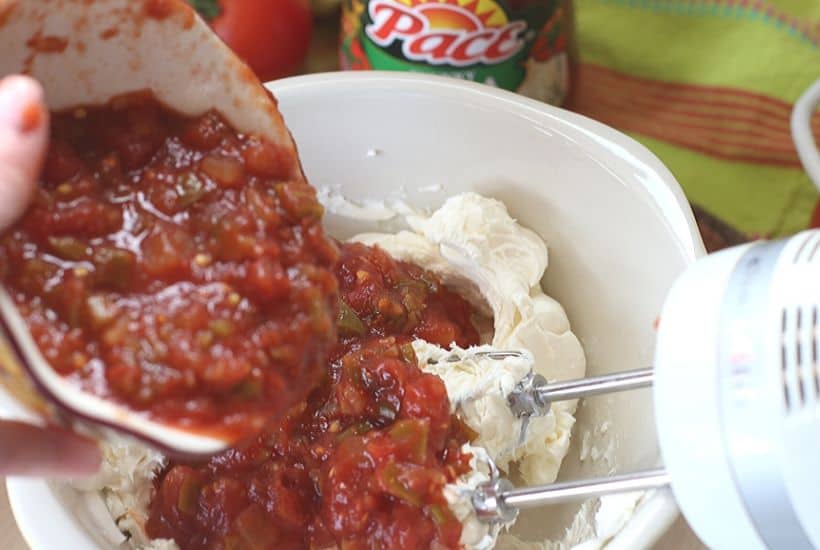 Don't you just love simple football party food ideas? Add the softened cream cheese to a medium bowl along with the Pace Medium Salsa. Blend together with a hand mixer until ingredients are incorporated. Chill until ready to serve. I like to serve this dip with crispy tortilla chips.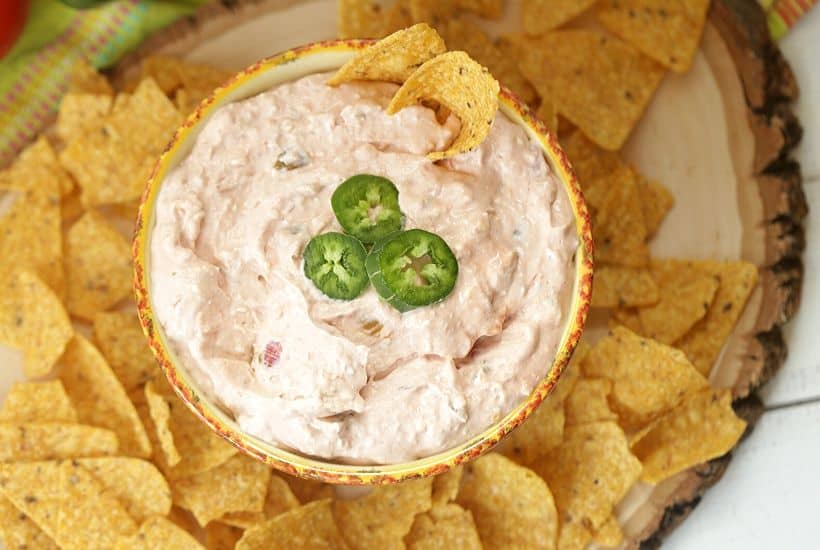 How's that for an easy and delicious homegating recipe? I guess you can also consider this an easy tailgating recipe too if you will actually be at the game (lucky you!). Either way, I know your guests will love this party recipe.
And remember, make sure you shop your local Walmart for everyday low prices for all the ingredients you need for this recipe.

More Homegating Recipe Ideas with Pace?
Create a make your own taco bar and serve Pace Medium Salsa or Pace Medium Picante Sauce as a topping.
Make 30-minute enchiladas by mixing chopped rotisserie chicken and 1 cup of salsa together. Fill a tortilla shell with chicken mixture and shredded cheddar cheese. Roll and place in casserole dish. Top with one cup heavy cream and 1 cup of salsa. Bake at 350 degrees for 30 minutes.
Add some Pace Picante Sauce to your favorite Bloody Mary Recipe
Make layered Southwest dip cups and top with Pace Salsa.
How do you homegate? Share your favorite ideas below.
Save this game day party dip recipe for later. Pin the image below to your favorite Pinterest Board.

2-Ingredient Salsa Dip for Game Day
Three cheers for football food! This easy Salsa Dip recipe uses only two ingredients and takes 15 minutes to make…tops! Add this delicious cream cheese dip recipe to your homegating or tailgating menu. It's the perfect game day recipe your family and friends will enjoy. This easy party dip is the real winner.
Ingredients
16 ounces cream cheese, softened
2 cups Pace Chunky Medium Salsa
Instructions
Add softened cream cheese and salsa to a medium mixing bowl.
Use a hand mixer to blend the ingredients until smooth.
Serve with tortilla chips or vegetables.
Refrigerate until ready to serve.