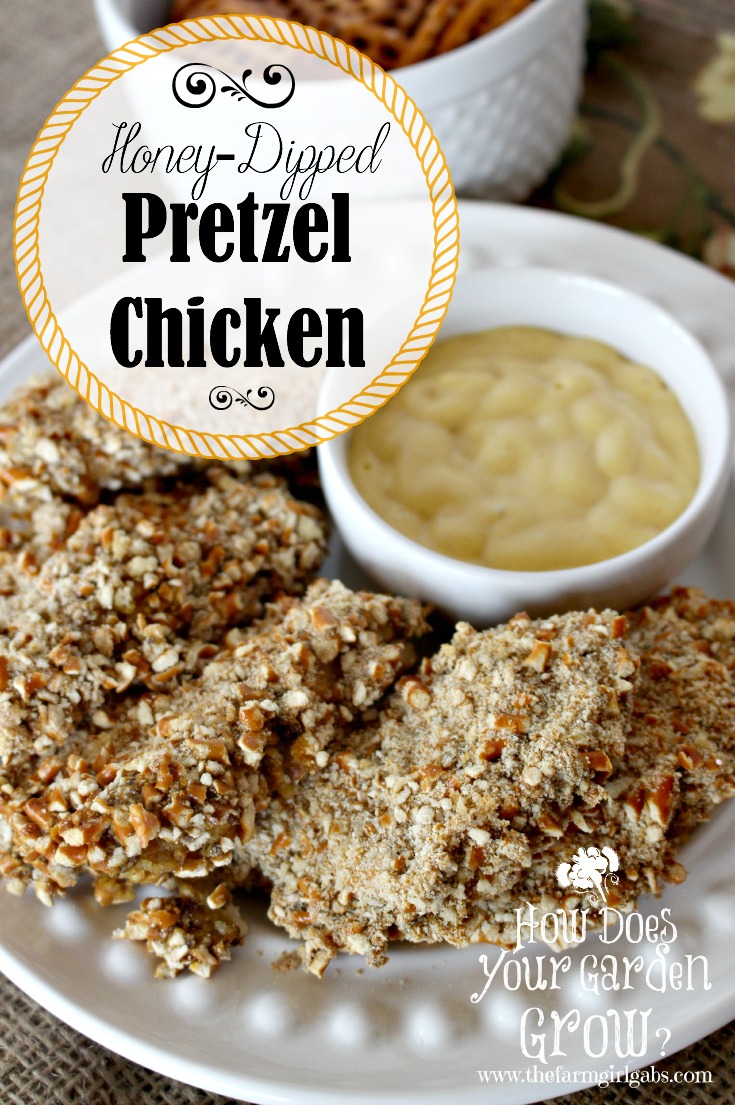 I seriously think I could eat chicken every night of the week. Yes, I love it that much but I am always looking for alternative ways to "jazz" it up so it does not feel like we are eating the same old boring chicken. While making the food for my Disney Side at Home Celebration last week, I came up with this tasty Honey-Dipped Pretzel Chicken to serve to my #DisneySide party guests.
Another favorite foods or snack of mine is pretzels. I love crunchy foods and pretzels are definitely just that — crunchy! So while playing with my food last week, I decided to try a different approach to the normal breaded chicken strips. Why not incorporate a honey mustard sauce (which is a traditional chicken strip condiment), along with a pretzel breading. The result was a delicious and unexpected. This is perfect for a simple family dinner or is an excellent choice to serve at a party or even on game day. Another plus – these strips are baked and not deep-fried.
After I clean 4 chicken breasts, I slice them into strips. You can make nuggets too if you wish. In a bowl, I then combine the mustards, honey, dash of Sriracha, garlic and lemon juice. This will be what you dip the chicken into.
Next, I crush 1 1/2 cups of pretzels in a food processor. Combine the crushed pretzels with the breadcrumbs. Dip the strips into a flour mixture, the honey mustard and then the pretzel bread crumbs.
Place on a lined baking sheet. Before baking, spray each piece with non-stick cooking spray. This will cause the chicken to brown and get crunchy as it bakes.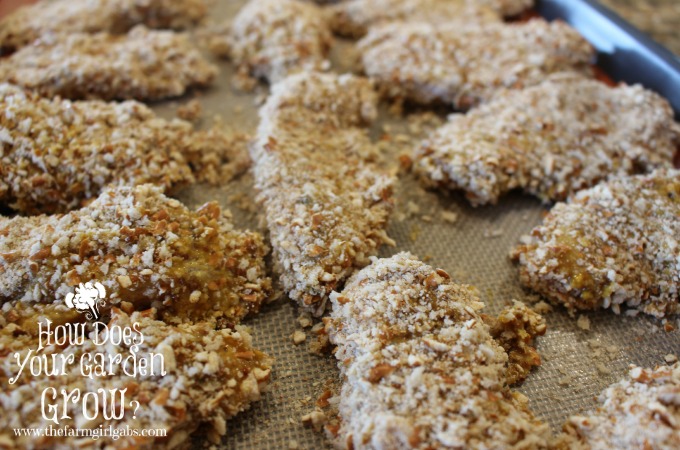 Honey-Dipped Pretzel Chicken
Honey-Dipped Chicken is a perfect and easy weeknight meal. A crunchy honey mustard pretzel coating is a nice flavor combination.
Author:
Melissa Russo / thefarmgirlgabs.com
Ingredients
½ cup flour
¼ teaspoon cayenne pepper
¼ teaspoon paprika
¼ teaspoon pepper
Pinch of salt
½ cup whole-grain mustard
¼ cup yellow mustard
½ cup honey
4 tablespoons fresh lemon juice
2 teaspoons garlic powder
Dash of Sriracha sauce
1½ cups small pretzels
½ cup panko bread crumbs
3-4 boneless chicken breasts, trimmed and sliced into strips
Non-stick cooking spray
Instructions
Preheat oven to 400 degrees.
In a deep dish, mix flour, cayenne pepper, paprika, black pepper and salt together.
In a bowl, whisk whole-grain mustard, yellow mustard, honey, garlic and lemon juice. Set aside.
In a food processor, crush 1½ cups of small pretzels. Combine pretzels in a shallow dish with the panko bread crumbs.
Dredge chicken in the flour, then the honey-mustard and then the pretzel breading.
Place strips on a lined baking sheet.
Spray each piece of chicken with non-stick cooking spray.
Bake for 25 minutes or until chicken is done.
This Honey-Dipped Chicken was a huge hit at my Disney Side at Home Celebration. It has the perfect balance or pretzely (is that even a word?) crunch and honey mustard flavor.  It's quick enough to whip together for a weeknight meal too. Enjoy!
Follow Melissa Russo / How Does Your Garden Grow?'s board How Does Your Garden Grow? / thefarmgirlgabs.com on Pinterest.