Impress your family with homemade baked goods that they can have for breakfast or a snack. This Strawberry Scones recipe is fun to make and will stay fresh for several days.
This post may contain affiliate links. We may receive a commission if you click and purchase something. Please see our disclosure policy for more details.
Hooray for strawberry season. In just a few short weeks, the Jersey strawberries we grow here on our farm will be ripe for the picking. I can't wait. In anticipation for this wonderful season, these strawberry scones are soft, flaky and bursting with juicy strawberries!
What Is a Scone?
A scone is a sweet baked treat with a consistency similar to biscuits. The traditional scone contains flour, sugar, and butter, along with a blend of other ingredients. They are light and flaky. You can eat a scone for breakfast or dessert. It pairs well with hot tea or a cup of coffee too.
Ingredients to Make Strawberry Scones
You can make the Strawberry Scones by using the following ingredients:
All-Purpose Flour. Create the dough for your scones with all-purpose flour.
Granulated Sugar. Use plenty of sugar to give your scones a sweet taste.
Buttermilk or Heavy Cream. The buttermilk or heavy cream will add flavor to the scones. You can also use some of it to brush over the scones after baking them.
Vanilla Extract. Add vanilla extract to bring more flavor to the scones.
Strawberries. Wash, dry, and slice your strawberries before adding them to your scones.
You will also need salt, unsalted butter, baking powder, and an egg to prepare these scones from scratch. These are ingredients that you may already have at home, especially if you enjoy baking.
Which Toppings Taste Best With the Strawberry Scones?
You can add a vanilla glaze or granulated sugar on top of your scones to contribute to their flavor. If you would like to use the vanilla glaze, all you need to do is combine powdered sugar with milk.
Once you mix these two ingredients together, you can drizzle it over your scones to create a sweet glaze. If you would rather just use sugar, sprinkle a generous amount on top of the scones.
Can I Add Other Fruits to the Scones?
You can add other fruits to your Strawberry Scones. While this recipe includes strawberry slices, you can add other berries, including blueberries and raspberries.
You can even follow this recipe to create scones with ingredients other than strawberries, such as chocolate hazelnut spread, raisins, chocolate chips, and even bacon crumble. There are so many tasty ingredients you can add to scones!
How to Store Strawberry Scones
Allow your Strawberry Scones to cool down before you begin wrapping them and storing them. You can cover the scones in plastic wrap or aluminum foil before putting them in a large freezer bag or food container.
If you leave the scones at room temperature, they will stay good for up to two days. Save your scones for up to a week by placing them directly in the refrigerator to keep them fresh.
Scones are an easy freezer-friendly recipe. Simply bake, store in a freezer container and pop in the freezer. When you are ready to eat them, just defrost.
What to Drink With Strawberry Scones
After preparing your scones, consider serving them to loved ones with a warm beverage. These tasty, flaky treats are known to pair well with a hot cup of tea, cappuccino, or coffee. You can even dip pieces of your scones into a warm beverage, such as a cup of warm milk.
Try These Fresh Strawberry Recipes
No-Bake Strawberry Cheesecake Parfait
Strawberry Rhubarb Oatmeal Bars
Strawberry Cheesecake Cupcakes
Save this easy scone recipe. Pin the image below to your favorite Pinterest board.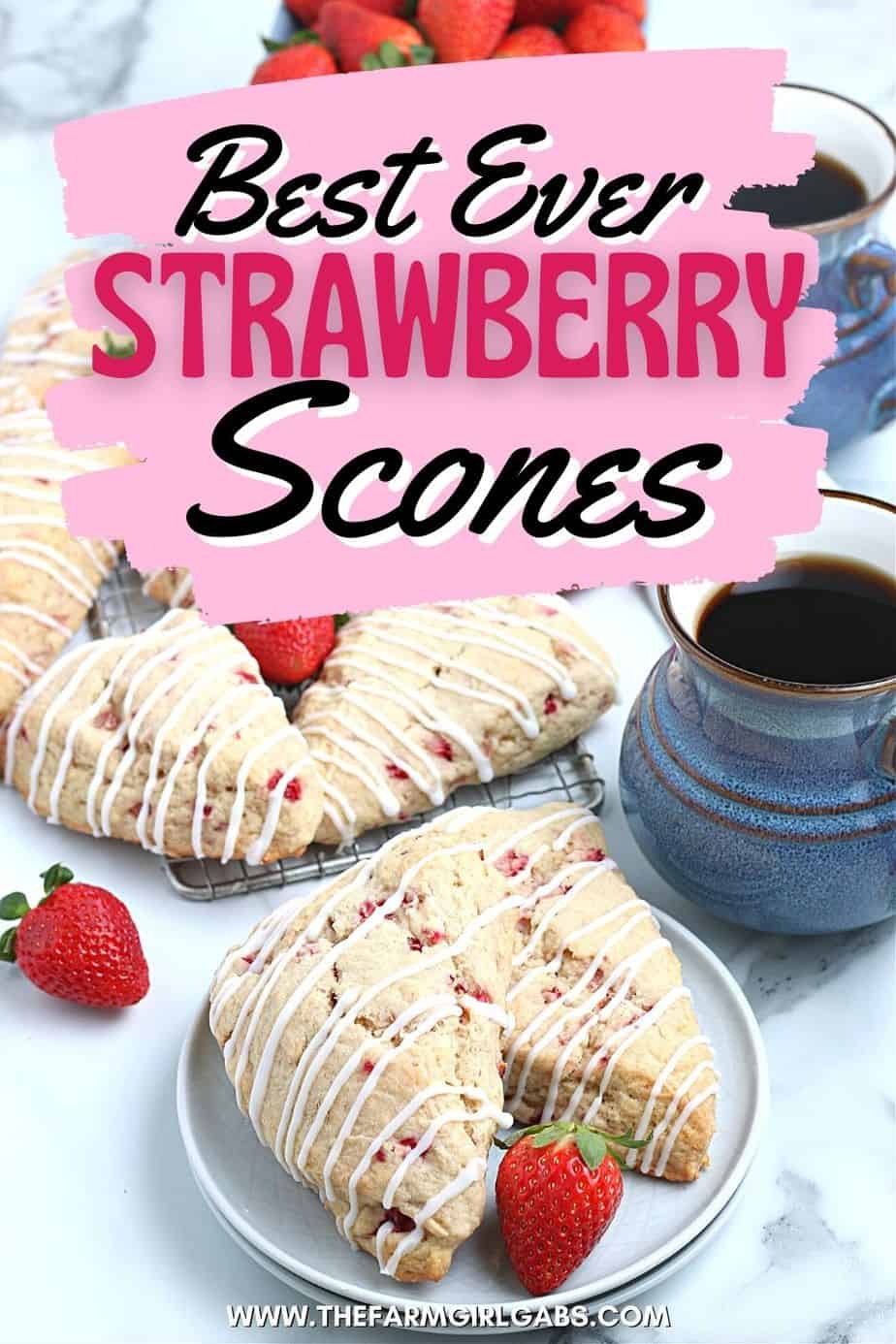 Yield:

8
Strawberry Scones
Ingredients
2 cups all-purpose flour
⅓ cup granulated sugar
½ teaspoon salt
1 tablespoon baking powder
½ cup (1 stick) unsalted butter, grated and very cold or frozen
½ cup buttermilk or heavy cream, plus more for brushing on top
1 large egg
2 teaspoons vanilla extract
1 cup fresh strawberries, chopped
Toppings, optional
Vanilla Glaze: Whisk together 1 ½ cups powdered sugar and 2 tablespoons milk
Coarse Sugar
Instructions
In a large bowl, whisk together flour, sugar, salt and baking powder
Using a pastry blender or your hands, cut in butter until mixture is crumbly
In a small bowl, whisk together eggs, buttermilk or cream, and vanilla extract
Add liquid ingredients and strawberries to dry ingredients and stir until moistened, and mixture is well combined and holds together in a ball
Sprinkle a small amount of flour onto parchment paper or counter
Press dough into 8 inch circle, about ¾ inch thick
Brush top with additional buttermilk or cream
Sprinkle with coarse sugar, if desired
Using a sharp knife, cut circle into 8 wedges
Divide triangles and place on baking sheet lined with parchment paper or silicone mat, leaving enough space for the scones to expand when cooked
Preheat oven to 375 degrees F
Bake for 20-25 minutes or until golden brown
Remove from oven and cool slightly
Add vanilla glaze if you like
Serve warm or room temperature
Store leftovers in airtight container at room temperature