Sausage, Spinach & Feta Frittata
Start your day off right with this Sausage, Spinach and Feta Frittata recipe. This easy frittata recipe is perfect for breakfast or brunch.
This is a sponsored post. All opinions are mine alone. This post may contain affiliate links. We may receive a commission if you click and purchase something. Please see our disclosure policy for more details.
Life on the farm can get pretty busy. Usually, when it comes to breakfast, grab and go is often the answer for our busy farm life. During the winter months, however, I try to make a nice breakfast for my hard-working farmer at least one day each weekend. He's a lucky guy if he gets two sit-down breakfasts in one weekend. This delicious and easy Sausage, Spinach & Feta Frittata is a protein-packed breakfast idea that your family will love.
This vegetable frittata recipe is perfect for any time of the day. Try it for breakfast, brunch lunch or dinner. It is so versatile too. I like to think of a frittata as an Italian omelette. Add this easy breakfast recipe to your weekly meal plan.
A typical brunch from my kitchen
usually includes some fresh pastries, make-ahead breakfast casseroles and this delicious Sausage, Spinach & Feta Frittata. Thanks to Hatfield Recipe Essentials Sweet Italian Ground Sausage, I can prepare part of this recipe in advance. I like when a recipe can be prepped ahead of time, it takes the stress out of entertaining.
Hatfield Recipe Essentials are simple, flavorful, foundational ingredients that will add flavor to any dish and help you get creative in the kitchen, without the hassle.
I make frittatas all the time. There are so many different ways you can make them, just like an omelette. Why a frittata, you may ask?
Well, the answer is quite simple. A frittata is an Italian omelet that is finished off in the oven, which means no flipping or folding is involved. The flipping and folding get me EVERY. SINGLE. TIME.
I just never have mastered the art of flipping an omelet. So, making a frittata is an equally delicious solution.

What do I need to make this easy Sausage, Spinach & Feta Frittata Recipe?
Eggs

Sausage

Spinach

Crumbled Feta Cheese

Cream
Salt & Pepper To Taste
Kitchen Tools Needed To Make This Sausage Frittata Recipe
10″ Frying Pan
or cast-iron skillet
Spatula
Batter Bowl
Whisk
Serving Plate
Pie Server
How Do I Make A Sausage, Spinach & Feta Frittata?
To make this recipe, cook the sausage in a skillet
over medium heat. Use your spatula
to crumble the sausage. When it is no longer pink, drain the grease. I save time on Easter morning too by sautéing the sausage the night before.
You can prepare the sausage the night before if you wish. I refrigerate the cooked sausage in a food storage container
until I am ready to use it.
To complete this delicious frittata, add the whisked eggs, some spinach and feta to the skillet
along with the sausage. Cook over medium just until the sides start to set.
Top with some extra spinach and feta and then pop the skillet in the oven for about 15 minutes until the center is firm.
What Other Ingredients Can I Add To A Frittata Recipe?
The thing about frittatas is that they are like omelets. Which means they are a super versatile breakfast. Here are some other frittata ingredients that you can either add or substitute for this egg recipe.
Cheddar Cheese
Parmesan Cheese
Ham
Bacon
Sweet Peppers
Hot Peppers
Zucchini
Fresh Tomatoes
Onions
Mushrooms
Kale
These flavors pair so well together. I often make this recipe for dinner too, because we love having breakfast for dinner. If you want to change it up a bit, consider adding substituting some kale for the spinach or changing the type of cheese. As I said, frittatas are so versatile, but this Sausage, Spinach & Feta Frittata is my favorite!
You can serve this one of two ways. You can simply leave in the pan and slice like a pie, or you can turn out onto a round serving dish for a fancier look. Totally up to you. Either way, your Easter brunch will be a hit with this easy yet hearty frittata recipe.


Save this Sausage Frittata recipe for later. Pin the image below to your favorite Pinterest Board.
More Breakfast and Brunch Recipes To Try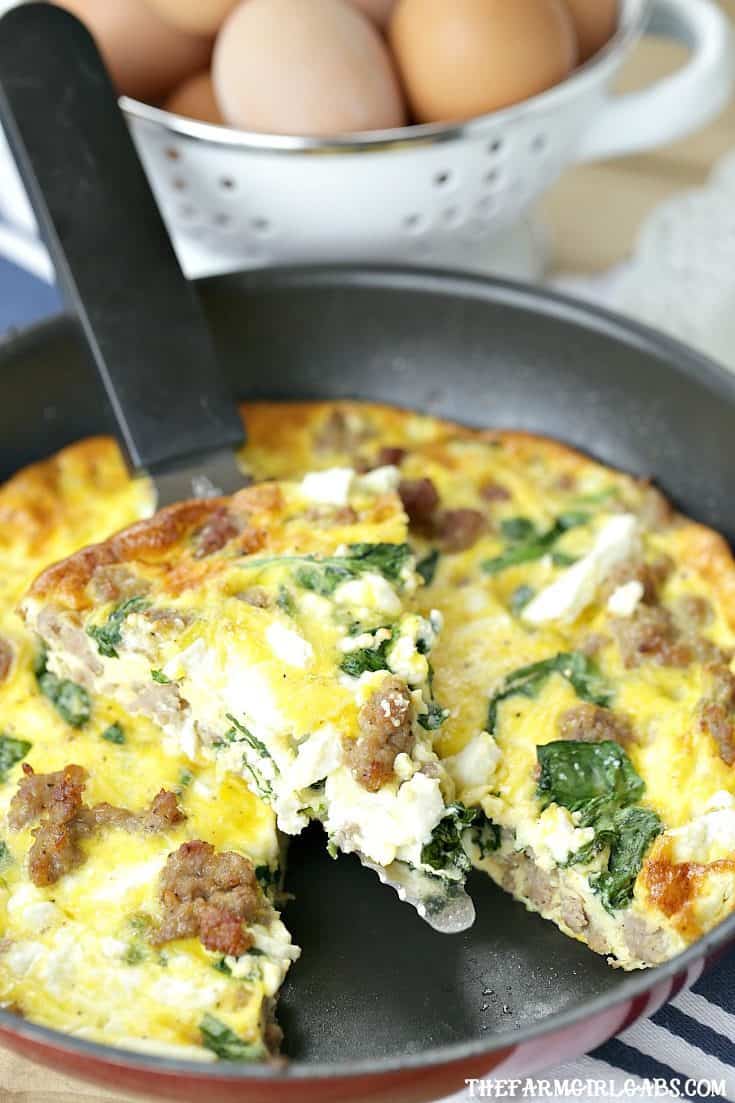 Yield:

8 servings
Sausage, Spinach & Feta Frittata
Start your day off right with this Sausage, Spinach and Feta Frittata recipe. This easy frittata recipe is perfect for breakfast or brunch. This make-ahead breakfast option is perfect throughout the week for a quick meal or snack.
Ingredients
8 ounces Hatfield Recipe Essentials Sweet Italian Ground Sausage
6 large eggs
½ cup half and half
1 cup crumbled feta cheese
1 ½ cups baby spinach
Salt & Pepper to taste
Dash hot sauce
Instructions
Preheat oven to 400 degrees
Heat a large skillet over medium heat. Add 8 ounces of sweet Italian sausage. Use a spatula to crumble. Cook through and drain grease. Return to pan.
While sausage is cooking, whisk eggs and half and half in a medium mixing bowl. Add salt and pepper to taste
Pour eggs over cooked sausage on medium heat. Add ½ cup of feta and 1 cup of spinach. Cook until edges are set - about 3 minutes.
Remove pan from heat. Top with reserved cheese and spinach.
Place pan in preheated oven. Bake 15 minutes until center is firm.
Nutrition Information:
Yield:
8
Serving Size:
8 servings
Amount Per Serving:
Calories:

211
Total Fat:

17g
Saturated Fat:

8g
Trans Fat:

0g
Unsaturated Fat:

8g
Cholesterol:

179mg
Sodium:

512mg
Carbohydrates:

2g
Fiber:

0g
Sugar:

2g
Protein:

11g