Thin-Minty Cheesecake Desserts
As a Girl Scout leader for the past 12 years, I have seen my fair share of Girl Scout Cookies. Our Council's sale always starts mid-January, so right now we are in the midst of…..COOKIE SEASON.  Yes, each year, our girl scouts are given the important task of selling them. Chances are, you couldn't resist purchasing a box or two as well. Raise your hand if you have a few boxes staring at you from the shelves of your pantry.
Thin Mints are a favorite in the Russo household. Seriously, how can you go wrong with chocolate and mint. But what can you do with them if you are tired of just eating them out of a box? Why not turn them into a dessert. Say hello to my Thin-Minty Cheesecake Desserts. You can't go wrong with a Thin Mint cookie crust and a no-bake cheesecake filling. I love cheesecake! I even found these adorable heart-shaped ramekins so I can serve them to my family on Valentine's Day. I think I'll pat myself on the back.
This refreshing minty treat is easy to make too…and perfect for any occasion. Here is how I made them.
I began by pulsing 24 Thin Mints in a food processor. I then combined the Thin Mint Crumbs with half a stick of melted butter.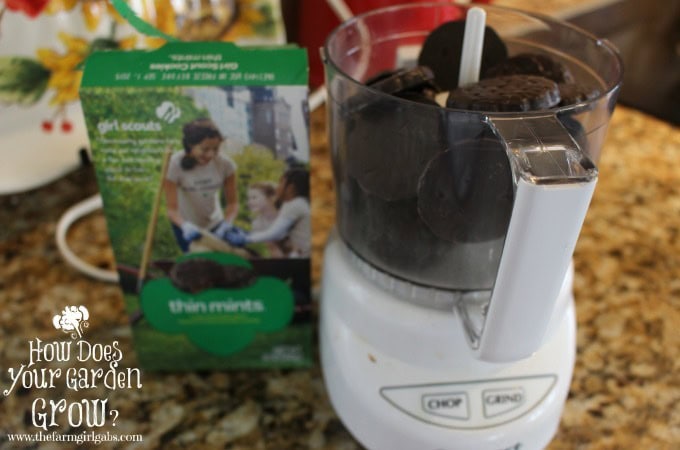 Press the crumb mixture into four ramekins or one 10″ pie dish. Pop them in a 350 degree oven for 5 minutes so the crust sets. Let cool while you make the filling.
The filling is super simple to make. Simply combine the cream cheese, remaining Thin Cookies (don't forget to crush them, powdered sugar, whipped topping and flavorings and mix until incorporated.
Divide filling evenly amongst the four ramekins. Refrigerate until ready to eat. You can also top with a nice dollop of whipped cream if you wish.
Doesn't that look delicious. I love making no-hassle desserts for my family. Can't wait to serve this for them on Valentine's Day! I hope you try them. Drop me a comment and let me know what you think!
Thin-Minty Cheesecake Desserts
Love Thin Mints? These Thin-Minty Cheesecake Desserts is the perfect recipe for the extra Girl Scout Thin Mint Cookies you have. Easy to make and deliciously minty!
Ingredients
1

Box Thin Mints

1/2

stick butter

melted

8

ounces

cream cheese

4

ounces

Cool Whip

1/2

cup

powdered sugar

1/4

teaspoon

mint extract

1/2

teaspoon

vanilla extract
Instructions
Pre-heat oven to 350 degrees.

In food processor, pulse 24 Thin Mint cookies into crumbs.

Place cookie crumbs in small bowl and combine with melted butter. Mix until moist.

Divide crumbs evenly amongst 4 ramekins and press on bottom and up sides.

Bake for 5 minutes just to set the crust.

Crush the remaining cookies in a plastic bag.

While crust is baking, combine remaining crushed cookies, cream cheese, Cool Whip, powdered sugar, mint extract and vanilla extract. Beat with a blender until incorporated.

Fill each ramekin evenly with cream cheese mixture. Refrigerate until ready to serve.
Recipe Notes
**You can use a 10" pie plate instead of the 4 ramekins if desired.
Looking for more great desserts? Check out my "Dessert Please" Pinterest Board for more deliciousness! 
Follow Melissa Russo / How Does Your Garden Grow?'s board Dessert Please! on Pinterest.