Make Your Own Little Mermaid Slime
I bet Ariel will love to add this Little Mermaid Slime to her collection. This fun Disney craft will keep the kids busy for hours.
I seriously long for a much-needed beach day! Summer needs to get her quickly. I thought I would channel my inner Ariel and share another fun slime recipe with you. As you know, I love creating Fun Slime Recipes. You can view my entire slime creation collection here. This time, I whipped up a batch of Mermaid Slime. I am having so much fun creating all these different slime variations. It's totally cool for a mid-life mama like myself to be obsessed with slime right? Always a kid at heart! So in the world of dinglehoppers and snarfblatts, I thought sweet Ariel could use this fun Mermaid Slime to add to her collection. Don't forget to check out the Disney Princess Slime I made a few months ago too. That is a really fun project too!
So have you heard, "I'm bored" yet from the kids? Slime is the perfect boredom buster. It is so easy to make too. The ingredients may even be sitting on your storage shelf at home. By combining two simple ingredients, glue
(either white
or clear) and liquid starch
, you can create a fun craft that will keep the kids busy for hours. You can add some food coloring
, glitter
, and sparkle too for some extra pizzaz! If they are older they can probably make it themselves.
The beautiful teal color combined with the glitter resembles the scales of Ariel's fin. So pretty. I even found some seashell confetti
at the dollar store and added that for some extra sparkle.
Mermaid Slime Supply List
Start by combining the glue and a drop or two of the food coloring together. Add the glitter and confetti and mix. Gradually stir in the liquid starch. The more you add the thicker the slime will be. Store in an air-tight container.
Here is a video to show you how easy the process is!
Save this Mermaid Slime for later. Pin the image below to your favorite Pinterest Board.
Other Fun Slime Projects From The Farm Girl Gabs!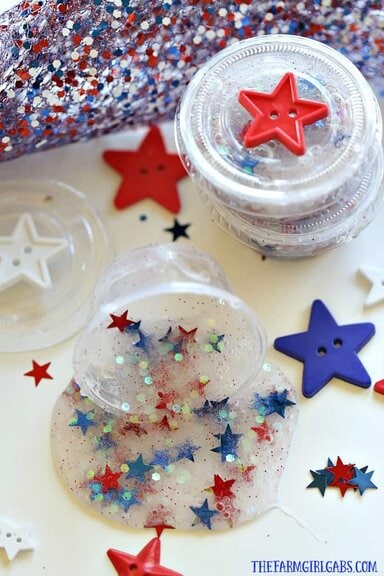 Vanellope Von Schweetz Sweet Shop Slime
SaveSave
SaveSave