Ultimate Guide To Epcot Flower And Garden Festival
Spring is in the air at Walt Disney World. The Epcot Flower And Garden Festival is in full bloom. Check out this Ultimate Guide To Epcot Flower And Garden Festival before you visit.

This post may contain affiliate links. We may receive a commission if you click and purchase something. Please see our disclosure policy for more details.
Updated for 2020!
Ahhh spring! That means warmer weather, pretty flowers and the start of the annual Epcot Flower And Garden Festival. This year's event runs until June 1, 2020. Luckily, I just returned from Walt Disney World and I have all the colorful details to share with you. As a farm girl, this is my FAVORITE time of year to visit Walt Disney World.
From beautiful topiaries to delicious food to hands-on learning, the festival connects us with this great planet we live on. Living on a very large fruit and vegetable farm, and growing a lot of plants in our greenhouses, makes me appreciate even more how much work is put forth by the cast members to make this festival bloom. Ready to pack your bags and visit? Be sure to check out my Disney Packing Lists page before you go.
Check out This Disney World Planning Tips Video
Admission to the Epcot Flower And Garden Festival is included with your park ticket. However, there are some
events and tours
that are an additional charge.
Before you start exploring, be sure to grab your Festival Passport. They are available at any of the merchandise areas. Your passport will guide you through each of the areas around Epcot.
Topiaries To See & Snap at Epcot Flower And Garden Festival
Anna and Elsa from Frozen Located at the Norway Pavilion
Bambi & Friends (Future World East)
Beauty and the Beast Located at the France Pavilion
Bo Peep and Her Sheep with Woody Located at Future World East
Topiary Dragon Located at the Japan Pavilion
Buzz Lightyear Located near Mission: SPACE at Future World East
Captain Hook and Peter Pan Located at the United Kingdom Pavilion
Construction Mickey and Minnie with Goofy, Pluto and Chip 'n' Dale Located between Future World and World Showcase
Donald and Daisy with Huey, Dewey and Louie Located near Showcase Plaza
Fantasia – Sorcerer Mickey, Brooms, Ostriches and Hippo Located near Imagination at Future World West
Figment (near Imagination at Future World West)
Lady and the Tramp Located at the Italy Pavilion
Miss Piggy and Kermit the Frog Located between the United Kingdom and Canada Pavilions at the France Pavilions
Pandas Located at the China Pavilion
Remy (NEW!) Located at the France Pavilion
Simba and FriendsFeaturing Rafiki, Simba, Mufasa and Sarabi Located at The Outpost Shop
Snow White and Dopey Located at the Germany Pavilion
Tinker Bell and Fairy Houses Located at the United Kingdom Pavilion
The Three Caballeros Featuring Jose, Donald and Panchito
Located at the Mexico Pavilion
Topiary Butterflies Located at Future World West
Topiary Flowers Located near the Main Entrance
Troll presented by Adventures by Disney (Norway Pavilion)
Winnie-the-Pooh & Friends Located at the United Kingdom Pavilion
Outdoor Kitchens at Epcot Flower And Garden Festival
Pair your gardening
mission around the festival with a stop at over a dozen delicious Outdoor Kitchens. Tempt your tastebuds at any (or all) of these culinary stops. It's a foodies delight!
Flavor Full Kitchen
The Citrus Blossom (find the Orange Bird Sipper here!)
Bauernmarkt: Farmer's Market (Germany)
Cider House (UK)
Fleur de Lys (France)
Florida Fresh (between the France and Morocco pavilions)
Hanami (Japan)
Jardin de Fiestas (Mexico)
La Isla Fresca (near the front of the World Showcase)
Lotus House (China)
Magnolia Terrace
Northern Bloom (Canada)
Pineapple Promenade (near the front of the World Showcase)
Primavera Kitchen (Italy)
Taste of Marrakesh (Morocco)
Block & Hans (American Adventure)
Specialty Joffrey's Coffee Carts
The Honey Bee-stro
Trowel and Trellis
Gardens To Explore at Epcot Flower And Garden Festival
Bamboo Garden – As a member of the grass family, bamboo can be found at the China Pavilion in many colors, patterns and sizes.
Bo Peep's Playtime Training Ground – Gather adults and kids at the Test Track walkway for Toy Story 4– themed engaging and interactive fun.
Bold Bromeliads (Land Pavilion)
Bonsai Collection – Take a trip to the Japan Pavilion and discover the ancient art of bonsai with some of the finest living sculptures created by bonsai masters, who carefully shape and tend these miniature works of art—creating peace and balance with the earth.
Chinese Zodiac Natural Sculptures
Located at the China Pavilion
English Tea Garden Presented by Twinings of London® – Discover the history and art of tea blending at this elegant English Tea Garden at the United Kingdom Pavilion, featuring plants important to some of Twinings finest tea blends.
Festival Blooms – Located at Future World, this display boasts thousands of flowers form colorful, living panoramas overlooking Future World's East and West lakes.
Floating Gardens – Peer upon more than 100 petite plots drifting on the ponds that border the walkway between Future World and the World Showcase.
Florida Fresh (between France and Morocco Pavilions)
Garden Italiano – From fresh spaghetti sauce to your favorite pizza topping, this Tuscan kitchen garden at the Italy Pavilion features all the produce and herbs needed to create a classic Italian feast.
Health Full Trail Presented by AdventHealth – Delight in a whimsical area along Imagination Walkway for kids, made to inspire youthful energy and creativity. Your whole family can learn fun and interactive ways to stay healthy at a brand-new playground and outdoor kitchen.
The Honey Bee-Stro – Learn about the importance of honeybees in this immersive garden. You can also enjoy some food options, made possible by their hard work, from the adjoining outdoor kitchen. Find it near Imagination! Pavilion.
Kokedama Garden – Admire fresh expressions of an ancient Japanese art. The Kokedama Garden features skilled bonsai creations.
Miniature Gardens (Germany Pavilion)
Outdoor Escapes presented by OFF! (Future World East)
Growing the Future Presented by Murata – Explore how cutting-edge technology paired with agricultural science can transform the way we feed the world. Discover the possibilities with our friends at Science from Scientists and engage in fun, fascinating, hands-on experiments—opening April 7, 2020.
Shakespeare Garden – Thou shalt adore matching up famous quotes to flowers found within this vibrant garden at the United Kingdom Pavilion. William Shakespeare often used flowers and exotic gardens to help set the scenes for his plays and employed them as symbols and metaphors.
The Goodness Garden Butterfly House Presented by GoGo squeeZ – Visit this foliage-filled exhibit at Future World West to view a kaleidoscope of butterflies and observe several species up close, learning about their life cycles and maybe even witnessing them emerging from chrysalises.
Tropical Rainforest Garden – Visit the Mexico Pavilion and learn how Mexico rainforests are rich with plants and animals that have adapted to a wide variety of light levels and water conditions.
Urban Spice – At the Morocco Pavilion, learn how in many eastern cultures, ancient spices were considered more valuable than gold. Even today, many cultures are defined by their signature spices and herb blends, created from plant leaves, stems, roots, seeds and flowers.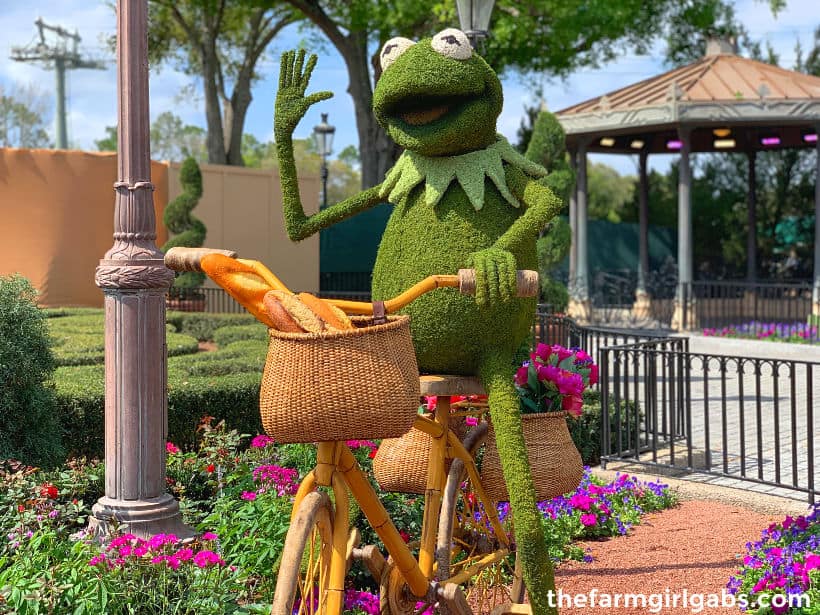 Special Garden Tours
There are a number of special tours for gardening enthusiasts in addition to your park admission ticket.
Gardens of the World
Explore the lush landscapes and signature displays of the 2019 Epcot International Flower & Garden Festival!On this three hour tour, a Disney Horticulturist will take you on walking tour throughout the World Showcase Pavilions.
Cost: $85.00 plus tax. Must be 12 or older.
Royal Tea Garden Tour
The Royal Garden Tea Tour begins at 9:30 AM in the United Kingdom Pavilion at Epcot—before World Showcase opens to the general public at 11:00 AM. Your tour guide will lead you through an elegant tea garden, where you'll spend approximately 45 minutes exploring the garden in-depth, and learning the artistry and history behind growing and blending tea.
Cost: $20.00 plus tax. Must be 12 or older.
English Tea Garden Presented by Twinings of London®
Gain a new appreciation for this time-honored beverage during a complimentary tour of an elegant English tea garden.During this guided foray, you'll learn more about the artistry behind the growing and blending of herbs, which is vital for the creation of uniquely flavored brews.
Cost: Free for all ages
Behind The Seeds
Explore the future of agriculture and get up-close and personal with the critters of The Land Pavilion on this walking tour.
Cost: $25 adults, $20 kids
Gardening Fun For Kids of All Ages
Kids can connect with nature too at the Epcot Flower And Garden Festival. They can wander through family-friendly play areas, gardens and exhibits geared specifically to kids.
Want to go on a scavenger hunt? Well this year, there are TWO you can participate in.
Spike's Pollen Nation Exploration is a scavenger hunt that promises to sprout tons of fun! Embark on a search for Spike's best blooms as he pollinates flower beds across Epcot! Maps are available for $6.99.
Break out the bunny ears for the Egg-stravaganza Scavenger Hunt! From April 5 through April 21, the "hoppy-est place on Earth" welcomes wabbits of all ages to Egg-stravaganza, a popular scavenger hunt that has everyone scampering around World Showcase in search of Disney character-themed eggs. Maps are available for $6.99.
Nature lovers of the curious kind will love learning about these glorious creatures—from egg to full-grown beauty! Visit the Goodness Garden Butterfly House. Peer into a colorful kaleidoscope of butterflies at this foliage-filled exhibit. Guests can observe several species up-close, learn about the distinct stages of their life cycles and may even witness an amazing metamorphosis as caterpillars emerge from their chrysalis.
There are also a few interactive play areas for kids too.
Bo Peep's Playtime Training Grounds Location: Along the Test Track Walkway
You've got a friend in Bo Peep and the gang! Sit back, relax and recharge while the kids play in an interactive garden that's fun for fans of all ages!
Play Full Garden Hosted by AdventHealth Location: Imagination Walkway
On your mark, get set, stay healthy! Gather the entire family for interactive activities that focus on nutrition and wellness at this brand-new playground and outdoor kitchen.
Garden Rocks Concert Series
Ready to get your groove on? Garden Rocks Concerts take place at the America Gardens Theatre in the American Adventure Pavilion and are included in Epcot admission. Shows are 7 nights a week during the festival at 5:30 PM, 6:45 PM and 8 PM.
Peabo Bryson – NEW! March 4 and 5
The Orchestra starring former members of ELO March 6 through 9
The Guess Who March 10 through 12
Simple Plan
March 13 through 16
STARSHIP featuring Mickey Thomas March 17 through 19
Mark Wills – NEW! March 20 through 23
The Spinners March 24 through 26
Sister Hazel March 27 and 28
The Pointer Sisters March 29 and 30
Steve Augeri – Former Lead Vocalist of Journey March 31 through April 2
Blood, Sweat & Tears April 3 and 4
Expose' April 5 and 6
Berlin April 7 through 9
A Flock of Seagulls April 10 and 11
Atlantic Starr – NEW! April 12 and 13
Tony Orlando April 14 through 16
High Valley – NEW! April 17 and 18
Rick Springfield April 19 and 20
Christopher Cross April 21 through 23
Plain White T's April 24 through 27
Don Felder – Formerly of The Eagles April 28 through 30
Don McLean – NEW! May 1 and 2
Casting Crowns – NEW! May 3 and 4
Ambrosia with Peter Beckett May 5 through 7
Thelma Houston – NEW! May 8 and 9
The Allman Betts Band – NEW! May 10 and 11
Air Supply May 12 through 14
Herman's Hermits starring Peter Noone May 15 through 18
Mike DelGuidice & Big Shot – NEW! May 19 through 21
Claudia Leitte – NEW! May 22 and 23
Daughtry – NEW! May 24 and 25
Marshall Tucker Band May 26 through 28
Crowder – NEW! May 29 and 30
Survivor May 31 and June 1
Garden Rocks Dining Packages
Pair some great music with a delicious meal (breakfast, lunch or dinner) at select restaurants around the World Showcase. There is an extra cost involved but you get guaranteed seating at one of 3 concert performances later that day.
Now go and explore. This is such an amazing not-to-miss festival that celebrates the beauty of nature.
Save this post for later. Pin the image below to your favorite Pinterest Board
Planning A Disney World Vacation? Here are some Disney Vacation Tips
Pack The Perfect Walt Disney World Backpack
101 Photos To Take At Walt Disney World
Everything You Need To Know About Rise of the Resistance
Free Disney World Packing Lists
PACK MORE FUN INTO YOUR DISNEY VACATION WITH THESE DISNEY TRAVEL ESSENTIALS.
Walt Disney World Planning Kit