DIY Garden Ideas For Kids
Gardening is a fun family activity. These DIY garden ideas for kids are a fun way to let kids dig in and start growing a themed garden.
This post may contain affiliate links. We may receive a commission if you click and purchase something. Please see our disclosure policy for more details.
These themed garden ideas for kids are a great way to get them interested in gardening. Going with a theme will not only help them stay interested, but you can make a lot of memories as you work on the garden and the themed activities to go with it.
DIY Garden Ideas For Kids
Pizza Garden – With the theme of a pizza garden, kids can grow their favorite fruits and veggies that they will use to make their own pizzas. They will love using the fresh ingredients to make the pizzas and it will encourage them to eat more veggies and try new things.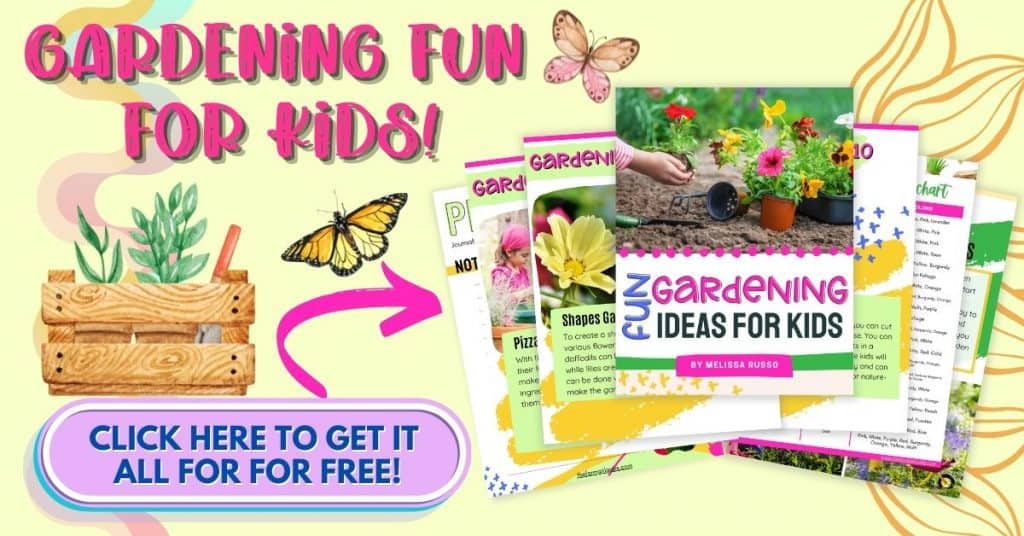 Sensory Garden – This is a great idea for those who like to use their hands and a way to learn through sensory play. Children love to touch and smell things so creating a sensory garden can be a fun. With a sensory garden, children can plant things with different textures, colors, and scents to stimulate their senses.
Shapes Garden – To create a shapes garden, have the children plant various flowers in different shapes. For instance, daffodils can be planted in the shape of a circle while lilies are planted in the shape of a triangle. This can be done with flowers, fruits, or vegetables to make the garden fun and creative.
Dinosaur Garden – A dinosaur garden is one that will allow the children to learn about garden and will make a great area for pretend play. Kids can make a large garden that would resemble plants that may have been around when the dinosaurs roamed.
They can also plant fruits and veggies they think the dinosaurs may have eaten. When they are ready to go play outside, they can use the themed garden to pretend like they are dinosaurs walking around or can even use their dinosaur toys to play with outside.
DIY Garden Ideas For Kids
Butterfly Garden – Do some research on plants that will bring more butterflies to your yard and create a butterfly garden. This will provide a fun learning activity for them and they will also be able to enjoy watching the butterflies flutter around the garden.
Salsa and Salad Garden – You can either create one of each or you can grow both all in one garden. To make a salsa and salad garden, simply grow fruits and vegetables that will allow kids to make a delicious salsa or salad with their favorite veggies.
Sunflower Garden – Sunflowers are beautiful, and children will love watching the bright yellow sunflowers grow nice and tall. In addition to the sunflower plants, kids can create some fun sunflower themed garden crafts that they can place in or around the garden.
Lemonade Garden – Similar to the salsa and salad garden, this garden theme idea will have them planting different plants that will help them make their own lemonade.
In addition to the lemons being planted, you can also plant strawberries to make strawberry lemonade or blueberries for blueberry lemonade. Allow the kids to get creative with different fruits and herbs to try new things and lemonade flavors.
Alphabet Garden – With an alphabet garden, you try to include plants whose names start with each letter of the alphabet. For instance, azaleas, begonias, carnations, daisies, etc.
To make your alphabet garden more fun and exciting, you can create letters in the ground where you are going to plant and plant the seeds/flowers within the lines of the letters.
Also, children can create some fun plant labels, signs, and stones to place in or around their garden.
Cutting Garden – Cutting gardens are made from flowers that you can cut and use for different projects or to put in a vase. You can include a variety of different flowers and plants in a cutting garden. Once the flowers are ready, the kids will be able to practice cutting the flowers correctly and can put them in a vase or create some fun flower or nature-themed crafts with them.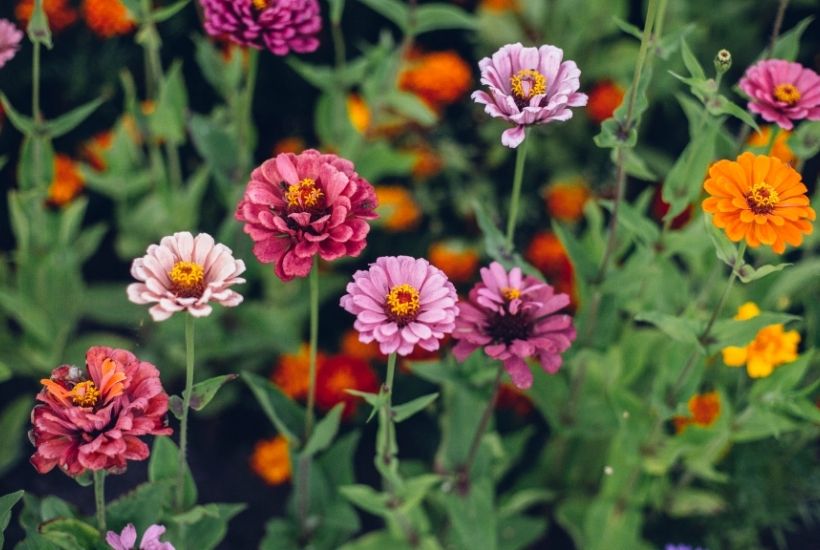 Tropical Garden – For a tropical garden, plants are typical brightly colored and have large leaves like tropical plants you will find around the world. Banana trees, ferns, and orchids are all good examples of what can be planted in a tropical garden.
Nature/Wildlife Garden – If you have plenty of outdoor space or land in the country, a nature and wildlife garden can be an extremely fun theme to do. The purpose of these gardens is to create a natural space for insects, birds, and more.
A few examples would include long grass which can allow bunnies or other animals to lay their eggs or to raise their young. Wood can be a great habitat for beetles and other insects.
Gardening Tools For Kids
Getting creative with gardening ideas is always fun. There is no limit to the garden themes that you can create so you can have the children pick their favorite themes and go from there.
More Fun Gardening Ideas
How To Start A Vegetable Garden
8 Popular Garden Flowers To Grow
Save These Garden Ideas For Kids. Pin the image below to your favorite Pinterest board.