Create Your Own Mosaic Garden Stone
This shop has been compensated by Collective Bias, Inc. and its advertiser. All opinions are mine alone. #LoveYourLawn #CollectiveBias
Refresh your lawn with Scotts® EZ Seed® and Create Your Own Mosaic Garden Stone to beautify your garden.
Living on a very large fruit and vegetable farm, playing in the dirt is second nature to us. Our family's rich farming history has been striving for 76 years now. Spring is finally here. Woo hoo! Can I get a fist bump? It's the time of year that I love most. Our farm market and garden center are open and our greenhouses are blooming with beautiful plants just waiting for a new home.
I often get a lot of questions from our customers about spring lawn spruce up! Lawns need just as much love and care as a garden does. The winter elements often leave your yard depleted from the necessary nutrients to grow green and lush. This is where Scotts® products come to our rescue.
My farmer hubby took some time away from the fields last weekend to focus on spring lawn care.  He not only fertilized, but also went around and applied Scotts® EZ Seed® Sun and Shade to all the bare spots in our yard.
Scotts® EZ Seed® Sun and Shade is great for repairing wear and tear on your lawn. It will cover up to 85 square feet. Just as the name on the container, this product really is easy to use. Apply evenly to the bare areas and water thoroughly. This product is formulated for sunny, densely shaded, or high traffic areas.
Looking for specific information for how Scotts® EZ Seed® Sun and Shade can help solve your lawn problems? Click here to sign up for the Scotts' email reminder service to receive specific tips and information for your area!
Don't forget to enter the sweepstakes below for the chance to win Walmart gift cards and Scotts® Spreaders!
Scotts® #LoveYourLawn Sweepstakes
Now that we have dusted off our gardening gloves, you can Create Your Own Mosaic Garden Stone to beautify your yard or garden. This easy craft is perfect for the entire family. But before you begin, you will need a few supplies.
Square plastic mold (you can find one at your local craft store) or metal cake pan.
Cement
Mosaic Tiles or Stones
Non-stick cooking spray or petroleum jelly
Cement sealer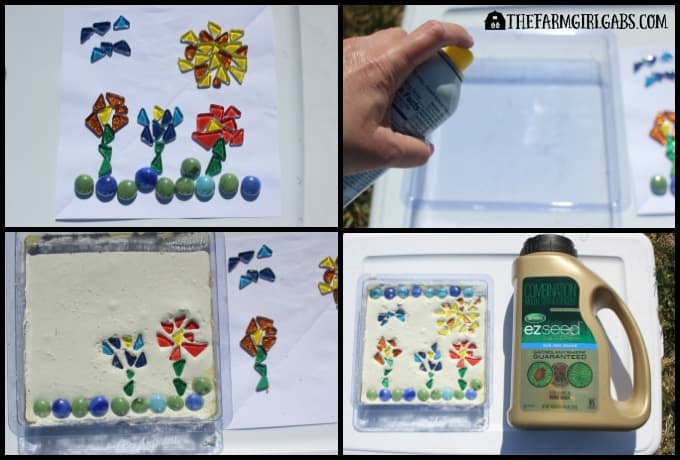 Begin by laying out your mosaic tile design on a piece of paper first. This way you can create exactly what you like. Spray the plastic container with non-stick cooking spray (or grease with petroleum jelly). Mix your cement according to directions and then pour into the mold. Give the mold a few taps on a flat surface to even everything out. Now, start to transfer you tiles to the wet cement.
Allow the garden stone to dry for 24 hours before removing from the mold. I applied a cement sealer that I also purchased at the craft store. This will help protect the stone from the weather elements.
If you head on out to your local Wal Mart, you can purchase Scotts® EZ Seed® Sun and Shade. It is located with the garden supplies. While you are there, don't forget to grab the supplies you need to create your own mosaic garden stone.