This classic Tuscan Chicken Soup will warm you up on a cold winter's day! This easy soup recipe is filled with hearty vegetables, chicken and tortellini.
This is sponsored post. All opinions are mine alone. This post may contain affiliate links. We may receive a commission if you click and purchase something. Please see our disclosure policy for more details.
There is one thing that my family thoroughly enjoys as the weather turns colder, and that is comfort food. I crave comfort foods during the winter months. You know, the type of foods that warm you through and through.
Hearty soups, stews and casseroles are where it's at!
This hearty Tuscan Chicken Soup made with Hunt's Diced Tomatoes, is the perfect way to warm you up on a cold winter's day. Soup is the perfect one-pot meal
. Let's face it, we are all busy. This is my version of the famous zuppa toscana (minus the cream and sausage).
Family commitments, work, shuffling kids here and there, often interfere with dinner preparation and family meals together. The recipe proves that you can have a hearty weeknight meal in 45 minutes.
Ingredients Needed To make Tuscan Chicken Soup
Cooked chicken shredded – You can use chicken breast or a combination of chicken breast or thighs. I also have used rotisserie chicken in the recipe too.
Diced onion
Celery
Zucchini
Carrots
Minced Garlic
Fresh spinach
Hunt's Tomatoes Basil, Garlic & Oregano variety
Low-sodium chicken broth
Fresh basil
Fresh oregano
Salt & Pepper to taste
Tortellini
Olive oil
Grated Parmesan cheese for garnish
How To Make Hearty Chicken Soup
I love the bold Italian flavors of this soup. sauteing the vegetables first, before adding chicken broth and can Hunt's Tomatoes, enhances the flavor of the soup. It's also loaded with lots of fresh herbs and vegetables too.
To cut down on the preparation time, I added cooked chicken and pre-cooked tortellini. To save time, you can easily chop up a rotisserie chicken or cook your own. How's that for a quick weeknight meal?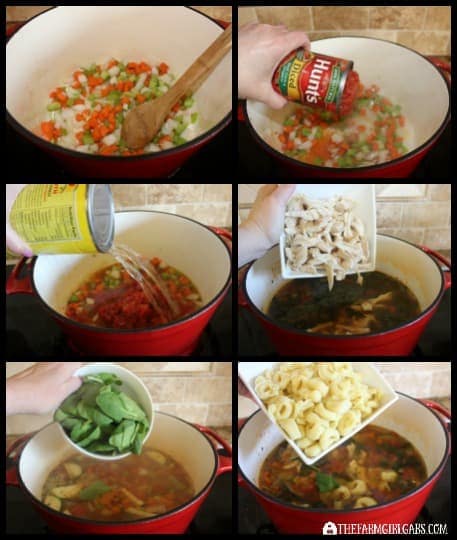 Easy Kitchen Hack To Preserve Fresh Herbs
Living on a large farm, cooking with fresh fruits, vegetables, and herbs is important to me. I'm pretty lucky too that I have access to all the healthy goodness. I am a firm believer that fresh herbs make the dish. I look forward to planting my herb garden each spring so I can relish in its bounty.
But what happens in the fall when the cold air moves in and freezes your herb garden? Well, I have an easy hack you can use to save your herbs all winter long. Freeze them.
Yes, I freeze my herbs in ice cube trays
filled with olive oil. While I hate to say goodbye to my herb garden at the end of the season, I am so happy that I can preserve their flavor all season long.
It is so simple, just chop
up the herbs, place about one tablespoon in each ice cube tray and then fill each individual cube with olive oil. Freeze and then transfer to a freezer storage bag.
When I need to add some fresh flavor to a dish or soup (like this Tuscan Chicken Soup), I pop a few frozen herb cubes out of the freezer. So simple. What a great way to preserve them.
I'm a bread gal. Give me a nice slice of bread with this hearty soup and I am one happy girl. I also serve a salad with this as well. This soup makes me happy knowing that I am feeding my family some good old-fashioned comfort food.
Try These Easy Soup Recipes
What are some comfort foods you like to enjoy during the cold winter months?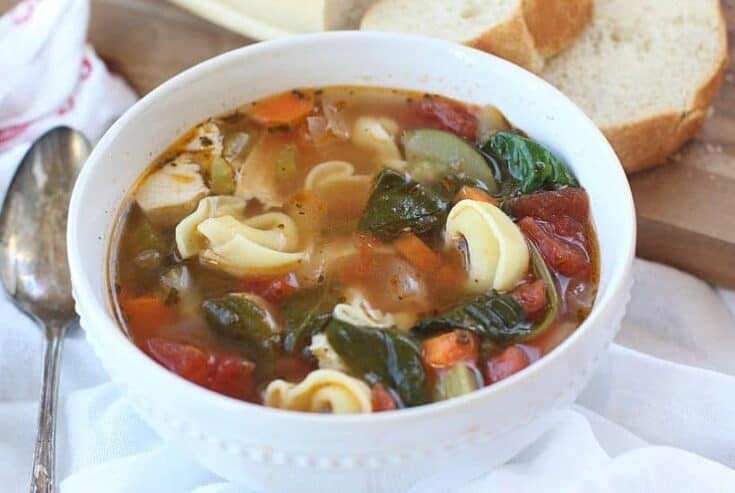 Yield:

4 Servings
Tuscan Chicken Soup
This classic Tuscan Chicken Soup will warm you up on a cold winter's day! This easy soup recipe is filled with hearty vegetables, chicken and tortellini.
Ingredients
2 cups cooked chicken shredded
3/4 cup onion diced
3/4 cup celery diced
1 small zucchini sliced
1 cup carrots diced
3 cloves garlic minced
3 cups fresh spinach
1 14.5 ounce can Hunt's Tomatoes Basil, Garlic & Oregano variety
1 46 ounce can low-sodium chicken broth
2 tablespoons fresh basil chopped
2 tablespoons fresh oregano chopped
Salt & Pepper to taste
10 ounces cooked tortellini
2 tablespoons olive oil
Grated Parmesan cheese for garnish
Instructions
Drizzle olive oil in a large pot on medium heat. Add carrots, celery, onions and garlic. Sautee for 4-5 minutes to develop flavor.
Add Hunt's tomatoes and chicken broth to the vegetables. Stir and bring to a low simmer. Cook for 30 minutes.
Add fresh basil and oregano. Season with salt and peper
Fifteen minutes before serving, spinach, zucchini, chicken and tortellini. Continue to cook on a low simmer until ready to serve.
Ladle into a serving bowl and garnish with grated parmesan cheese.