New Year's Family Feud Game
Ring in the New Year with this fun printable New Year's Family Feud Game you can play at home. See which family member can guess the best answer.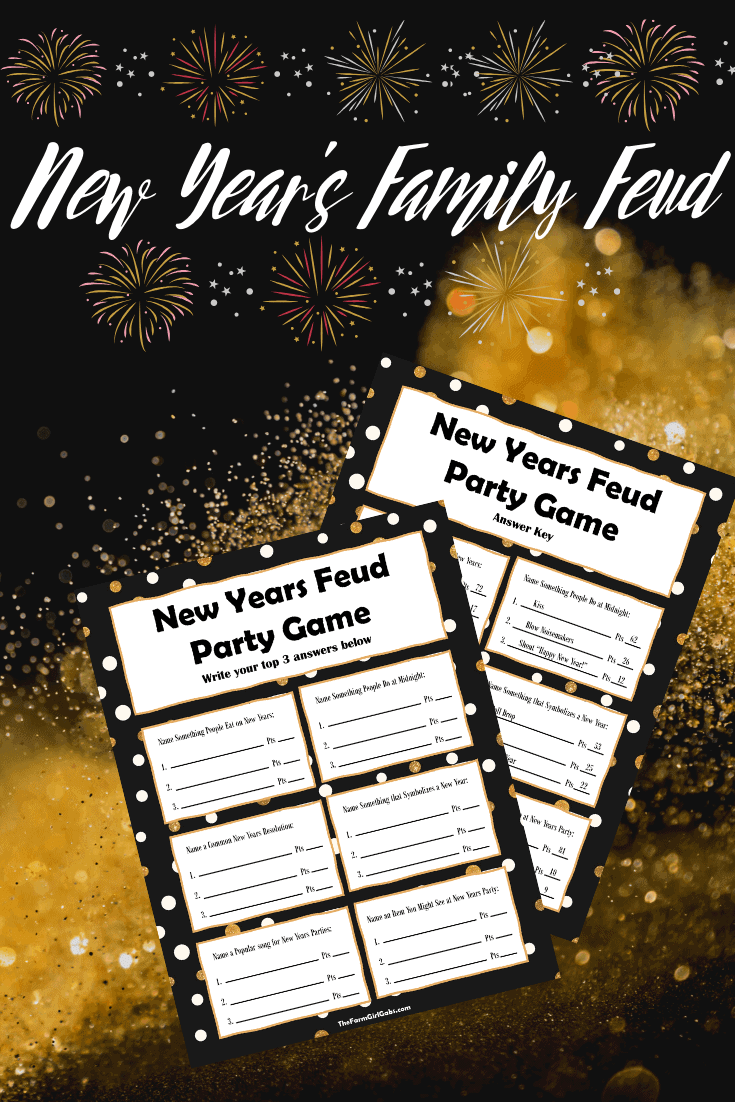 This post may contain affiliate links. We may receive a commission if you click and purchase something. Please see our disclosure policy for more details.
Happy New Year! I can't believe we are getting ready to bid another year farewell. I hope that this year was a good one for you and the coming year is even better. I want to wish all of you a happy and healthy 2023. Here is a fun New Year's Family Feud free printable game you can download and play.
Family games have been around forever. It's a time when family members can sit down and spend time together. If your family can get along during games, then this is a great way to spend quality time together. Here are some reasons why you need family games in your life.
Why You Should Plan a Family Game Night
Spending Quality Time Together
Watching a movie or shopping doesn't always allow you to spend quality time together. When you are playing games together, you are interacting with each other and are really able to spend that time together, getting to know each other.
Opportunity to Learn From Each Other
You will never know more about someone than when you play a board game with them. When you play a board game with your family, you are learning so much from them. You are learning what they like or don't like. You are learning what makes them happy and what makes them sad!
Learn How To Follow Rules
Some people in the family may struggle to follow rules. When you play board games with your kids, you are teaching them to follow rules. They are also gaining real-life experience in reading directions and following them. You need family games in your life because it's helping your children in more ways than you know. It's also helping them to build imagination.
Intentional Time Together
There are a lot of things that pull you away from your family. Playing games with your family is spending intentional time together. You are doing things together that you wouldn't necessarily have done otherwise.
Are you looking for a fun game to play this New Year with the family? Check out this New Year Family Feud printable. Print this game out below and have fun with the kids, you won't regret it.
Click HERE to download New Year's Family Feud Game!
How To Play Family Feud
Family Feud has been around forever. Well, at least it seems that way. I remember watching the original version with Richard Dawson way back when. Comedian Steve Harvey has taken over and I love watching "The Best Of Moments" on YouTube. Totally hilarious! Anyway, if you are unfamiliar with how to play Family Feud, here are some quick guidelines.
Divide into two teams.
Start with the first question and work together to come up with the best answers.
Survey says….have the "host" read the top answers to see which team wins.
Continue until all the questions are answered.
New Year's Eve Party Supplies
Party Hats
Noise Makers
Appetizer Tray
Cheese Board
Toasting Flutes
Save this New Year's Family Feud Game for later. Pin the image below to your favorite Pinterest Board.