Christmas cookie baking is in full swing at our house! These Pecan Pie Cups are just like biting into a piece of pecan pie.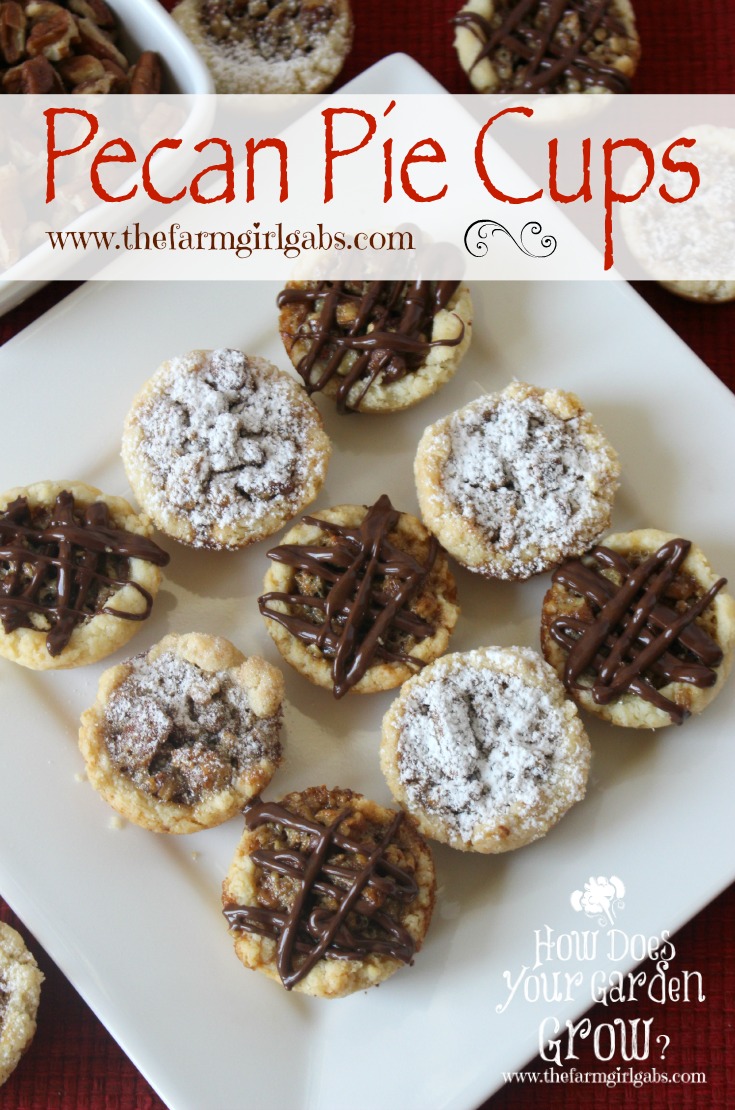 Today, I am sharing with you a cookie version of one of my favorite pies. Pecan Pie Cups are a miniature cookie version of the sweet and nutty Pecan Pie. Peee-can or is it Peee-con? The pronunciation is debatable but the taste of these little treats is not. They are delicious. Don't be intimidated by the looks of this cookie. It is really easy to make. These cookies can definitely be enjoyed year-round. I make mine in a mini-muffin pan
. A flaky cream cheese dough is filled with a sweet pecan filling, what's not to like. I like to top mine with either a drizzle of chocolate or just plain powdered sugar. Pecan pie cups are perfect to bake for not only Christmas but any special occasion. Have you started your holiday baking yet? Try these gems. I bet you won't be able to stop at one. You can grab the easy recipe below.
Pecan Pie Cups
Pecan Pie Cups are a miniature version of the sweet Pecan Pie. A flaky cream cheese crusts surrounds a delectable pecan filling. This cookie recipe is perfect for Christmas or any gathering.
Author:
Melissa Russo / thefarmgirlgabs.com
Ingredients
Cream Cheese Pastry
8 oz. cold butter, cubed
2 cups all-purpose flour
½ teaspoon salt
6 oz. cream cheese
Pecan Filling
2 eggs, lightly beaten
¾ cup dark corn syrup
½ cup brown sugar
3 tablespoons melted butter
2 teaspoons pure vanilla
½ teaspoon salt
1½ cups chopped pecans
Chocolate Drizzle (Optional)
3 oz. semi-sweet chocolate
2 teaspoons canola or vegetable oil
Instructions
Preheat oven to 350 degrees
To make crust:
Add flour and salt to a food processor and pulse twice to incorporate.
Add butter cubes and cream cheese and pulse just until a ball of dough forms.
Once dough is complete, place 1 teaspoon of dough in a 24 mini-muffin pan.
Using a dough press or your hands, mold dough to each mini-muffin cup. Press so dough fills up bottom and sides.
To Make Filling:
In medium bowl, whisk eggs.
Add corn syrup, brown sugar, melted butter, salt and vanilla and mix until blended.
Stir in chopped pecans.
Fill each muffin tin ¾ of the way full with filling.
Bake 25-30 minutes until golden brown.
Allow to cool before topping with Chocolate Drizzle or Powdered Sugar.
*To make chocolate drizzle, add semi-sweet chocolate and oil to a double boiler. Heat on low until chocolate is melted. Allow to cool for 5 minutes. Fill plastic storage bag with chocolate and snip off a tiny section of one corner. Drizzle tops of pecan cups with chocolate