Pumpkin Chocolate Chip Cookies
Prepare a delicious baked treat that combines the flavor of both pumpkin and chocolate to create something incredible. Use this recipe for Pumpkin Chocolate Chip Cookies to make a tasty fall-inspired dessert.
This post may contain affiliate links. We may receive a commission if you click and purchase something. Please see our disclosure policy for more details.
Do you love pumpkin-flavored treats? You may look forward to the fall season when pumpkin spice is everywhere, such as coffee, baked bread, cookies, and more. Now, you can enjoy the taste of pumpkin with chocolate by preparing these Pumpkin Chocolate Chip Cookies from scratch.
Once you've prepared the cookies, you'll love the way that the fresh pumpkin flavor pairs perfectly with the chocolate to create an incredible combination for you to enjoy as a quick snack whenever you're in the mood for some chocolate. This is a great recipe to make during the holiday season too.
How To Make Pumpkin Chocolate Chip Cookies
Ingredients to Make Pumpkin Cookies
Make these Easy Pumpkin Chocolate Chip Cookies using the following ingredients:
Pumpkin Puree. The pumpkin is the most important ingredient to have when making these cookies. Make sure you purchase puree and not pumpkin pie mix.
Butter. You will need one stick of the unsalted butter.
Brown Sugar. Combine packed brown sugar to your mixing bowl.
All-Purpose Flour. Use the flour to create the perfect dough for your cookies.
Baking Soda. Add baking soda to get your cookies to bake evenly and perfectly.
You will also need pumpkin pie spice, vanilla extract, egg, salt, and walnuts.
Why You Should Make the Pumpkin Chocolate Chip Cookies
You're using fresh ingredients to make these incredible cookies, such as semi-sweet chocolate chips, pumpkin puree, pumpkin pie spice, and packed brown sugar.
The recipe makes plenty of cookies. You'll have enough for your family and friends to enjoy, which is a good thing because these cookies are irresistibly good.
Both chocolate and pumpkin are popular flavors that taste great when combined! It's the match you didn't know you needed.
Kitchen Essentials Needed to Make This Easy Cookie Recipe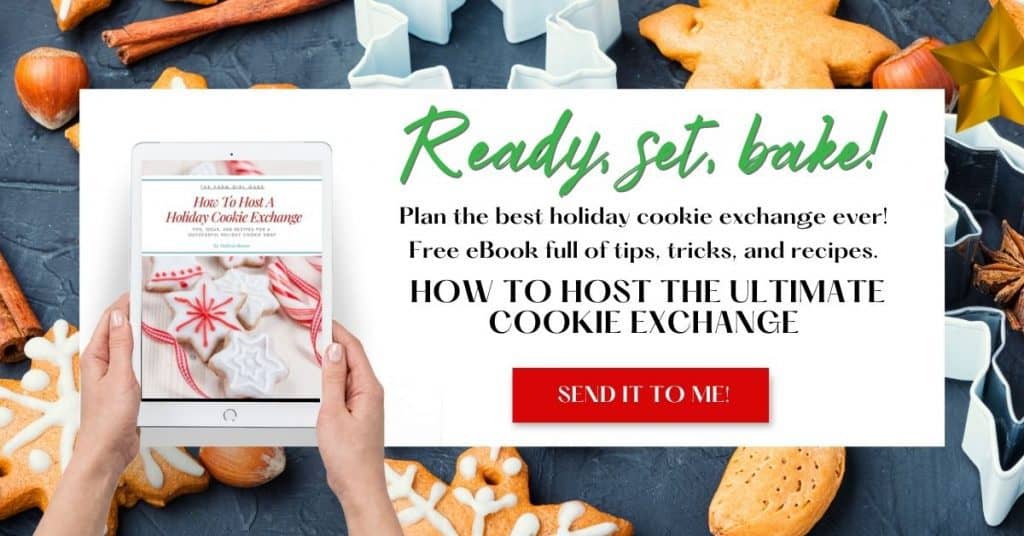 How long will it take to prepare the cookies?
It takes roughly 10 minutes to prepare the cookies from scratch. Once you've prepared the ingredients, you'll need to let them cook in the oven for a minimum of 10 minutes and a maximum of 12 minutes.
How many cookies does this recipe make?
When you follow this recipe, you'll make 50 cookies! You can expect to have plenty of cookies to share with loved ones. It's the perfect recipe to use when preparing cookies for a group of people!
Where can I find pumpkin pie spice?
Most grocery stores sell pumpkin pie spice in the aisle with the seasonings and spices. If you can't find it at the grocery store, you should be able to find it at Target or Walmart in the baking aisle.
Do I have to use walnuts?
While the walnuts add a bit of a crunch to these cookies that goes great with the chocolate and pumpkin, you don't need to use them. If you don't like walnuts or don't have them available to use, leave them out. The cookies will still taste good.
Can I use different chocolate chips when preparing these cookies?
Yes! While the recipe calls for semi-sweet chocolate chips, you can use a different flavor, such as milk chocolate, dark chocolate, or even white chocolate. Use what you like and already have available at home. No matter what type of chocolate you decide to use, you can expect these cookies to taste amazing.
How do I store the cookies to keep them fresh?
Allow your cookies to cool down before you store them. Once they've cooled down, place them in an airtight food storage container. You can leave the cookies stored at room temperature, so you don't need to worry about putting them in the fridge. If you'd like the cookies to last a bit longer, you can freeze them.
Try These Easy Cookies Recipes
Save this fall cookie recipe for later. Pin the image below to your favorite Pinterest board.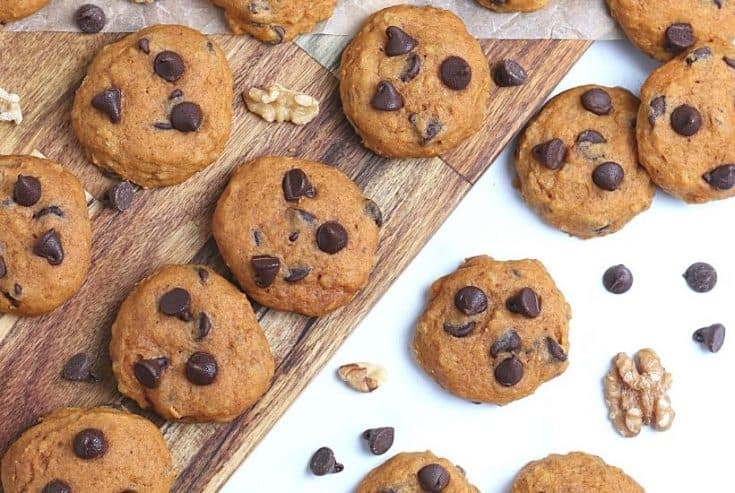 Yield:

50
Pumpkin Chocolate Chip Cookies
You can't go wrong with a classic chocolate chip cookie recipe. But have you ever had pumpkin chocolate chip cookies? These baked treats combine the flavor of both pumpkin and chocolate to create something incredible. This easy fall cookie recipe makes a great after-school snack for kids.
Ingredients
½ cup (1 stick) unsalted butter, softened
1 ¼ cup brown sugar, packed
1 ½ cup pumpkin puree (not pumpkin pie filling)
2 large eggs, room temperature
1 teaspoon vanilla extract
2 ¼ cups all-purpose flour
4 teaspoons baking powder
½ teaspoon salt
1 teaspoon cinnamon
1 teaspoon pumpkin pie spice
1 cup semi-sweet chocolate chips
1 cup chopped walnuts, optional
Instructions
Preheat the oven to 350 degrees F.
Line two baking sheets with parchment paper or silicone baking mat.
In a large bowl, beat together butter and brown sugar until smooth and creamy.
Add the pumpkin, eggs, and vanilla extract and beat until well combined.
In a medium mixing bowl, whisk together flour, baking powder, salt, and spices.
Gradually add dry ingredients to the pumpkin mixture until well incorporated.
Stir in chocolate chips and walnuts.
Using a cookie scoop or a spoon, drop the dough onto the prepared baking sheets.
Bake at 350 degrees F for 10-12 minutes, or until the edges of the cookies are lightly browned.
Remove from the oven and let cookies cool on baking sheets for 5 minutes before transferring to cooling racks.
Place cookies in an airtight container and store for several days at room temperature; freeze for longer storage.