Slow Cooker Pulled Pork Sandwiches
I think we can all agree that a meal prepared in a slow cooker is a real time saver. Prep it in the morning, plug it in and when you come home…Presto!, your meal is ready to eat. I have to admit, I'm not the most "versatile" slow cooker cook (that's a real tongue twister). I have a few go-to recipes that I make in mine time after time, but I love the convenience of a slow cooker. You can not only use it to prepare a meal but also use it to keep food warm for parties or get togethers. As you probably know by now, we have a very big family and entertain a lot. My slow cooker makes an appearance in one way or another at any gathering I host in our home.
These Slow Cooker Pulled Pork Sandwiches are always a hit any party I host. It's a great dish to serve when you are watching the "big game", tailgating, birthday parties or a "just because" gathering because it makes a lot! The sauce is a moderately spicy combination of tomatoes, vinegar, cayenne pepper, cumin, smoked paprika and chili powder. 
I add brown sugar to balance all these flavors out. Like a lot of heat? You can certainly kick up the heat factor by adding more cayenne or chipotle pepper.
After all the spices and liquids are mixed together in the slow cooker, add the boneless pork shoulder. Pop the lid on, turn it on low and let it go to town for about 8 hours. After pork is cooked, place on a cutting board and "shred" apart with two forks. Place shredded pork back in the slow cooker and you are ready for a hearty sandwich.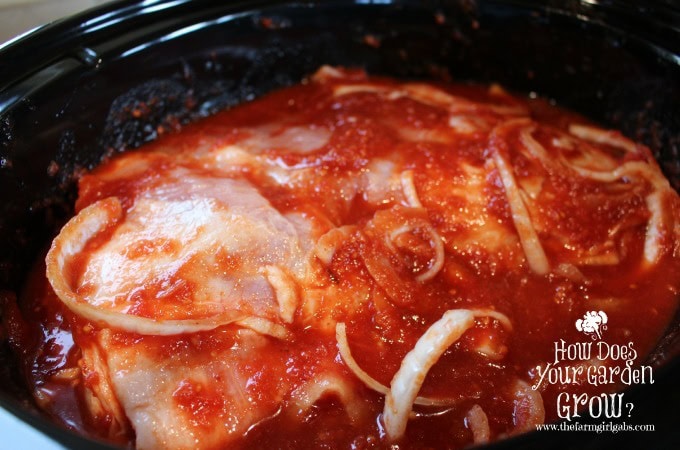 Slow Cooker Pulled Pork Sandwiches
Ingredients
5 lbs. boneless pork shoulder
2 large onions

thinly sliced

1 28 ounce can crushed tomatoes
3 cloves crushed garlic
2 tablespoons smoked paprika
1/2 teaspoon chili powder
1/2 teaspoon ground cayenne pepper
1 1/2 tablespoons cumin
1 cup apple cider vinegar
1 cup light brown sugar
2 tablespoons salt
Instructions
Thinly slice onions.

Add to the slow cooker along with the crushed tomatoes, seasonings, vinegar and brown sugar. Mix well.

Trim pork and add to slow cooker. Turn once so all sides of the pork is coated with liquid.

Turn slow cooker on low, cover and cook for eight hours. Turn once about halfway through the cooking process.

After 8 hours, remove pork from slow cooker and place on a cutting board. Cool slightly. With two forks, shred pork apart.

Skim any fat off the top of the liquid. Place shredded pork back in the slow cooker. Keep warm.

Serve on a hearty roll.
Serve on a nice hearty bun and your guests will be ready to chow down. This recipe is a great freezer meal too. When I make it for just the four of us, it is way too much. I freeze in freezer safe containers and I have a nice, quick weeknight meal for everyone.