Strawberry Mint Sweet Tea
Take a sip of this refreshing Strawberry Mint Tea recipe. This easy tea recipe is a perfect way to relax during a hot day.
For the longest time, I have had a love affair with iced tea (shhhhhh…..don't tell my husband). I'm not talking about the kind of iced tea you make from the powdered stuff in can. I'm talking about the "real deal", the kind you steep with tea bags to perfection. Bigelow Tea is my choice when enjoying both hot or cold tea.
Generally, I am a traditionalist when it comes to enjoying my iced tea. I am a basic lemon and sweetener type of gal. But, the strawberry fields are ripe for picking on our farm so I thought I would experiment and try making a different type of iced tea. My herb garden also happens to be blooming as well and fresh mint was just calling my name.
I combined the three together and made a refreshing pitcher of Strawberry Mint Sweet Tea. It's tea-riffic, the perfect way to cool down on a long hot summer day. Strawberry Mint Sweet Tea is a perfect recipe to serve at a party too. It can easily be doubled for larger crowds.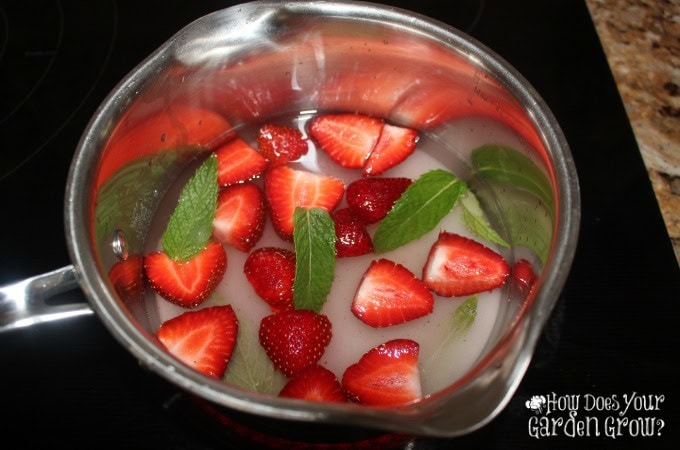 Bigelow Tea is All-American, meaning it is made right here in the United States. It comes in many different flavors as well so the selection is great. They also have specific Iced Tea varieties too.
Bigelow American Breakfast Tea has a bold and delicious flavor profile. I thought it would pair well with the strawberries and fresh mint. A portion of the proceeds from the American Breakfast Tea line goes to support our U.S. service men and women. What a wonderful cause!
This tea is so simple to make. I begin my making a simple strawberry syrup by combining equal parts water, sugar and sliced strawberries in a medium saucepan. I add a generous amount of fresh mint leaves to infuse the syrup with the mint flavor. I bring it to a boil and simmer until the sugar is dissolved. Remove from the heat and let cool. Strain out the strawberries.
Then brew the American Breakfast Tea by pouring six cups of boiling water over 3 American Breakfast tea bags. Let the bags steep for several minutes. If you like a stronger tea, then allow the bags to steep longer. Once the tea is cool, add ice and tea to a glass pitcher. Pour 3/4 – 1 cup of the mint-infused strawberry simple syrup into the pitcher. I add the simple syrup to taste. If you like a sweet tea, then add more. Stir to incorporate.
Strawberry Mint Sweet Tea
Ingredients
6

cup

brewed iced tea

6 cups water and 3 Bigelow American Breakfast Tea Bags.

2

cups

ice

1

cup

water

1

cup

sugar

2

cups

sliced Jersey Fresh strawberries

10

mint leaves
Instructions
In medium saucepan, add water sugar, 1 cup of sliced strawberries and 10 mint leaves. This makes the simple syrup.

Bring to a boil. Cook until sugar is dissolved. Remove from heat and let cool

Fill a large pitcher with ice and add the 6 cups of brewed tea.

Strain the simple syrup and add it (to taste) to the iced tea. If you don't like your tea real sweet, then don't add the whole amount.

Add the remaining sliced strawberries.

Garnish with mint if desired.
The weather here in New Jersey has been pretty hot lately so I have been enjoying a lot of Strawberry Mint Sweet Tea. It's so sweet and refreshing. Try making this version of sweet tea. I bet your family and gets will love it.
What is your favorite Bigelow Tea? Have you tried the American Breakfast tea yet? Share your favorite Bigelow variety with me by leaving a comment below. You can also follow Bigelow Tea on Facebook, Twitter and Pinterest.