This shop has been compensated by Collective Bias, Inc. and its advertiser. All opinions are mine alone. #InsideOutEmotions #CollectiveBias
As parents, one of our biggest responsibilities is to teach our kids about their emotions and how to deal with them. Helping your kids deal with joy, sadness, fear, disgust and anger may be challenging because sometimes it is hard to figure our what is going on inside their heads. Have you had the chance to see Disney's Inside Out yet? Disney's Inside Out examines just that – the Emotions of joy, sadness, fear, disgust and anger that are going in 11-year-old Riley's mind.
When I attended the Disney Social Media Mom's Celebration at Walt Disney World in May, I was lucky enough to get a sneak peek of this wonderful movie and a behind the scenes look at its creation from Jonas Rivera, the producer of Inside Out. As a huge Disney fan, I can never get enough Disney movies. This one is a must see. If you haven't had the chance to see it yet – GO! You won't be disappointed. It may even help you better understand your children's emotions.
I thought it would be fun to teach about Emotions in Inside Out through a different perspective – GARDENING. Gardening is a great family activity. It is also a great way to get the kids off the couch, away from the television and enjoying time outside. Gardening is very therapeutic too. It's kinda fun to dig your hands into the soil and work. This Inside Out Topsy Turvy Emotion Garden is a fun project you can create with your kids to represent the Emotions in the movie –  joy, sadness, fear, disgust and anger.
I headed to Wal Mart to grab all of the supplies I needed to complete our Topsy Turvy Emotion Garden. I found a really cool Inside Out merchandise display in the aisle near the toy department. I picked up each of the Inside Out Emotions to use for this project. The display also had really fun plush products for each character too. Again, the huge Disney fan (that's me!) had to refrain from buying everything.
Gardening is a great way to teach kids about responsibility. I am lucky enough to live on a 500 acre farm, so my kids have been introduced to the concept of gardening (actually farming in a 500 acre garden) since they were very young. Teaching your kids to care for the plants gives them a sense of accomplishment once they see their flowers or vegetables flourish.
Gardening can be emotional too. You experience joy when your flowers bloom or vegetables grow, anger when a rabbit eats one of your plants, fear that you may have watered or fertilized too much, sadness when a plant dies after trying so hard to make it grow and disgust when a bug starts eating your plants.
For this Topsy Turvy Emotion Garden, I painted terra-cotta pots to represent the color of each Emotion from the movie. I also choose plants to represent that color of Emotion too.

Here are the supplies needed to make this Topsy Turvy Emotion Garden
1 – 10″ Terra Cotta Pot
4 – 8″ Terra Cotta Pots
1 – 60″ Piece of Rebar Wire or Wooden Dowel (I prefer rebar because it is stronger)
Yellow, Red, Purple, Blue, Green Spray Paint
White Acrylic Paint
Round Paint Dabber
1 cubic foot bag of potting soil
Assorted annuals – Yellow, Red, Purple, Blue Colors (about 4-6 plants of each color)
2-3 green plants (ivy, aloe or anything non-flowering you like)
5 Chalkboard Garden Markers
Chalk Pen
Gardening Gloves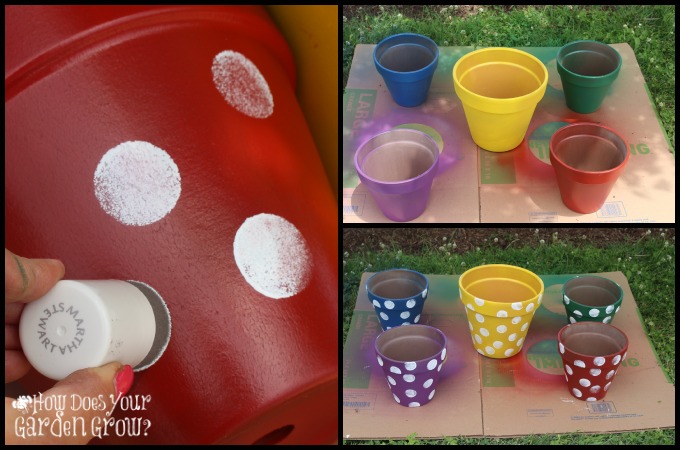 ♦ I begin by turning the 10″ terra-cotta pot upside down and spraying it yellow. Apply two coats allowing each coat to dry in between sprays. Turn right side up and spray the rim of the pot. Spray each of the 8″ pots the same way with the red, blue, purple and green spray paint.
♦ Once the pots are dry, pour the white acrylic paint on a paper plate and use the dabber to randomly "dab" the spots onto the pots. This is a fun step that your kids can help with. These dry pretty quickly.
Now it's time to get dirty (and have some family gardening fun too!)
♦ Using a hammer, pound the rebar wire about two feet into the ground.
♦ Gently place the yellow pot through the rebar until it touches the ground. Fill up the pot with potting soil.
♦ Place the purple pot through the rebar the same way and arrange the pot so it is off-set and "topsy turvy". Do the same for each pot. Staggering them as you go.
♦ Now you are ready to plant each Emotion pot. See my plant suggestions below.
Here are the plants I used to represent each emotion from the movie.
I used 4-6 plants per pot for this project.
Gardener's Pro Tip:  Get your kids involved with the plant selection for this project by letting them help choose what to plant. You can do some plant research with them ahead of time or just look at the care instructions on the plant tags when you purchase them.When choosing your plants with your kids, teach them to look at the plant tag to see what growing conditions the flower likes (sun or shade). The Plant tag is your best friend because it will also tell you how much care the plant will need. For our planter, we choose all annuals that like full sun. If your yard is shady, you will need to adjust your plant choices.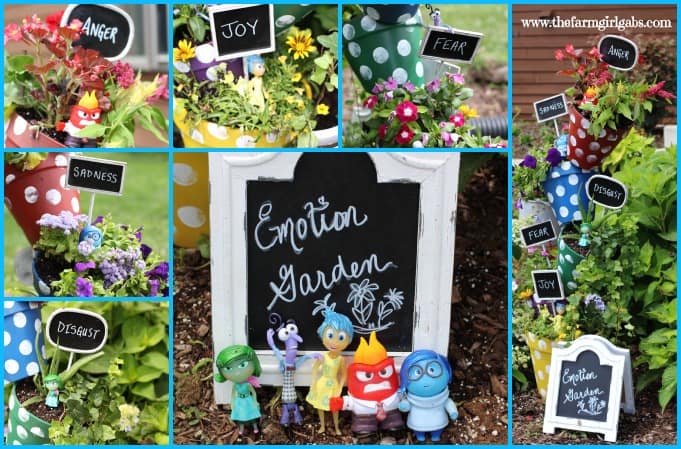 JOY: Joy is cheery and happy. Yellow is the perfect color to represent this happy emotion. I used yellow gazania (my favorite flower), yellow calibrachoa, and miniature yellow snapdragons.
FEAR: Purple vinca in various hues complete this emotion. Vinca loves sun and is very easy to care for.
DISGUST: Disgust was a tricky emotion because it is something that we don't like. I think all plants are beautiful so I choose one that is least appealing to me – aloe and ivy. I think a cactus would have worked well for this since it is not the prettiest but we don't grow them in our greenhouses at our garden center.
SADNESS: Feeling blue? Sadness is appropriately represented by blue flowers. I used blue wave petunias and blue ageratum.
ANGER: Are you seeing red? Anger is represented by the color red. This is actually my favorite pot because I tried to mimic the flames coming out of Anger's head. To do this, I used red and yellow celosia, red geranium and red begonias.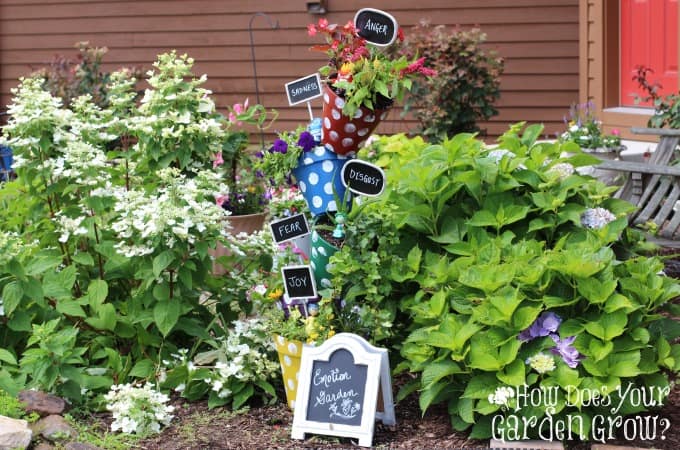 Once the Topsy Turvy Emotion Garden is finished, I added the each of the figures I purchased at Wal Mart to their corresponding pot.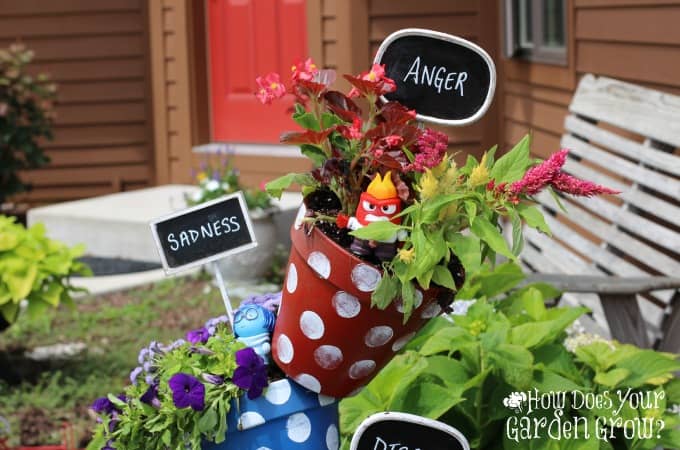 Don't forget to water your Emotion Garden too. This is something you can have your kids do each day. Add this task to their list of chores. Make it part of their responsibility to keep the Emotion Garden thriving. I always suggest fertilizing your plants every 3 -4 weeks. Plants like humans need food too – another important gardening tip you can teach your child.
Everyday is full of emotions. And let's face it, life can be topsy turvy at times.Children like to learn by doing.  Creating this Topsy Turvy Emotion Garden with your kids is a great way to show them the impact of emotions on our life and help them better understand the emotions they may be feeling too. In addition, teaching them the basics of gardening will help them gain a better appreciation for this beautiful plant we live on too. One project that serves two purposes!
The best part of this Topsy Turvy Emotion Garden is that while each pot represents a different Emotion from the movie, the planter as a whole is a beautiful and colorful masterpiece that will be admired by everyone in your garden.
How do you help your kids deal with their emotions? Do your kids have a garden of their own or do you garden as a family? I love the many lessons that gardening teaches. I hope you "dig in" and give this Topsy Turvy Emotion Garden project a try with your kids.
Happy Gardening!