This adorably spellbinding Witch Pumpkin Candy Holder is the perfect place to store your Halloween Candy Stash.
Witch better have my candy! OK, so that is not exactly how the song
goes but those lyrics are perfect for this DIY Halloween Witch Pumpkin Candy Holder. I kind of veered off topic with this easy DIY since it is not a Disney Inspired Pumpkin but…..you can technically say it is because I bet one of the Sanderson Sisters
would approve. It's a fun craft you can easily make for Halloween candy or non-candy treats.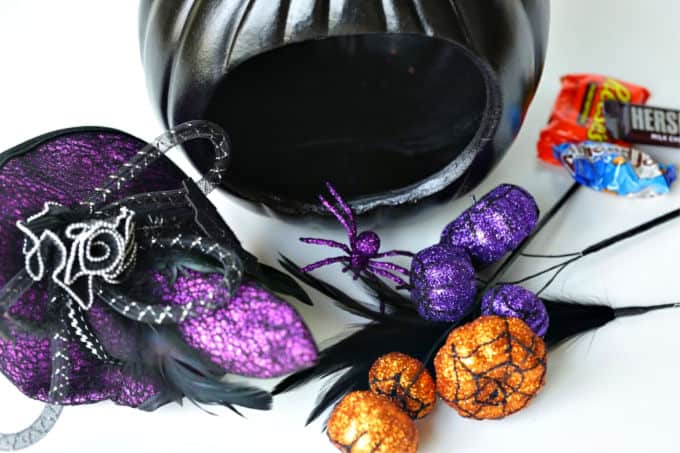 The inspiration for this project came from a cute witch's hat headband that I found at the craft store. Faux foam pumpkins are also readily available too. All the Disney Inspired Pumpkin Ideas I have created would not exist without faux pumpkins. I like to stock up at the after Halloween sales the year before because they are on sale and super cheap. I found a larger black one with a hole carved out. If you can't find one like this, you can carve it out yourself.
I cut the hat away from the headband and applied some hot glue
so it would adhere to the top of the pumpkin. I added a few extra feathers, spiders and pumpkins to fill it out a little more.
I think this Witch Pumpkin Candy Holder literally took only 15 minutes to make. It's a boo-tiful way to share Halloween treats and candy with the trick or treaters who visit your home.
Save this Witch Pumpkin Candy Holder for later. Click on the image below and save to your favorite Pinterest board.