5 Ways To A Healthier Summer You
5 Ways To A Healthier Summer You!
Compensation was provided by Amwell via MomTrends. The opinions expressed herein are those of the author and are not indicative of the opinions of Amwell or Momtrends.
It's summer. It's the time of year when life gets a little laid back and sometimes our healthier habits go astray. Striving for a healthier summer you doesn't mean changing your entire lifestyle. A few simple lifestyle changes can make a big difference, from eating more fruits and vegetables to parking your car further away from the mall entrance. It is all about making the conscious effort to better yourself. Check out the following tips to get started
5 Ways To A Healthier Summer You
Talk To A Doctor: An annual well-check or physical is an important part of any health routine. It's even more important to check with your doctor before you start a diet or exercise program. But what happens when you can't get an appointment right away or don't have a lot of spare time to visit your family physician? Amwell is here to help! American Well (or Amwell)  is positioning itself to be 'the Amazon of health care' and was recently featured in a call-out on the cover of the Wall Street Journal. This online telehealth company has doctors and health professionals available 24 hours a day, right at your fingertips. I love the idea of healthcare when you need it.  As a mom, peace of mind is so important to me, especially when it comes to the health and well-being of my family.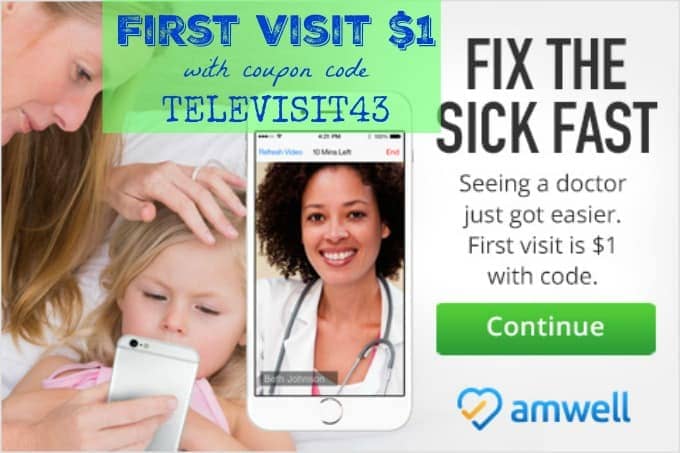 Exercise: Exercise is one of the most important ways to keep your body at a healthy weight. I'm not talking about running a marathon. A simple brisk walk or low impact in-home exercises will do the job too. Whatever your fitness level is, daily exercise
helps maintain a healthier you. It helps to decrease your chances of developing certain diseases like high blood pressure
and type 2 diabetes. So get out, enjoy the summer breeze and talk a nice walk.
Drink lots of water: Water
is essential for proper digestion. But there are many other benefits to drinking 8 glasses
of water a day. Drinking plenty of water will ensure that toxins are flushed out of your system, aid in weight loss, relieves fatigue and improves your mood. So drink up!
Go Tech Free At Night – Turning off electronic
devices at least an hour before bedtime will help you get a better sleep at night. As hard as it may be for some, avoiding technology
before bed will help you relax much better. So turn the phone
off, forget the text you just received and catch your favorite social media channel in the morning.
Eat Fresh & Healthy – Summer is the perfect time to enjoy the bountiful harvest! Stop by your local farmer's market and stock up on fresh fruits and vegetables. I don't think I have to explain all of the health benefits of fresh fruits and vegetables, but take advantage of all their healthy goodness!
…More About Amwell
Amwell is the nation's largest telehealth company, connecting users with board-certified, licensed doctors, dieticians and psychologists for immediate and live, online visits—day or night, on either mobile or desktop. Let's face it – moms don't have time to be sick, let alone go to the doctor's office. With Amwell, you can see a doctor immediately from the comfort of your own home. That means no more traffic, waiting rooms, or rescheduling—just you, your device (smartphone, tablet or computer) and a doctor.  Better health is now in the palm of your hands – with Amwell!
Doctors on Amwell are board certified, with an average of 15 years in practice. Some general conditions Amwell doctors encounter include: minor illnesses and injuries, general health and wellness concerns, prescription refills, and chronic condition management. We employ primary care, specialist physicians, licensed behavioral therapists and registered dietitians to meet our patients' health and wellness needs.