A relaxing spa day at Melt Spa By Hershey is a perfect way to spend some quality girlfriend time together!
I was invited and hosted by Hershey Entertainment & Resorts Company on a sweet trip to explore what Hershey, PA has to offer. All opinions are my own.
Everyone deserves a little pampering. "Me time" is the perfect way to relax, unwind and rejuvenate from the crazy ride called life each of us is involved in on a daily basis. What's even better is spending your "me time" with a few girlfriends at a spa. If you have been following along on my social media channels, you may have noticed I was recently invited to Hershey, Pennsylvania as part of the Hershey's Sweet Welcome. Me and 6 other influencers received a total immersion experience into the many things to see and do in Hershey, PA. This weekend trip included a stay at the Hershey Lodge, a trip to Hershey Park and a visit to the new Melt Spa by Hershey. I'll be sharing more about my trip here on The Farm Girl Gabs over the next few weeks, but I want to focus on my amazing Melt Spa by Hershey experience first.
Melt Spa is located in the downtown area of Hershey. As part of our Sweet Welcome experience, we were all treated to Hershey's Sweet Feet Dark Chocolate Pedicure. Yes, you read that correctly. DARK CHOCOLATE! As in the scrub and lotion used during the pedicure are made with chocolate and smell so good that you want to eat it! But I didn't, I promise. The pedicure lasted one hour. The girls and I also got to sit and chat in a private relaxation room and sip on the richest, thickest hot cocoa I have ever had while we were waiting for our treatment.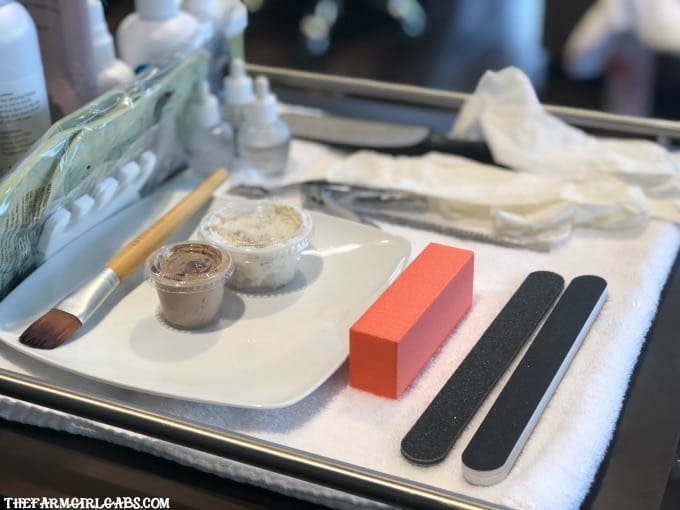 I was so impressed by all the services offered by the spa. They have pampering options from massages, to facials to a full-service hair salon. The cool thing about most of the spa services is the ingredients used is tied into the history of the chocolate legacy Milton S. Hershey created. Chocolate is used in some way, shape or form in most of the services. As is the rose treatments in honor of his wife Kitty's love of roses and the Cuban experience in honor of the sugar plantations he once owned in Cuba.
Some things to consider while visiting Melt Spa By Hershey:
Wear comfortable clothing. They give you a robe to change into if you are having a massage treatment but come comfortable.

There is a locker room to change. They have a nice selection of personal toiletries (like deodorant) you can use afterward too.

If you are getting a pedicure, bring a pair of flip-flops to wear home. They do give you a disposable pair but you can wear your pair home so your polish doesn't smudge.

If you are planning a girls day at the spa, make sure you book in advance so they can accommodate everyone.

Try the hot cocoa! It's the thickest and richest hot chocolate I have ever had! Like, ever!

Drink plenty of water after to enhance the benefit of your treatments

Try to relax. Some people get a little nervous. The more you relax, the more beneficial your treatment will be. Communicate with your therapist or technician so they can make adjustments if necessary.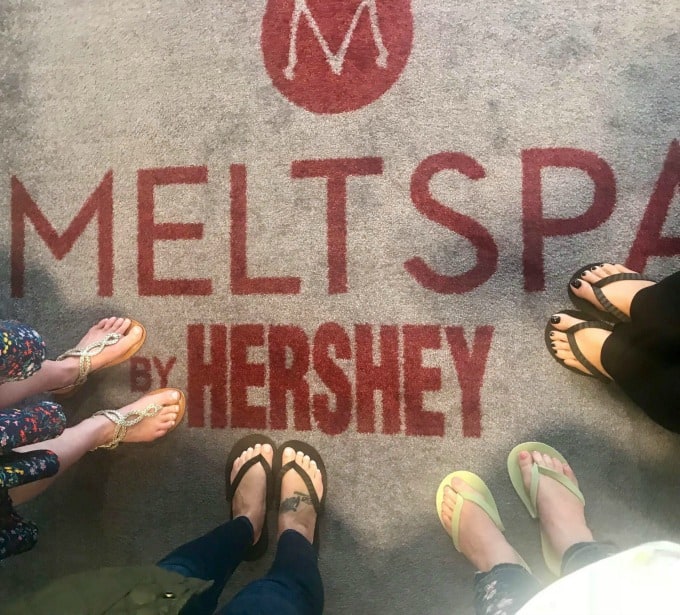 My influencer buddies Ashley from Teachable Mommy, Clarissa from Clarissa Explains It All and Linda from Giggle Gobbles And Gulps and I showing off our beautiful Sweet Feet Dark Chocolate pedicures. Bring on summer!
Hershey is located in Central Pennsylvania, just 90 minutes from Baltimore and Philadelphia, 2 hours from Washington, DC and 3 hours from New York City. A session at Melt Spa is a sweet luxury indeed. I know you and your girlfriends will thoroughly enjoy all the sweet amenities this spa has to offer.
SaveSave