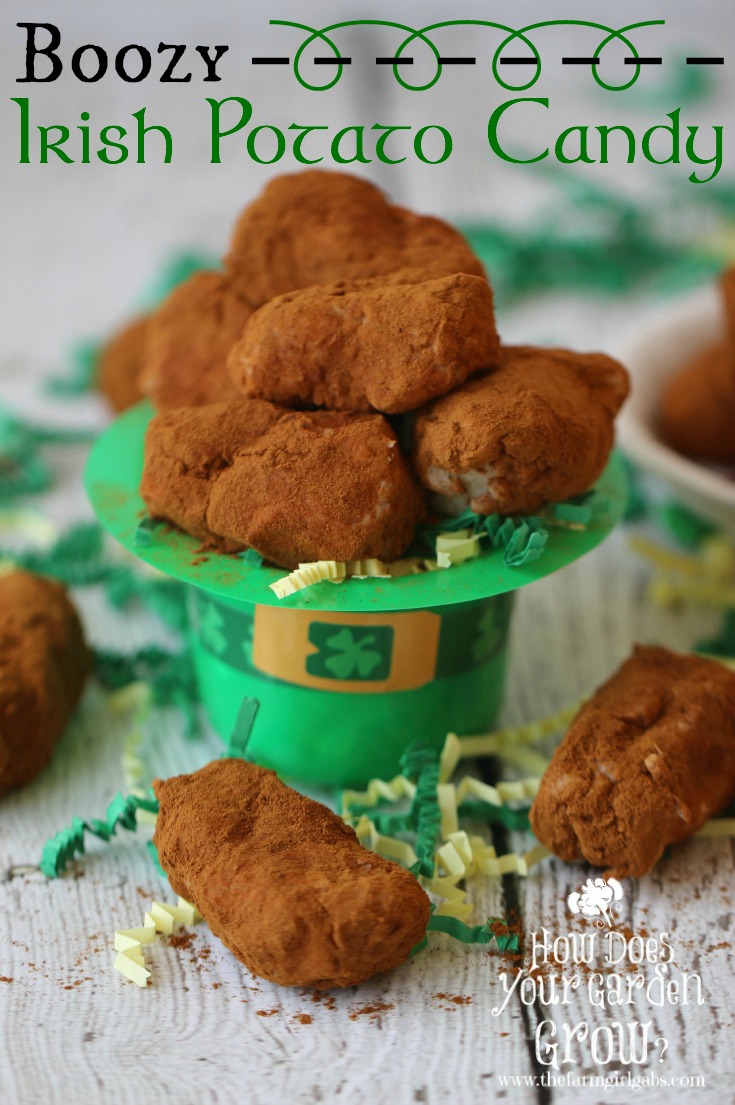 Saint Patrick's Day is right around the corner. This may come as no surprise, but there is not once ounce of Irish in my blood. NOT ONE! But, as the saying goes, "When In Rome…" I like finding excuses to celebrate different cultural holidays and Saint Patrick's Day is one of them. We all could use a little "Luck Of The Irish," couldn't we?
There is something about Irish Potatoes that makes me happy. What makes me even happier is this Boozy Irish Potato Candy, a spiked version of the original.  If these spiked candies don't bring any luck, they will certainly bring some delicious satisfaction! Hiccup!
Making Irish Potato Candies is a fun way to celebrate Saint Patrick's Day. I love these little candy confectionaries!  What's not to love about coconut, cream cheese, powdered sugar and butter combined together, shaped to look like miniature potatoes  and rolled into cinnamon.
Truth be told, Irish Potatoes didn't even originate in Ireland. Nope. They originated in Philly, which is just a hop, skip and a jump away from me. So every year, right before Saint Patrick's Day, you start seeing these delights pop up in our local candy shops and grocery stores.
As I said before, this Boozy Irish Potato Candy is just my spiked version of the original. Bailey's Irish Cream is added to give and extra kick and flavor. You can certainly leave out the alcohol if you wish. They are equally delicious either way.
Did I mention how simple these are to make? You basically combine all the ingredients in a bowl and blend well with a hand mixer.
Once the ingredients are well incorporated, shape the batter into large marble-sized "potatoes".
Then, simply roll each in cinnamon to coat well.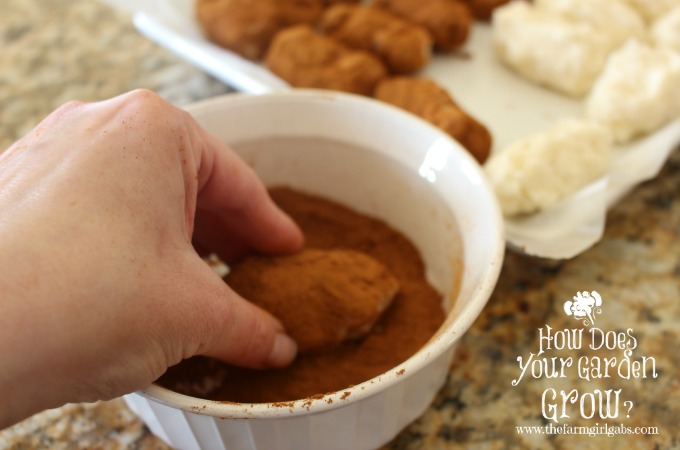 The Irish Potatoes should be refrigerated. Store them in an air-tight container for up to one week.
Boozy Irish Potato Candy
These traditional Irish Potatoes are kicked up a bit with some Bailey's Irish Cream. Get your Irish on and try this delicious spiked version.
Author:
Melissa Russo / thefarmgirlgabs.com
Ingredients
¼ cup butter, softened
4 ounces cream cheese, softened
1 tablespoon vanilla
1 tablespoon Bailey's Irish Cream (add 2 tablespoons if you like them really spiked)
4 cups powdered sugar
2½ cup coconut flakes
⅓ cup cinnamon
Pinch of salt
Instructions
In a mixing bowl, beat butter, cream cheese, vanilla, Bailey's Irish Cream and pinch of salt with a hand mixer. Mix until well incorporated.
Gradually beat in powdered sugar and coconut flakes.
Using your hands, mold candy mixture to look like a potato - about the size of a large marble. Set on a plate lined with parchment paper.
Gently roll each potato in cinnamon.
Set finished potatoes on a plate and refrigerate until ready to eat.

The bottom line is, you don't have to be Irish to enjoy these candies. I hope you give them a try. Happy Saint Patrick's Day! Enjoy.
Visit Melissa Russo / How Does Your Garden Grow?'s profile on Pinterest.

This post may contain affiliate links to help support this blog. Please see my