Farm Fresh Peach Pie Smoothie
Start your morning off with this nutritious and delicious farm fresh Peach Pie Smoothie recipe. This easy smoothie recipe is delicious for any time of the day.
I've got that farm-fresh feeling right now. It's summer, it's peach season and I am so enjoying the fresh peaches we are picking right now. I often say, a Russo's peach is good and ready when the juice runs down your arm when you take a bite! Peach season has me craving all the delicious peach desserts that have absolutely NO calories – like peach pie, peach cobbler and my award-winning Peach Breakfast Danish. Oh who am I kidding, I only wish these gems didn't have any calories. Everything in moderation as they say.
Try This Easy Peach Dessert Recipe!
Speaking of moderation, today I am settling for something equally delicious today and a little more wholesome – a Peach Pie Smoothie
. I
love dairy
and so do my family members. So yes, I am a proud milk, cheese and yogurt lover! Milk, cheese and yogurt are where it's at in our household! As a farming family, we also appreciate and understand all of the hard work dairy farmers do to help feed us all.
Adding dairy to our daily routines has an amazing amount of health benefits. Dairy does a body good. Getting nutrients into your diet isn't always easy. Fortunately, dairy foods are a simple way to fuel up on protein, calcium
, vitamin A
and vitamin D
. Did you know milk is not only good for promoting strong teeth and bones but that just one serving of milk also contains a number of B vitamins (vitamin B12, riboflavin, pantothenic acid and niacin), which can help your body convert food into fuel? Or, did you know that yogurt contains protein, which can help build and repair muscle tissue, and calcium and phosphorus, which can help build and maintain strong bones and teeth? And that is just a few of the many reasons why we love dairy.
How Do I Make A Peach Smoothie?
1% Milk
One of the ways that I incorporate dairy into my daily routine is to whip up a smoothie. Seriously, when I say whip up, I mean it. This recipe only takes a few minutes to prepare. Smoothies are a perfect way to banish those sweet cravings. Full of nutritional value from the yogurt and the milk, this Peach Pie Smoothie keeps me satisfied all morning long. And, it's not just for breakfast either. I like to whip one up for a nutritious snack too.
How Do I Make A Peach Breakfast Smoothie?
It's no secret that I have a sweet tooth. And while I live on a very large fruit and vegetable farm, if it comes down to a piece of fruit or a slice of pie, my gut would say choose the pie. So to help satisfy those sweet cravings, I find ways to trick my mind. This Peach Pie Smoothie is packed with peaches, yogurt and milk. I also added some honey
for sweetness and oatmeal
for fiber.
This Peach Pie Smoothie is sippin' awesome. During the summer months, I like to incorporate the fresh peaches we grow into this recipe. During the winter months, I use frozen peaches that you can find at the grocery store. Either way, it's equally delicious. I prefer a thicker smoothie. If you don't like yours as thick, add a little more milk to your recipe.
This Peach Pie Smoothie is the best of both worlds. Do you have a favorite smoothie recipe that you like to make for your family? Try this one. It's easy as pie, just as delicious, and packed with a ton of nutritional dairy goodness!
Try these Easy Peach Recipes
Smoothie Recipe Kitchen Essentials
Blender
Vegetable Peeler
Cutting Board
Smoothie Glass
Smoothie Cookbook
Save this Peach Pie Smoothie Recipe for later by pinning the image below to your favorite Pinterest Board.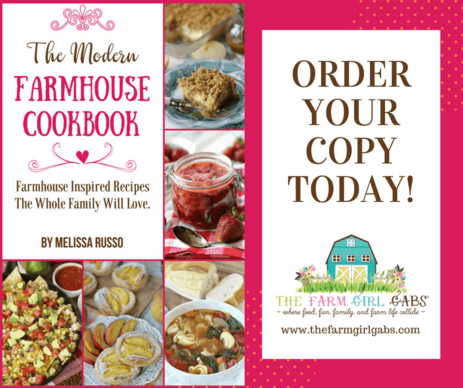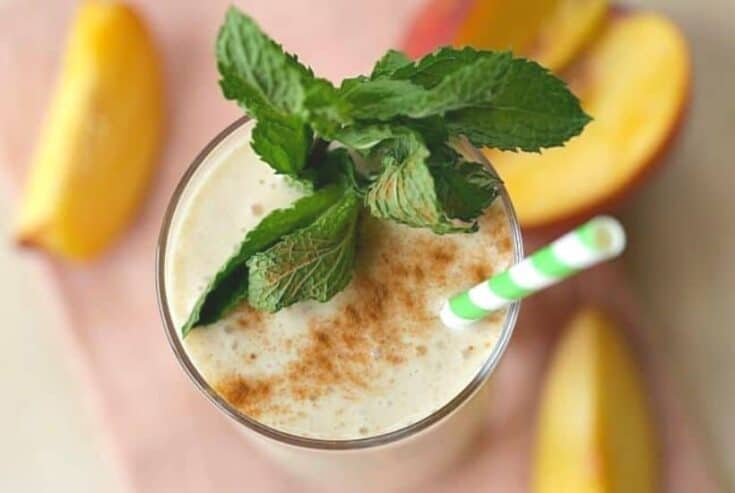 Yield:

1 Smoothie
Farm Fresh Peach Pie Smoothie
Start your morning off with this nutritious and delicious farm fresh Peach Pie Smoothie recipe. This easy smoothie recipe is delicious for any time of the day.
Ingredients
¾ cup 1% milk
1 cup vanilla greek yogurt
1 ½ cups frozen peaches or 2 fresh sliced and peeled
⅓ cup rolled oats
1 tablespoon honey
½ teaspoon cinnamon
½ cup ice if using fresh peaches
Instructions
Combine milk, peaches, oats, yogurt, honey, vanilla, cinnamon, nutmeg and ice in blender. Blend until smooth.
If you like a thinner smoothie, add more milk before blending.
Save
Save