How To Choose the Perfect Christmas Tree
Check out these helpful tips on How To Choose The Perfect Christmas Tree. Choosing the family Christmas tree is fun for everyone. Follow these tips to ensure your tree lasts throughout the holiday season.
This post may contain affiliate links. We may receive a commission if you click and purchase something. Please see our disclosure policy for more details.
The most wonderful time of the year is finally here! Have you "decked the halls" for Christmas at your home yet? Today, I am going to focus on that wonderful yearly tradition that for some can be overwhelming and others, a piece a cake. Yes, my friend, we are talking about How To Choose the Perfect Christmas Tree.
But it really is an odd tradition, isn't it?
We haul the fresh-cut beauty into our home. Bedazzle it with hundreds of lights
. Hang all kinds of bells and baubles on the branches. And then dismantle it a few weeks later. Not to mention we are picking up
pine needles for months afterward.
But I wouldn't have it any other way. I love a fresh Christmas tree.
Christmas is one of my favorite seasons at our farm. The holiday excitement is in the air and we get to help people "deck their halls" for Christmas by selling fresh-cut trees, poinsettias which we grow in our greenhouses, handmade wreaths and lots of festive decorations
. When it comes to choosing a tree, some of our customers can quickly find their perfect Christmas tree, and others spend a lot of time carefully looking at each side, nook and cranny to decide if it is the right one. It's a big decision.
Whether you are a fan of the classic Charlie Brown Christmas tree or one that Clark Griswold would pick out, here are some helpful tips for How To Choose The Perfect Christmas Tree.
1. Measure Twice – Buy Once: Before you head out to the tree farm or tree lot, be sure to measure
the allotted space in your home for your Christmas tree. You don't want to blow your windows out like Clark Griswold did in National Lampoon's Christmas Vacation
by purchasing one that is too large for your space. Also, trees come in all shapes and sizes. Pick the one that you like best, whether it is short, fat, skinny or in between.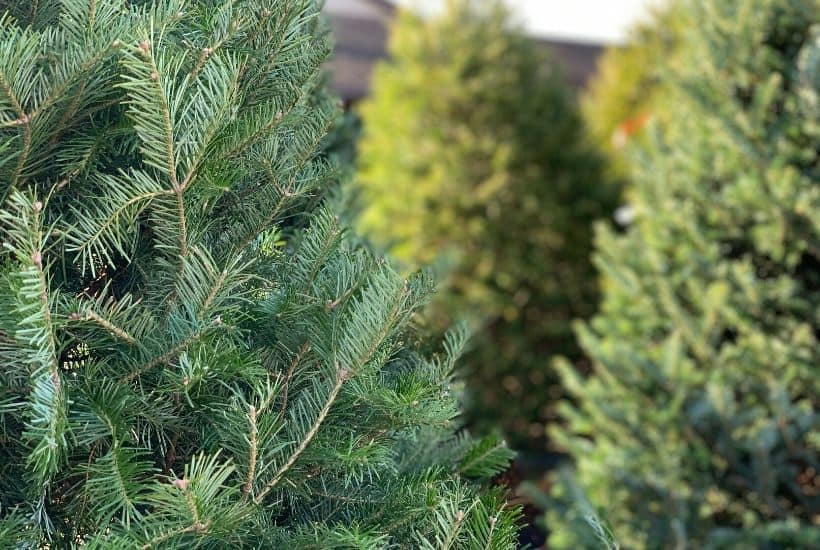 2. Choose a variety: There are a number of different varieties of Christmas trees out there. Frasier Fir, Douglas Fir and Balsam seem to be the most popular, however. The type of Christmas tree is purely a personal preference. I myself am partial to a Frasier fir because I like the way it holds the ornaments but check out the different varieties and see what appeals to you and your family. See more about the types of trees below.
3. Check and Shake: Check the branches and give the tree a good shake. Chances are that if a lot of needles fall off (think Charlie Brown's Christmas tree), the tree is old and not a good selection. If the tree is nice and green and smells fresh, then it most likely is a good choice. Also, if you grab the needles in your hand and the sound "crunchy", move onto the next one.
4. Check your tree stand: I always suggest to our customers that they bring their tree stand
with them when choosing a tree just to make sure the trunk will fit into the stand. Also, before you place your tree in your stand, fill
it up with water to make sure that it is not leaking and holds water properly.
5. Ask for a fresh cut: A fresh cut tree
will last you a lot longer. A fresh cut will allow the tree to better "drink up" the water and keep the branches fresh. Get the tree in water as soon as possible after the fresh cut.
6. Wrap it Up: Most tree lost or tree farms have netting machines that will put a protective netting around. This netting not only makes it easier to tie to your roof but also protects the needles and branches. If the tree lot does not have a netting machine, bring a large sheet
to wrap the tree in to transport home.
7. Bring your Equipment: If you are planning on cutting your own tree at a farm, don't forget to bring a saw
to cut it down. You don't want to get all the way out to the field and realize you forgot the saw (again, think Clark Griswold).
8. Location, Location, Location: When choosing the location in your home, make sure it is away from a heating source or vent. Excess heat on the tree will not only dry it out but could also cause a potential fire hazard
.
9. Test lights – Practice safety, make sure your lights
are all working properly BEFORE you put them on the tree. Raise your hand if you have put them on the tree in the past and they didn't work!
10. Recycle tree properly: When the holiday is over and it's time to "undeck" the halls, be sure to check with your town about how to properly recycle
or dispose of your tree.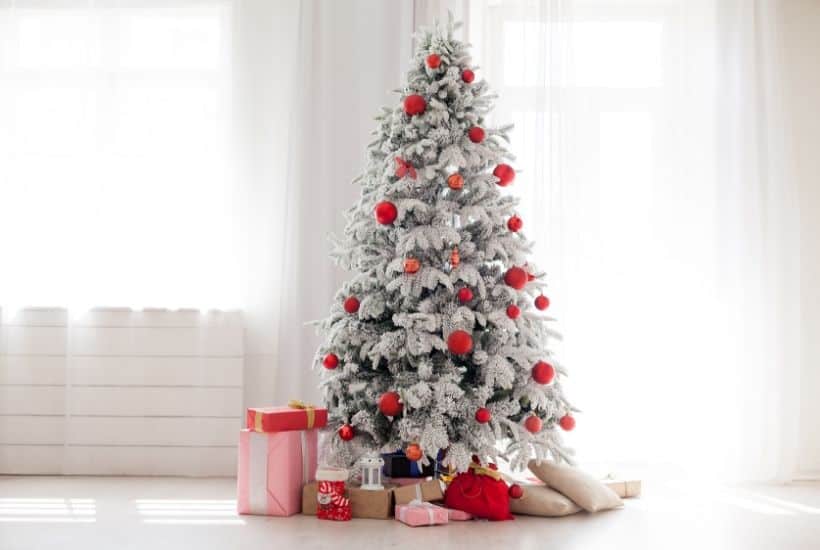 *A note about Flocked Trees: Flocked Christmas trees are very popular in our area. We spray them with a flame-retardant white coating that looks like snow when it dries. They are beautiful, especially with bright colored ornaments
. If you opt to purchase a flocked tree at your local tree farm or farm market, be sure to follow the suggestions above as well. Flocking does preserve the tree somewhat, but I always suggest to our customers to put the flocked tree in water as well.
If you have never seen a flocked tree, here is what these winter beauties look like! They remind me of a scene from Frosty the Snowman.
What Kind Of Tree Should We Buy?
Christmas Tree Varieties
White Pine: Traditional, Soft Needles
Fraser Fir: Great for Ornaments, Firm Branches
Douglas Fir: Very Popular, Soft Needles
Balsam Fir: Very Fragrant, Firm Branches
Noble Fir: Pretty Shape, Stiff Branches
White Spruce: Great for Ornaments, Stiff Branches
Blue Spruce: Symmetrical Shape, Bluish-Gray Hue
Hopefully, these tips will help you and your family choose the perfect Christmas tree. Remember, don't let the hustle and bustle of the season get in the way of the true meaning of the season. Merry Christmas!
Trim Your Tree With These Items
Tree Lights
Tree Skirt
Garland
Ornaments
Tree Topper


Save this pin for later. Pin the image below to your favorite Pinterest board.