Everything You Need To Know About Fastpass at Walt Disney World
Planning a Walt Disney World Vacation? Then you need some Fastpass+ reservations. Here is everything You Need To Know About Fastpass+ at Walt Disney World.
Planning a Walt Disney World trip is far from spontaneous. There was a time when you would just show up and hope for the best. Now everything is pre-planned from where you eat, to what rides you go on and when. Don't let it overwhelm you, though. The sooner you understand the basic function of Fastpass+ and some strategies to make it work, you will be maximizing your time and focused on the fun you're having.
What Is Fastpass+?
Fastpass is a system developed by Disney to cut down on wait times for popular attractions. The concept goes, that the fastness is saving your place in line so you can do other things. When you get a Fastpass, you are given a time to return and when you do, you are directed to the fastness line, which is a more direct, or shorter route to the loading area for the ride.
Fastpass+ takes that initial concept and changes it from a class holder, to a reservation. You are able to schedule your Fastpasses in advance while planning your trip. When you get to the park, you know what time your ride choices are scheduled for and it is even saved on your itinerary.
Fastpass+ allows you to select three attractions to get Fastpasses on for every park admission. For more popular attractions that always have a line, Fastpass+ is a great help in giving guests an opportunity to experience attractions at a scheduled time. If you change your mind or are unable to make it to the attraction you have a Fastpass for, then you can always cancel it and free up your slot for another Fastpass.

How to Make Your Fastpass+ Selections
The first thing you need to do if you haven't already is to download the My Disney Experience App. This app is instrumental in keeping your vacation plans in order. If you use it correctly, it can be like a pocket concierge. You manage your park photos, dining reservations, and Fastpass+ all through the My Disney Experience app. Plus the app keeps you up to date on current wait times and Fastpass availability.
Inside the My Disney Experience app tap the Get Fastpass+.
Next, select the + on the top right corner to add the people in your party you are getting reservations for. Once everybody is selected, select a date and park. Before doing this (or during) you will want to plot out which dates of your vacation you will be in each park.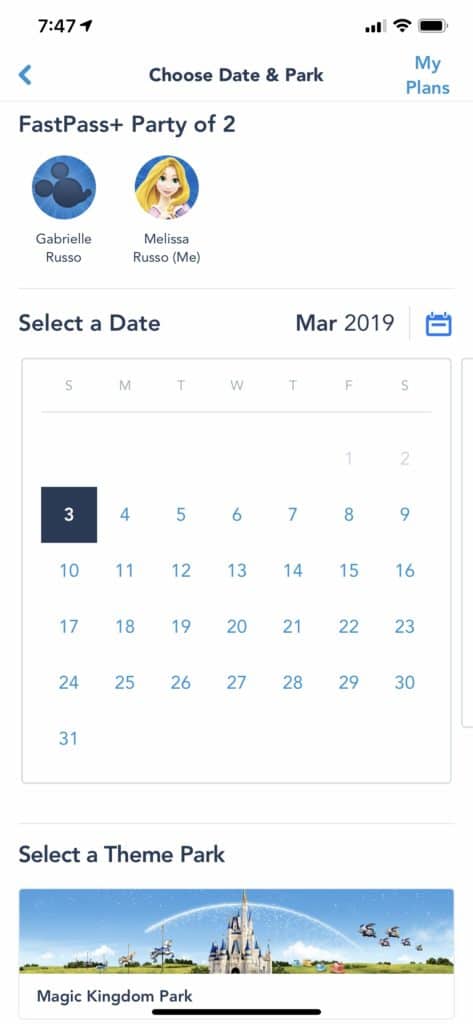 You have to make all the selections on each date at the same park you started with. Say your Monday-Friday plan is: Epcot, Animal Kingdom, resort, Magic Kingdom, Epcot. You know which days you need fast passes for certain attractions. You also know not to schedule any for Wednesday.
When you make those determinations the times of available fast passes are presented to you. The earlier you begin the selection process the more options will be available. When you are finished making selections, tap "No thanks. I'm done." and that submits your requests.
The Best Strategy For Fastpass+ Selections
If you are Staying at a Disney resort, you have an edge in fastness selection. You can reserve your Fastpasses 60 days prior to your trip. Other vacation planners only get thirty, which is a serious disadvantage. So, try finding an affordable option within the Disney resort to maximize this benefit.
Once you use up all of your fast passes, you can select new ones. It can be very fun, almost like a scavenger hunt, seeing what your next ride will be based on the earliest availability. To maximize this benefit, schedule all of your fast passes as close to the morning as possible, and try to have an efficient route to get to them all. The sooner you are done the sooner you can get more. You will be very tired at the end of the day, but the satisfaction is so worth it.
If you really want a fastness for a particular ride, but it's not available, don't give up. Check regularly. It's great to just grab yourself a coffee and sit down at a table somewhere and just keep refreshing the page until a fastness opens up. It can take a little while, but as long as you are taking a breather and getting some refreshment, it's time better spent than waiting in line.
If you come across an attraction you have a later fastness for and see that the line is not that bad, jump into that standby line and enjoy the ride. Then cancel that later Fastpass (unless you want to ride again). If it's your only remaining one for the day, you will be able to select a new one. otherwise, it at least takes one down so you will be closer to making new selections.

How to View and Change Your Fastpass+ Selections
You can go to your Fastpass+ reservations in the app by tapping "My Reservations and Tickets." on the home screen. This will show you all of your park admissions and scheduled Fastpasses, as well as dining reservations.
It is really easy to edit and modify your plans. With the Fastpass selections showing, just choose the one you want to change and select "View Details." It will show you the date, time, attraction, location and number of guests. You will also be given an option to modify. Tap the modify icon and you will be given modification options. You can either change the time of the Fastpass for that attraction (based on Availability) or choose a completely different attraction and time to replace it with. Once you finish modifying you will get a new updated list.
Canceling is the same, except you select "Cancel" instead of "Modify." You will be asked if you are sure that's what you want to do. Once you finalize it, you are free to make another selection.
I hope you found this helpful. Did I answer all of your questions about Fastpass+? If you have strategies you like to use, share them in the comments!