This post is sponsored by Pepperidge Farm in conjunction with Blog Meets Brand. I have been compensated for my participation. All opinions are my own.

The unofficial start of summer is finally here! It's Memorial Day weekend. Whether you are planning a large cookout or just keeping small and simple, no Memorial Day is complete without a nice juicy grilled burger. I am going to be honest, I never met a burger that I didn't like. These Italian Turkey Burgers are no exception. A burger isn't complete either without a hearty bun like a Pepperidge Farm® Farmhouse Hearty Bun.
Burgers are all about the total package. The type of meat and the type of bun are equally important.  Pepperidge Farm Farmhouse Hearty Buns are hearty, generously sized buns that allow for all the fixings of a really great burger, without falling apart on you! They will be sure to make a bigger, bolder burger.
Ground turkey often gets a bad rap as being too dry and having little taste. Not fair right! Adding many layers of flavor to ground turkey makes it the perfect flavorful burger for these Pepperidge Farm Hearty White Buns. Since these burgers have an Italian flair, I added plenty of fresh basil and parmesan cheese to amp up the flavor.
These burgers are grilled to perfection and then topped with sharp provolone cheese and a nice helping of sautéed peppers and onions. You can't have Italian Turkey Burgers without both of these. I love these Pepperidge Farm buns because not only do they hold all of the ingredients with ease, but they don't fall apart. There is nothing worse than taking a bite out of a burger and having half of it land in your lap because the bun can hold it all together.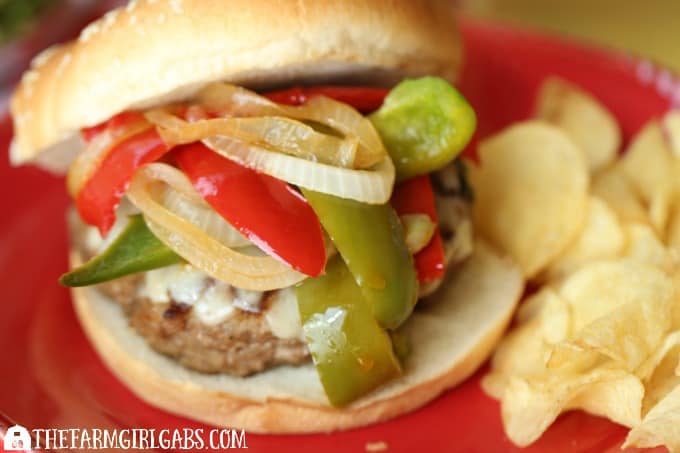 I hope you get a jump on grilling season by trying out these Italian Turkey Burgers. These crowd-pleasing burgers are the perfect way to celebrate summer and all its glory. Don't forget the Pepperidge Farm Farmhouse Hearty Buns too.

Italian Turkey Burgers
Celebrate the start of grilling season with this delicious Italian Turkey Burger.
Author:
Melissa Russo / thefarmgirlgabs.com
Ingredients
1¼ lb. ground turkey
3 tablespoons fresh basil
½ cup plain breadcrumbs
1 tablespoon minced garlic
⅔ cup grated parmesan cheese
1 teaspoon salt
1 small onion, sliced
1 green pepper, sliced
1 red pepper, sliced
1 tablespoon olive oil
1 package Pepperidge Farm® Farmhouse Hearty Buns
Sharp provolone cheese for topping
Instructions
Preheat grill to medium high
In a medium skillet, saute onion and peppers until tender. Remove from heat until ready to use.
In a medium bowl, combine turkey and the remaining ingredients. Mix together and divide equally into quarters.
Shape a generous sized burger with each quarter. Place on a heated grill and cook until done.
Top with provolone and cook until melted.
While cheese is melting, heat pepper and onion mixture to warm.
Assemble burger between a Pepperidge Farm® Farmhouse Hearty Bun and add a nice portion of peppers and onions to each.