For a refreshing adult beverage, try this delicious Frozen Strawberry Mojito recipe. It's slightly sweet with a zesty punch from adding fresh and flavorful lime juice to the mix.
This post may contain affiliate links. We may receive a small commission if you click and purchase something. Please see our disclosure policy for more details.
Homemade Frozen Strawberry Mojito
Ahh, the sips of summer. When you want a cold and refreshing adult beverage, this Strawberry Mojito is worth trying. You will only need six ingredients and less than 10 minutes to prepare this flavorful drink that your friends and family can enjoy with you.
The minced mint compliments the sweet taste of the frozen strawberries to create a cold drink that will keep you feeling hydrated and refreshed on a hot summer day when sitting out with your loved ones and enjoying the weather.
Why You'll Love This Strawberry Mojito Recipe
Simple – It's simple enough to make this recipe with just six ingredients!
Unique – The ingredients combined in this Strawberry Mojito recipe create such a unique and flavorful taste.
Delicious – As long as you enjoy the flavor of lime, mint, and strawberry, this mojito will quickly become one of your favorites.
Strawberry Mojito Ingredients
Prepare this flavorful alcoholic beverage using the following ingredients:
Frozen Strawberry Limeade – You will need 12 ounces of limeade for this beverage.
White Rum – Use your favorite brand of white rum to add a touch of alcohol to your mojito.
Frozen Strawberries – Measure out two cups of frozen strawberries for this recipe.
Minced Mint – Chop fresh mint leaves into small pieces to add to your tasty mojito.
Lime Juice – Squeeze out the fresh juice of one lime to add a zesty touch to your mojito.
Ice – Combine your ingredients with two cups of ice to make it cold and refreshing.
Recipe Notes for the Strawberry Mojito
Make sure to muddle your mint before you use it in this recipe. You can muddle it using a wooden spoon.
When blending your Strawberry Mojito, use the high setting until you achieve the smoothest consistency possible. You don't want to have too many chunks of strawberries in your drink.
If you want less ice, you can use a cup of ice instead of two cups, and your mojito will still come out great.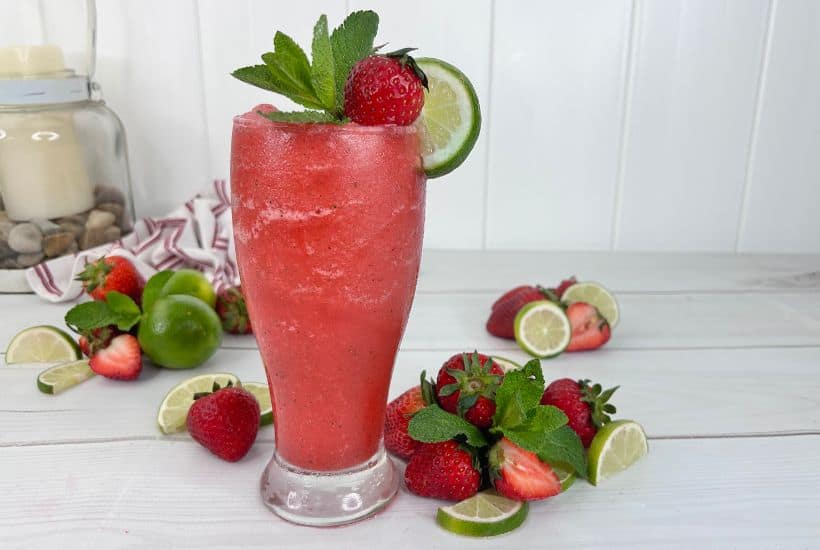 FAQs for the Strawberry Mojito
Can I use fresh strawberries instead of frozen ones in this recipe?
Using frozen strawberries is great because they will keep the beverage even colder. However, if you have fresh strawberries that you would like to use, I would suggest rinsing them off and putting them in your freezer for about 15 minutes beforehand.
What brand of rum should I use to make the Strawberry Mojito?
Although you can use any brand of white rum, Bacardi is one great option. Be sure to use a high-quality brand of white rum.
Where can I find mint leaves?
You should be able to find mint leaves at your local grocery store or farmers' market. If you're unable to find them, you can still make this flavorful beverage without them. You can always use the mint extract as an alternative to the mint leaves to give your mojito that extra special touch.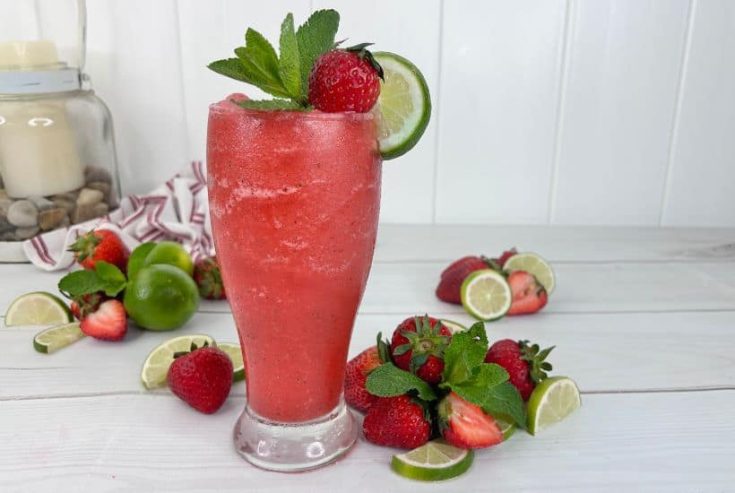 Yield:

2 Glasses
Strawberry Mojito
Enjoy this summertime drink that is so good! This frozen Strawberry Mojito is full of flavor and is super easy to make. This easy summer drink recipe is slightly sweet with a zesty punch from adding fresh and flavorful lime juice to the mix.
Ingredients
12 ounces Frozen Strawberry Limeade
6 ounces White Rum
2 cups Frozen Strawberries
2 tablespoons fresh Mmnced mint
1 tablespoon lime juice ( 1 lime )
2 cups of Ice
Instructions
Muddle your mint and set to the side.
Add the remainder of the ingredients to a blender.
Blend on high until smooth
Pour the mixture into the glasses.
Add your muddled mint to the glasses and stir to combine.