Roasted Chicken & Ricotta Pockets are an elegant, yet easy appetizer that is perfect to make for any occasion. Made with wonton wrappers, this recipe is sure to please.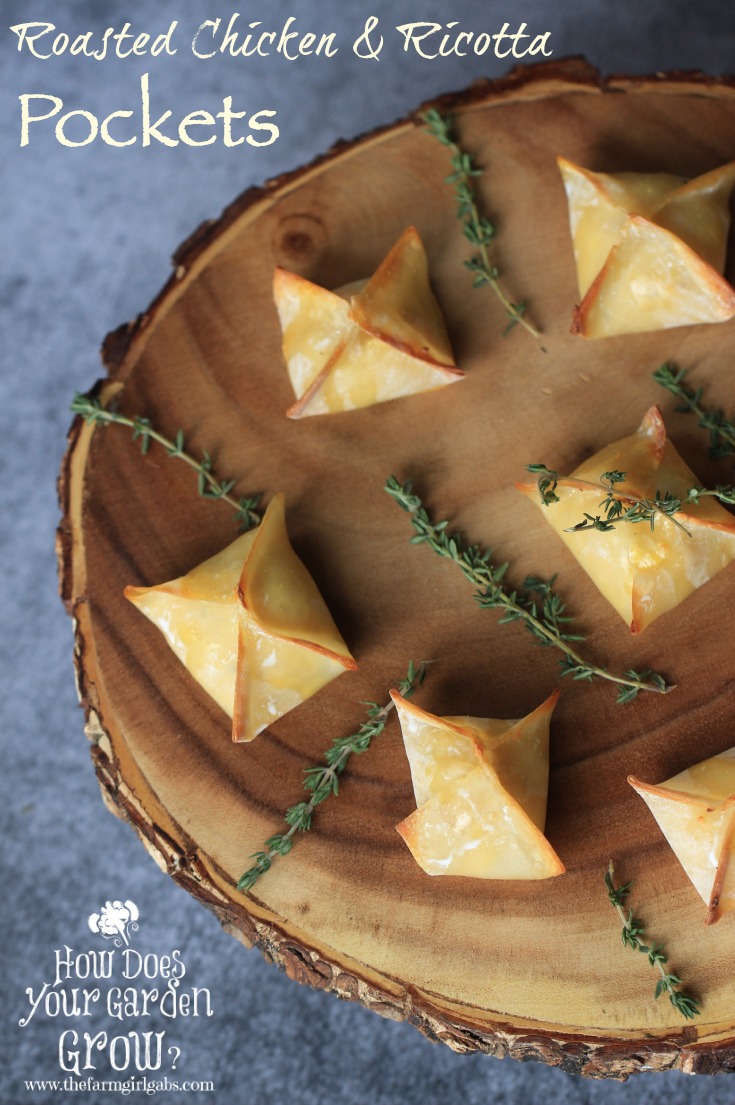 It was clean out the refrigerator day at the Russo house last week. Exciting isn't it. Since the holiday season is here, I need all the extra space I can get. Cleaning the refrigerator is something I hate to do. Just ask my mom, because I hate it so much I usually recruit her to help me. She's known as Mrs. Clean in these parts of the woods.  But, as we all know, it is one of those chores that just has to be done.
After all the procrastinating is over and I finally dig into the refrigerator cleaning project which I love so much (insert sarcasm here), I usually brainstorm about what I can make with all the ingredients staring me in the face that I need to use ASAP or they will go bad.
These Roasted Chicken & Ricotta Pockets are the result of my "what should I make with these almost expired ingredients." Pat myself on the back for this one. They are really good….AND EASY.
After I mix
the filling ingredients together, I drop about a teaspoon of the filling in the center of a wonton wrapper. I brush
the sides with water so they bond.
Then, simply bring up each corner to meet in the middle and there you have it – a Roasted Chicken & Ricotta Pocket. So simple.
Roasted Chicken & Ricotta Pockets
Roasted Chicken & Ricotta Pockets are an easy yet elegant appetizer to wow your guests!
Author:
Melissa Russo / thefarmgirlgabs.com
Ingredients
36 wonton wrappers
1 cup roasted chicken breast, shredded
¾ cup ricotta cheese
1 egg, beaten
½ cup grated parmesan cheese
½ cup mozzarella cheese, shredded
½ teaspoon salt
½ teaspoon black pepper
1 teaspoon lemon zest
1 tablespoon fresh thyme, chopped
1 egg, beaten (for brushing tops of pockets)
Instructions
Preheat oven to 375 degrees.
In medium bowl, add ricotta, shredded chicken, egg, mozzarella, parmesan, salt, pepper, thyme and lemon zest. Mix together.
Take a wonton wrapper and add one teaspoon of the filling to the center.
Brush each side with water and bring the corners together in the center.
Place on a baking sheet and brush with a beaten egg.
Bake for 15 minutes or until golden brown.
I love the convenience of wonton wrappers. It is something I always have in my refrigerator. They are fun and can be filled with anything – sweet or savory. And if you like to make your own ravioli, this filling is perfect for that too!
These are perfect to make ahead too. You can just heat them up in the oven to warm right before you plan on serving them.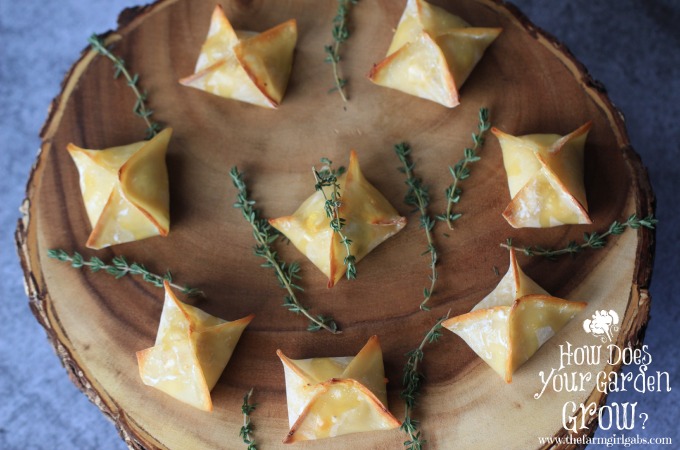 Enjoy!