Sausage & Cranberry Cornbread Stuffing
Of all the fixin's on our Thanksgiving table, this Sausage & Cranberry Cornbread Stuffing ranks right up there as one of my favorites. It's a close second to the mashed potatoes. No Thanksgiving is complete without the dressing or stuffing. Stuffing of any kind at Thanksgiving is just as important as bread and butter, eggs and bacon or wine and cheese. They just go together.
This easy to prepare recipes involves three main ingredients — cornbread, Italian sausage and fresh cranberries.  I like to make my cornbread from scratch and use it in this recipe. I can also make the cornbread several weeks ahead of time and freeze, saving me preparation time several days before the "big feast." Not a baker? No problem, you can purchase cornbread or cornbread stuffing mix at your local grocery store. Wonderfully fresh fall cranberries top off this recipe. I just love their flavor and beautiful red color.
I begin by removing the Italian sausage for its casing and frying. Make sure you work it into bite sized pieces. Remove the sausage, drain of the fat and set aside. If you like, you can substitute the Italian sausage for a Chorizo or Andouille sausage. This will give the dish a little more zip.
I then sauté the celery and onions until transparent. Season with salt, pepper and poultry seasoning. Now, crumble up the cornbread and add it to the pan along with the cranberries and sausage. Give it a quick stir and then add about 1 cup of chicken or turkey stock – just enough to moisten it. Pop it in a 350° oven for 30 minutes. This stuffing is so good, your guests will be asking for seconds. It can also be made ahead of time and then just warmed in the oven.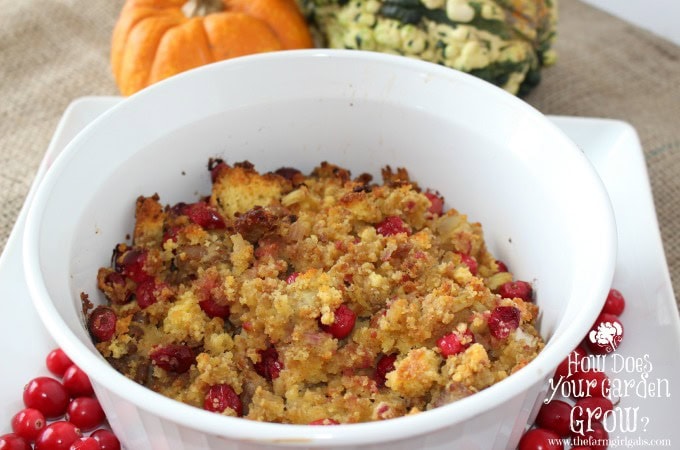 Sausage & Cranberry Cornbread Stuffing
Sausage and cranberry cornbread stuffing is the perfect partner for your Thanksgiving turkey. It is also great served with pork or chicken.
Ingredients
6

cups

cornbread

day old, cubed

½

stick butter

1

cup

fresh cranberries

½

lb.

Italian Sausage

casing removed

⅔

cup

onion

diced

⅔

cup

celery

diced

1

teaspoon

poultry seasoning

1

teaspoon

salt

1

teaspoon

fresh cracked pepper

½ - 1

cup

chicken stock

½

cup

maple syrup

1

teaspoon

poultry seasoning
Instructions
Preheat oven to 350 degrees.

Remove sausage from casing and cook over medium heat until brown. Drain and set aside.

In same pan, add butter, celery and onion and sauté until translucent. Season with salt, pepper and poultry seasoning.

Add sausage back into the pan along with 5 cups of cubed cornbread and 1 cup of cranberries. Add the maple syrup. Stir to incorporated, cooking over medium heat.

Gradually add ½ - 1 cup of chicken stock to stuffing mixture. You want to use enough stock to moisten but not soak the dressing. and cook until heated through.

Add stuffing to a baking dish and bake for 25 - 30 minutes or until top is light brown.
Happy Thanksgiving!
Visit Melissa Russo / How Does Your Garden Grow?'s profile on Pinterest.