This Tropical Smoothie Bowl is a blend of mango, tropical fruit and coconut milk – it's cool, refreshing and packed with flavor and nutrients.
Although this post is sponsored by Nature's Touch™ Frozen Foods, all opinions are my own.
I have been on quite a smoothie kick lately. I have not only fallen in love with how easy they are to make but also the many flavor combinations you can create. Anthony and I recently took a much needed vacation cruise to the Bahamas for our 25th wedding anniversary. We soaked up some sun, enjoyed some R & R and ate a lot of delicious Caribbean food. I just love the laid back atmosphere of the tropics. Vacationing is great; coming back to reality is not. I am sure we all feel the same way.
I love tropical flavors. I just couldn't get enough of the delicious tropical fruit while we were on vacation. One of the memorable breakfasts I had at the resort was a tropical smoothie bowl.  I liked it so much I knew I just had to come home and recreate it. This Tropical Smoothie Bowl is a blend of mango, tropical fruit, yogurt and coconut milk. It is so refreshing and packed with loads of flavor and nutrients.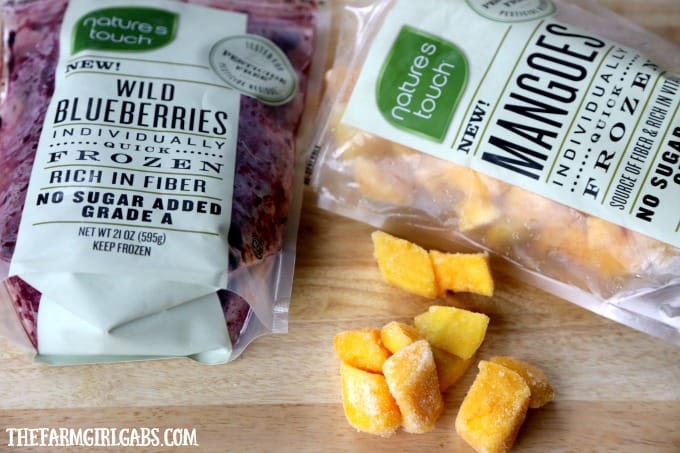 Of course, the key to getting the best "Taste of Adventure" out of this smoothie bowl is to use quality ingredients like Nature's Touch frozen fruits. My local ShopRite has a great selection of Nature's Touch organic and pesticide-free frozen fruits and vegetables. I made sure I picked up a bag of their pesticide-free mangoes to use in this recipe as well as a bag of pesticide-free wild blueberries to use in a future recipe. Nature's Touch Frozen fruits and vegetables are picked and packed at its peak flavor and have great nutritional value. Their pesticide-free and organic product lines are also fully controlled to ensure they meet Nature Touch's expectations and certification requirements. I always keep frozen fruits and vegetables on hand in my freezer. They are great for recipes like this one.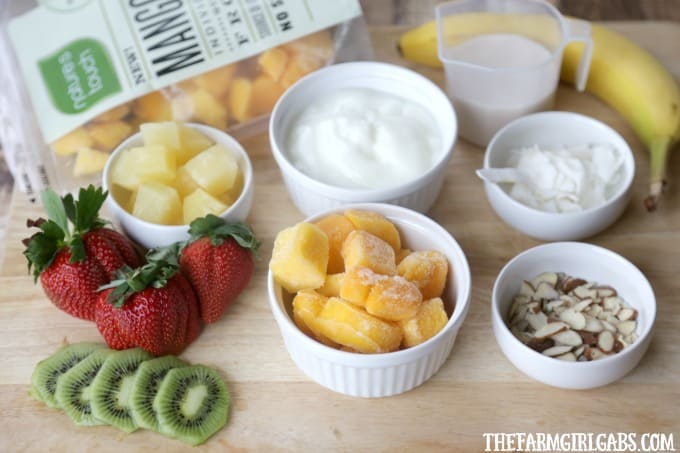 This recipe couldn't be any simpler to make. When it comes to smoothies, I like mine thick. Yep, when it comes to smoothies, the thicker the better for me. Using frozen ingredients, like frozen mangos helps to achieve a thicker consistency.
After gathering all of my ingredients, I place the Nature's Touch Pesticide-Free Mangos, banana, pineapple, yogurt and coconut milk in a blender. Blend until smooth. This will be thick. If you want your smoothie a little less thick, then add some more coconut milk and blend until you reach the desired consistency.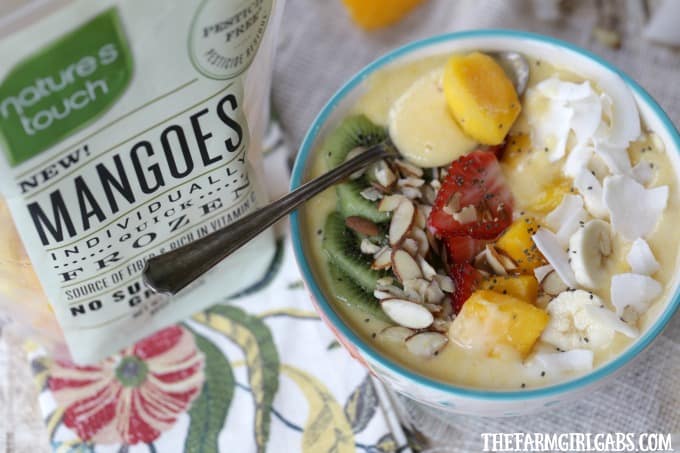 Pour the smoothie into a bowl and garnish with some mangos, kiwi, strawberries, banana, almonds, flaked coconut and chia seeds.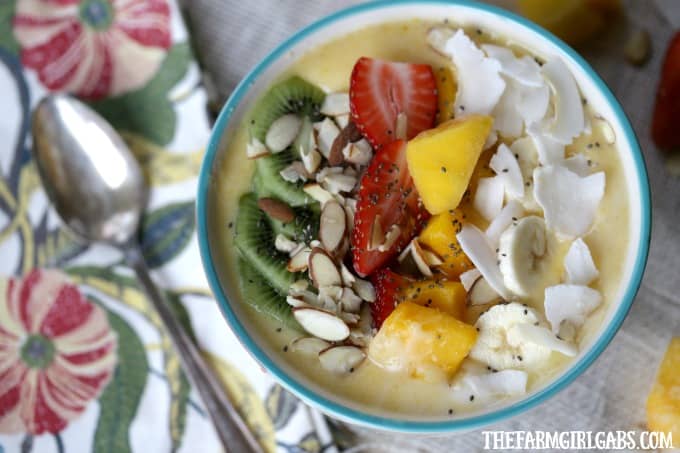 This Tropical Smoothie Bowl is almost too pretty to eat. Almost is the operative word. Once I took my first bite, it brought me back to the tropics. It's a healthy and delicious breakfast.
Enter to Win!
Be sure to share your Nature's Touch recipes on Instagram for a chance to win some great prizes! Check out the contest details below. The contest runs from 3/20/17-5/31/17
Create your own recipe with Nature's Touch frozen fruit and veggie products to get a chance to win a Foodie Trip Adventure of your choice (either Chile, Belgium, or Canada), plus other great prizes such as a Free Nutri Bullet or grocery gift cards.
You'll also get a chance to visit a fruit/veggie farm
Share your recipes for a chance to win
Post a photo on Instagram of your favorite recipe creation using Nature's Touch products

Tag @NaturesTouchContest with #FlavorAdventure

For more information on the contest and to get other inspirational recipes, visit NaturesTouchContest.com.
Print
Tropical Smoothie Bowl
Yield 1
This Tropical Smoothie Bowl is a blend of mango, tropical fruit and coconut milk - it's cool, refreshing and packed with flavor and nutrients. #FlavorAdventure
Ingredients
2 cups Nature's Touch Pesticide-Free Mangoes (reserve ½ cup for topping)
½ banana
½ cup pineapple
1 cup nonfat vanilla Greek yogurt
½- 2/3 cup coconut milk (add more or less for desired consistency)
Toppings:
Mangos (reserved)
Sliced Kiwi
Sliced Strawberries
Sliced Banana
Diced Pineapple
1 Tablespoon coconut flakes
1 Tablespoon sliced almonds
1 teaspoon chia seeds
Instructions
Add Nature's Touch Mangoes, banana, pineapple, coconut milk and yogurt to a blender.
Process until smooth. If smoothie is too thick, add more coconut milk.
Pour into a bowl and top with mangos, strawberries, kiwi, pineapple, coconut flakes, almonds and chia seeds.
This post may contain affiliate links to help support this blog. Please see my