Are you looking for a sophisticated yet simple appetizer to serve are your next party? These Sausage Tomato Goat Cheese Tarts are the perfect solution. They are light, flavorful and really delicious! Another bonus – these tarts can also serve as a light dinner along with a salad.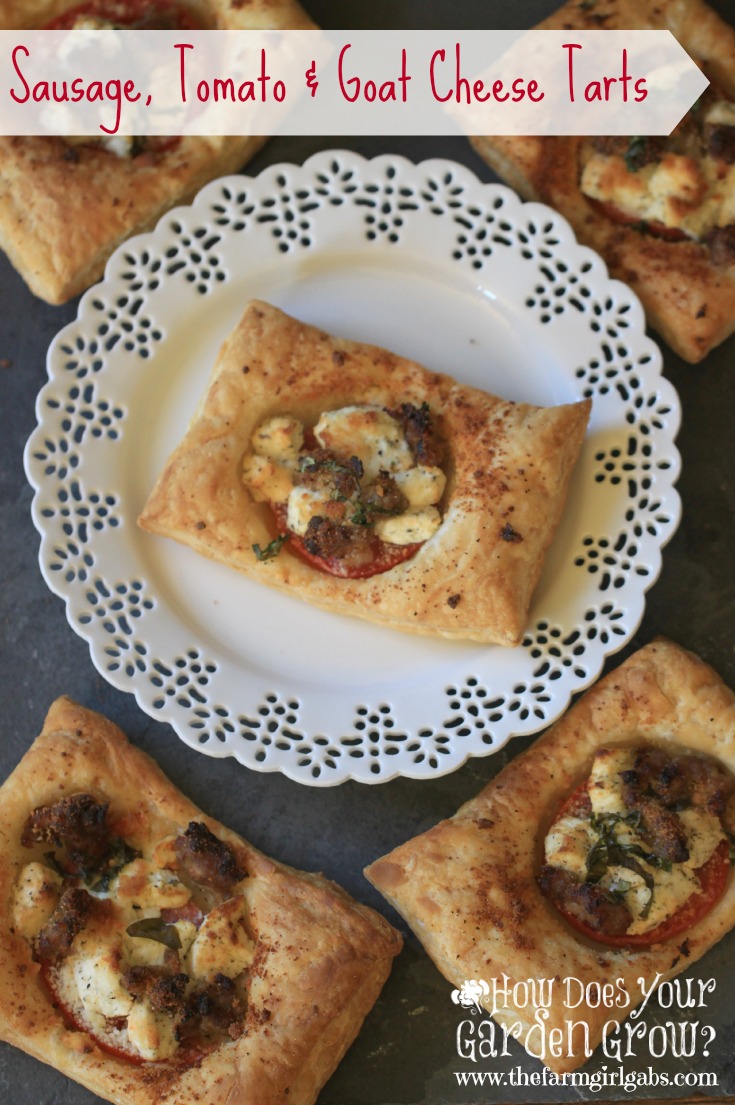 Oh, the joy of the holiday season!Today I am going Gaga for Goat Cheese. I love to cook with goat cheese. It's a softer, mild cheese that is perfect in dips and fillings. For these Sausage, Tomato & Goat Cheese tarts, I used quality brand Joan of Arc® Garlic Herb goat cheese and frozen puff pastry dough to create a recipe that looks pretty elegant but is super easy to throw together. I always make sure I have puff pastry in my freezer. You never know when you are going to need a quick appetizer like these tarts.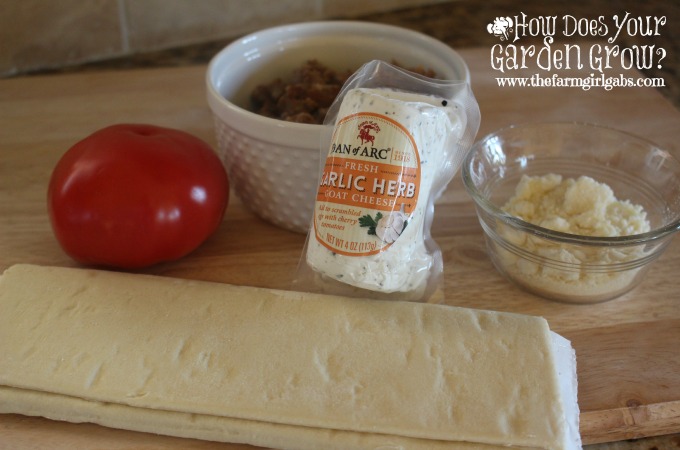 To begin, I roll
out the puff pasty into a rectangle. I cut six squares and them score a round circle in the center of each by using the rim of a small glass.

I then place a tomato slice in the center of each puff pastry square. Top each tomato with some crumbled Joan of Arc Garlic Herb cheese, sausage, fresh basil and a sprinkle of freshly grated parmesan. Bake in the oven for 20-25 minutes.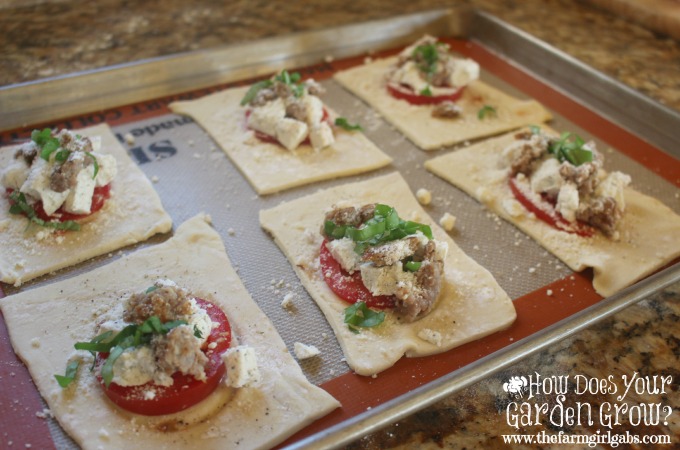 The end result are these flaky cheese-filled tarts. I love to WOW! my guest with easy appetizers like these. Using frozen puff pastry dough saves time and makes these tarts look so fancy – like I have been slaving away in the kitchen all day. Little do they know that these delicious tarts only took 15 minutes to prepare and 20 minutes to bake.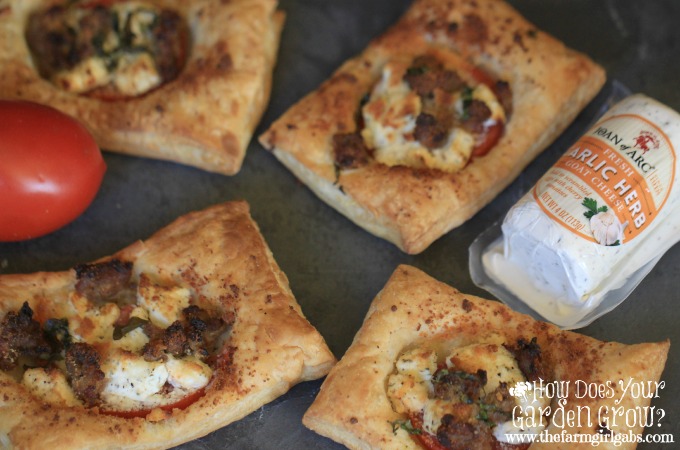 Sausage, Tomato & Goat Cheese Tarts
These easy yet elegant Sausage, Tomato and Goat Cheese tarts are made with Joan of Arc® goat cheese and frozen puff pastry dough. These will WOW your guests at your next party!
Author:
Melissa Russo / thefarmgirlgabs.com
Ingredients
1 sheet puff pastry dough, thawed
1 4 oz. package Joan of Arc® Garlic Herb goat cheese
1 small tomato, sliced
¾ cup cooked italian sausage (removed from casing)
½ cup grated parmesan cheese
¼ cup fresh basil, chopped
Salt - to taste
Pepper - to taste
Instructions
Preheat oven to 400 degrees.
Unwrap puff pastry sheet and roll out so it is smooth.
Using a knife, cut puff pastry into 6 equal size squares.
Use a small glass to score a circle in the center of each square. This will all the outside edges to puff up around the center filling.
Place one tomato slice, some crumbled Joan of Arc® goat cheese, and sausage in the center of each square.
Sprinkle each square with parmesan cheese and top with chopped basil.
Season with salt and pepper to taste.
Bake for 20 minutes or until golden brown.

Are you "Gaga For Goat Cheese?" What is your favorite goat cheese recipe? Leave me a comment below. I would love to hear.