As you hang with your "peeps" this Easter holiday, serve up a Buzzed Peeps Easter Cocktail and toast all the good things.
This post may contain affiliate links. We may receive a commission if you click and purchase something. Please see our disclosure policy for more details.
I am such a sucker for cute holiday food and drinks. It's like cuteness overload with all the adorable Easter and bunny-themed recipes taking over Pinterest. Easter is just about a month away. Gosh, I feel like I was just decorating the Christmas tree. It's that time of year when we start seeing all the super cute Easter candy
and decorations
hitting the shelves. So, naturally, every time I walk into the store, those adorable Peeps® stare me in the face.
Try this tasty recipe!
I think
Peeps
are one of those holiday candies that people either love or hate. I feel like they have been around forever. My mom always included them in my Easter basket. So yes, I have been known to enjoy a Peep or two in my life. I thought it would be fun to take an adult twist on all the cute Easter-themed recipes and share this yummy Buzzed Peeps Easter Cocktail with you.
What Ingredients Do You Need To Make A Buzzed Peeps Easter Cocktail?
This Buzzed Peeps Easter Cocktail Is So Easy To Make!
This creamy cocktail mimics the marshmallow flavor of Peeps by using marshmallow syrup
in the recipe. I also added some cherry vodka as well mainly because I like anything with cherry flavor.
I spread some marshmallow fluff around the rim of each glass
and dipped the rim in a mixture of pink sugar
and spring sprinkles (say that 10 times straight).
This cocktail is the perfect complement to your Easter brunch or dinner menu. Check out these recipes that would be perfect for your Easter Menu.
25n Ultimate Easter Menu Recipes
Roasted Asparagus With Garlic & Parmesan
Fun Easter Cupcakes Kids Can Make
25 Super Cute Easter Desserts
Coconut Cheesecake Parfaits
Save This Easter Cocktail for later. Pin the image below to your favorite Pinterest Board.
Easter Cocktail Essentials
Martini Glass
Cocktail Shaker
Easter Sprinkles
Marshmallow Syrup
Pink Sugar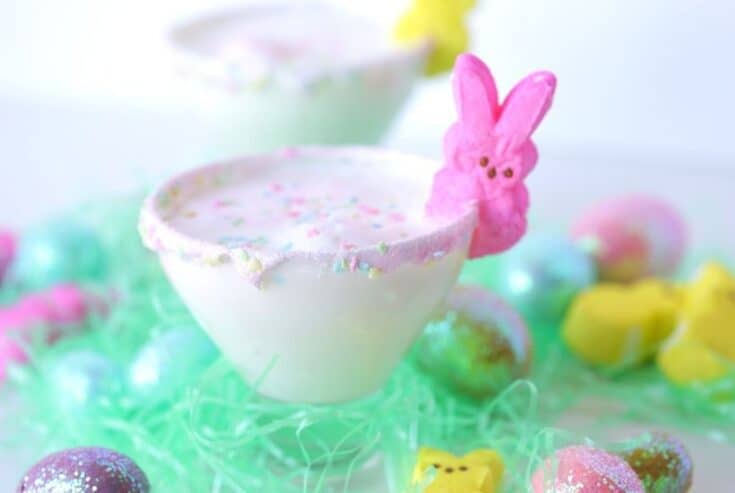 Yield:

2 Cocktails
Buzzed Peeps Easter Cocktail
As you hang with your "peeps" this Easter holiday, serve up a Buzzed Peeps Easter Cocktail and toast all the good things.
Ingredients
1 ounce Cherry Vodka
1 ounce Whipped Marshmallow Vodka
1-ounce Coconut Rum
2 ounces Torani Toasted Marshmallow Syrup
1 1/2 cups Half & Half
Pink Sugar
Easter sprinkles
Marshmallow Cream - for garnish
Instructions
Coat rim of two cocktail glasses with marshmallow cream. Dip in a bowl of pink sugar and Easter sprinkles. Set aside.
Fill shaker with ice.
Add Half & Half, Cherry Vodka, Whipped Marshmallow Vodka, Coconut rum and toasted marshmallow syrup to a cocktail shaker. Place lid on shaker and shake away.
Divide evenly between two rim-coated glasses.
Cheers!