Easter Thumbprint Cookies
This post may contain affiliate links. We may receive a commission if you click and purchase something. Please see our disclosure policy for more details.
I can't believe Easter is almost here. I think it is time for an Easter recipe we can all sink our teeth into. You know I am a big fan of cookies, right? I know Easter is about cute chocolate bunnies, but I myself and not a big fan of chocolate. Crazy, right? So these homemade Easter Thumbprint Cookies are a cute Easter dessert that everyone will love too.
These cookies are so good, there won't be one left. I love making thumbprint cookies because you can fill them with any sweet flavor you like.
They'll look great on a dessert table, or on a plate to pass around at Easter celebration.  They are so easy to make, and so colorful, they are really eye-pleasing.  You can make them in any color you choose, but we made different colors just like Easter eggs, and they turned out fabulous.  You're going to love these cookies.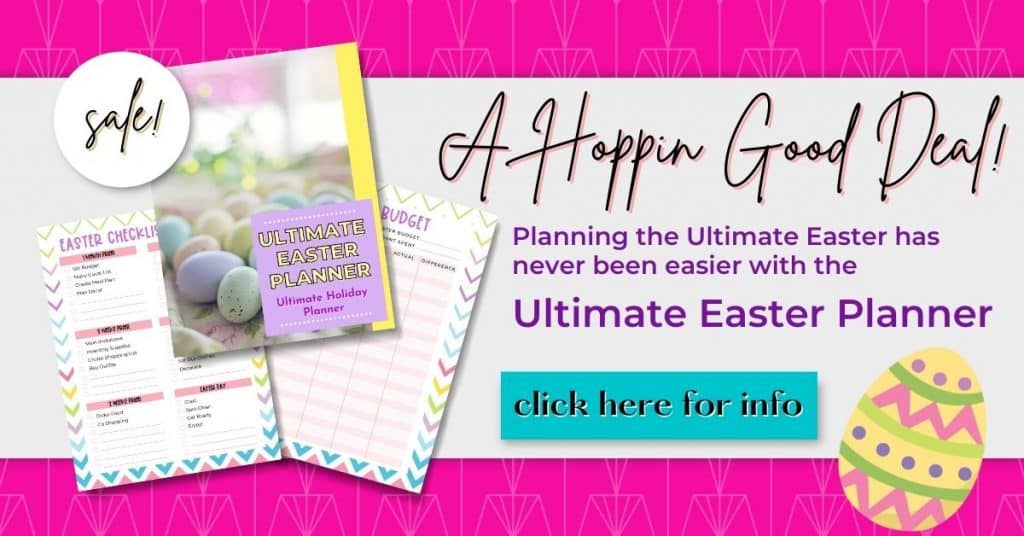 What Ingredients Do I Need To Make this homemade Easter Thumbprint Cookies recipe?
Butter
Sugar
Vanilla
Flour
White chocolate almond bark
Food coloring gel: pink, purple, blue, green
Easter Nonpareils
Candy Bunnies
How Do I Make Thumbprint Cookies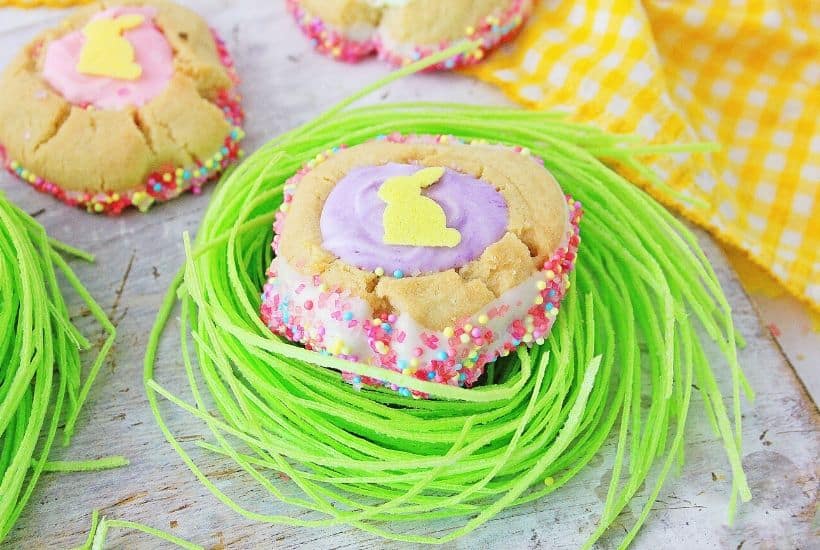 Step 1
In the mixing bowl of a stand mixer cream the butter, sugar and vanilla together. Add the flour a little at a time until completely incorporated into the butter. Remove the cookie dough from the mixer, wrap in waxed paper, and chill for one hour.
Step 2
After one hour, remove the dough, and roll about a Tablespoonful of dough into a ball, and place on a parchment paper-lined cookie sheet. With the knuckle of your finger, make an indentation into the cookie, so that if forms a dip in the center of the cookie, with an edge around the outside.
Step 3
Bake cookies for 18 – 20 minutes at 350 degrees, or until the cookies are lightly browned around the edges. Remove from the oven, and cool on a wire rack.
Step 4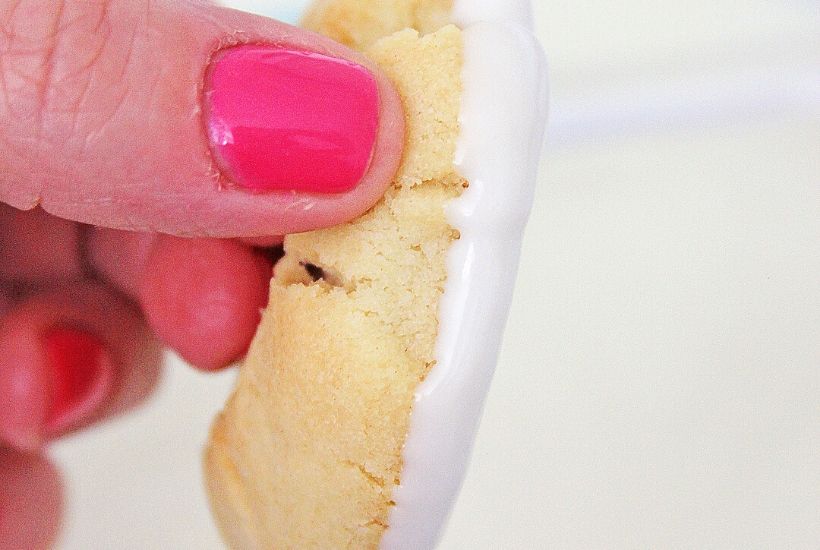 Once the cookies are cooled; melt 4 squares of the white chocolate almond bark in the microwave, and dip the bottoms of the cookies into the chocolate, and then immediately into the Nonpareils, and sit them on parchment paper to set the chocolate.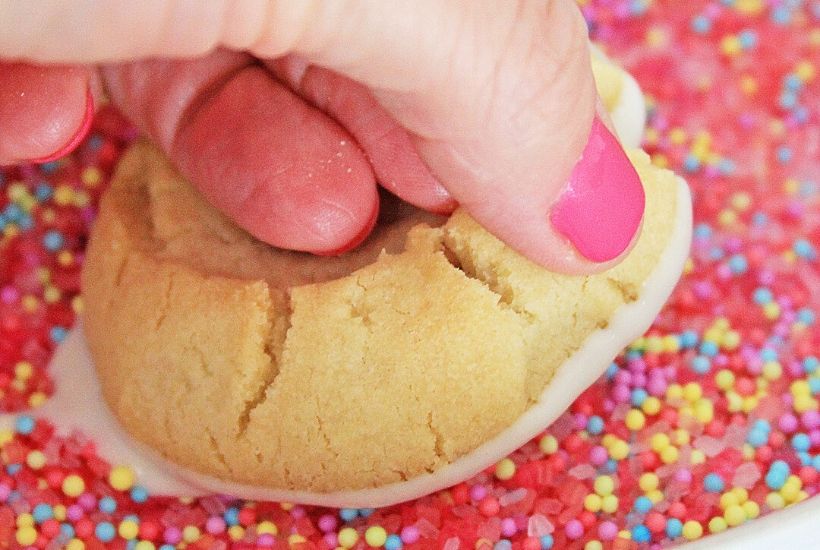 Once the chocolate has set (about an hour) Melt the remainder of the white chocolate, in 4 separate small bowls and drop a drop of food coloring gel into the white chocolate, coloring it in pastel pink, purple, green, and blue. Place the pastel colored chocolate in the centers, or indentation of each cookie, and place one of the small bunnies on the top.
NOTE: You can make these in any pastel color you choose, so if you want to include yellow, orange/peach, aqua, or other colors, just buy the food coloring gel for the colors you prefer.
Must-Have Cookie Baking Resources
Baking Sheet
Measuring Cups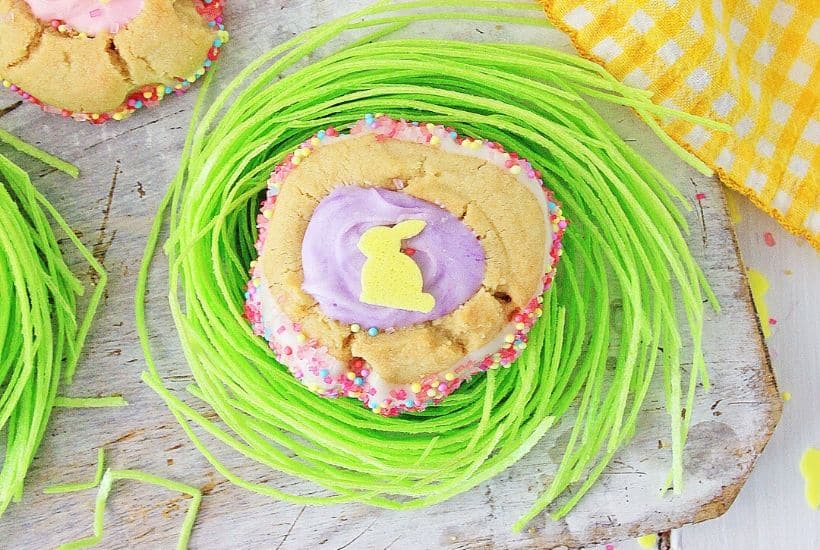 Save this Easter Thumbprint Cookies recipe for later. Pin the image below to your favorite Pinterest Board.
What other Homemade Cookie Recipes Should I Try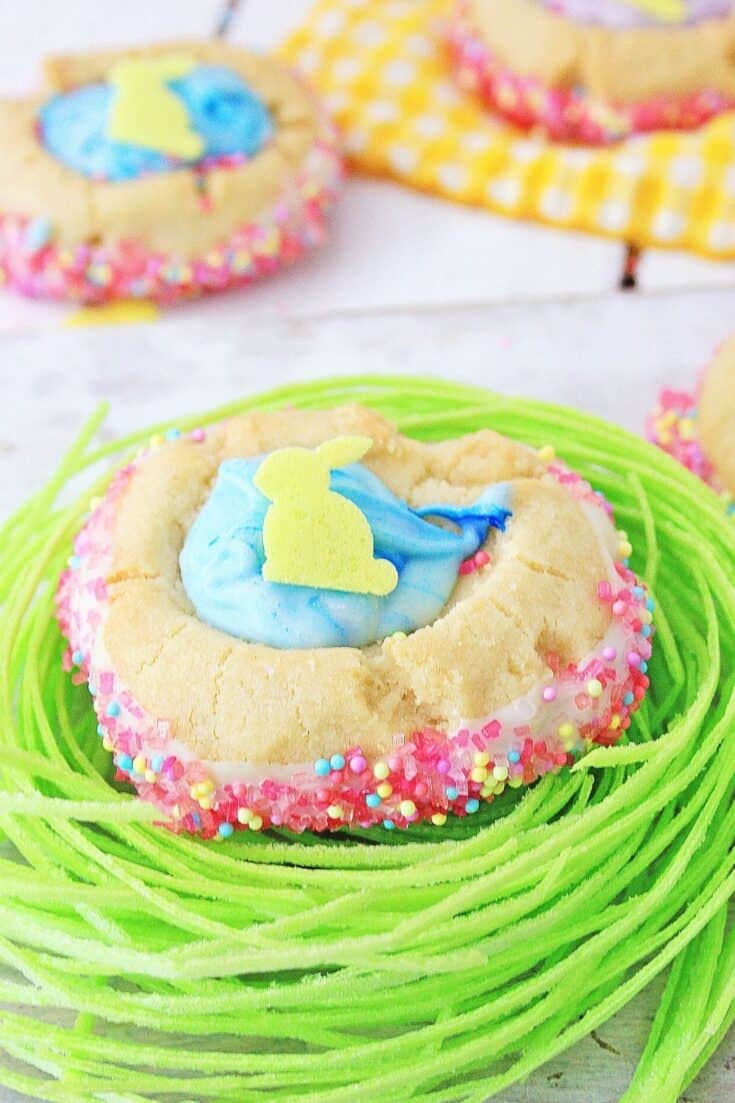 Yield:

3-4 dozen
Easter Thumbprint Cookies
These homemade Easter Thumbprint Cookies are a sure sign of spring. Bake a batch of these easy colorful holiday cookies to share today. Everyone loves thumbprint cookies!
Ingredients
3 sticks of butter - softened
1 cup of sugar
1 teaspoon of Vanilla
3 1/2 cups of flour
2 packages of white chocolate almond bark
Food coloring gel; pink, purple, blue, green
Easter Nonpareils
Bunnies for the center
Instructions
In the mixing bowl of a stand mixer cream the butter, sugar and vanilla together. Add the flour a little at a time until completely incorporated into the butter.
Remove the cookie dough from the mixer, wrap in waxed paper, and chill for one hour.
After one hour, remove the dough, and roll about a Tablespoonful of dough into a ball, and place on a parchment paper-lined cookie sheet. With the knuckle of your finger, make an indentation into the cookie, so that if forms a dip in the center of the cookie, with an edge around the outside.
Bake cookies for 18 - 20 minutes at 350 degrees, or until the cookies are lightly browned around the edges. Remove from the oven, and cool on a wire rack.
Once the cookies are cooled; melt 4 squares of the white chocolate almond bark in the microwave, and dip the bottoms of the cookies into the chocolate, and then immediately into the Nonpareils, and sit them on parchment paper to set the chocolate.
Once the chocolate has set (about an hour) Melt the remainder of the white chocolate, in 4 separate small bowls and drop a drop of food coloring gel into the white chocolate, coloring it in pastel pink, purple, green, and blue.
Place the pastel-colored chocolate in the centers, or indentation of each cookie, and place one of the small bunnies on the top.
Makes approximately 3 - 4 dozen cookies
NOTE: You can make these in any pastel color you choose, so if you want to include yellow, orange/peach, aqua, or other colors, just buy the food coloring gel for the colors you prefer